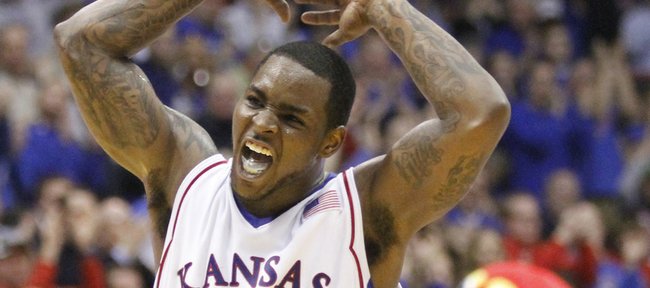 Kansas University's Cole Aldrich and Sherron Collins, who were named to the Big 12 coaches' first-team all-conference squad Sunday, were honored in the same way by conference media members Monday.
Aldrich and Collins were tapped first-team Associated Press all-league with Texas' Damion James, Kansas State's Jacob Pullen and Oklahoma State's James Anderson.
KU's Marcus Morris, who was selected to the coaches' second team, earned honorable mention from the AP.
The preseason discussion of best players in the conference started with KU's duo of Aldrich and Collins.
James of Texas was in there, too, along with the Kansas State guard tandem of Denis Clemente and Pullen, and Iowa State's Craig Brackins.
As the season progressed, a player who was not in the initial conversation moved ahead of the rest: Anderson.
Shooting his way past more heralded players in the conference, the unassuming, high-scoring junior was named player of the year Monday.
"I don't know if before the season he was the leading candidate," Oklahoma State coach Travis Ford said. "I thought he should be mentioned. But those other guys are great players, great people, have great reputations. I think it's a true case that he played himself into being player of the year. He earned player of the year."
Anderson received 13 votes from a panel of sports writers and sportscasters who cover the conference to become the second Oklahoma State player to earn the award, joining John Lucas in 2004. Collins received two votes and Aldrich one.
Baylor junior forward Ekpe Udoh, a transfer from Michigan, was named newcomer of the year, and Colorado guard Alec Burks is the freshman of the year.
Anderson stood out with consistency and multiplicity.
He led the Big 12 in scoring with 22.9 points per game and bumped it up to 24.1 points in the Big 12, fifth-best in conference history. Anderson scored at least 20 points against every conference opponent and had five 30-point games.
More than the scoring, Anderson led the Cowboys through a difficult Big 12 conference and to a possible NCAA Tournament berth by doing whatever it took to win. If it meant scoring 30 points, Anderson could certainly do that, but he was just as willing to defer to his teammates, focus on rebounding or guard the opponent's best player if that's what his team needed.
"He shoots it from the perimeter, he scores off the dribble, he gets to the foul line, he rebounds, he handles the ball, he defends — I don't know what else you can do in a game," Kansas State coach Frank Martin said. "He impacts a game in a high way. He's elevated Oklahoma State as a program."
Udoh helped take Baylor from a spot in the NIT championship game last year to legitimate contender for an NCAA Tournament berth this season.
The athletic, 6-foot-10 junior was a dominating force on defense, setting a Big 12 single-season record with 123 blocked shots, including 57 in conference, another record. Udoh showed an impressive game around the basket, averaging 13.4 points per game, and was second in the Big 12 with 9.8 rebounds per game.
The Associated Press All-Big 12 basketball teams for 2009-10 chosen by a panel of media representatives who cover the conference on a full-time basis, with players listed by name, school, class, height, weight and hometown.
FIRST TEAM
James Anderson, Oklahoma St., Jr., 6-6, 205, Junction City, Ark. (Big 12 player of the year)
Cole Aldrich, Kansas, Jr., 6-11, 245, Bloomington, Minn.
Sherron Collins, Kansas, Sr., 5-11, 205, Chicago
Damion James, Texas, Sr., 6-7, 225, Nacogdoches, Texas
Jacob Pullen, Kansas St., Jr., 6-0, 200, Maywood, Ill.
SECOND TEAM
Tweety Carter, Baylor, Sr., 5-11, 185, Reserve, La.
Denis Clemente, Kansas St., Sr., 6-1, 175, Bayamon, Puerto Rico
LaceDarius Dunn, Baylor, Jr., 6-4, 205, Monroe, La.
Donald Sloan, Texas A&M;, Sr., 6-3, 205, Dallas
Ekpe Udoh, Baylor, Jr., 6-10, 240, Edmond, Okla.
HONORABLE MENTION
Craig Brackins, Iowa St.; Alec Burks, Colorado; Bryan Davis, Texas A&M; Kim English, Missouri; Marcus Morris, Kansas.