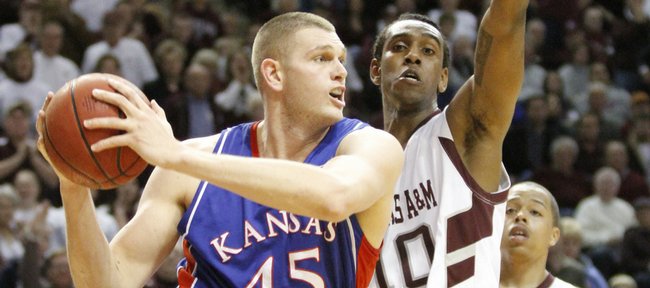 Top blocker
Kansas University junior Cole Aldrich, who swatted five A&M; shots, passed Greg Ostertag as KU's single-season block leader.
Aldrich has 98 blocks. Ostertag had 97 in 1993-94.
Aldrich also holds the third-best mark. He had 94 as a sophomore.
"I think it's pretty cool," Aldrich said of setting the record. "Ever since I was 6-foot tall in fifth grade, I've had a knack of blocking shots. I try to help the perimeter guys if they get beat off the bounce and knock it off the glass."
Of the record, KU coach Bill Self said: "It does tell me he's had a heck of a year blocking shots and altering shots. It's great for him that his name will go in the record books."
Undefeated
Self said the team won't spend any time talking about possibly going undefeated in league play.
"No, no. Now if we get to 14 or something ... I guess you could say it," he said. "We won't even bring that up."
Selby down to four
Josh Selby, a 6-foot-2 senior point guard from Lake Clifton High in Baltimore who made his official recruiting visit to KU last weekend, has narrowed his list of schools to four, his mom, Maeshon, told Rivals.com.
Selby has a final four of KU, Arizona, Connecticut and Kentucky. Selby will visit UConn on Feb. 28 and UK on March 7.
"I think the visit met his expectations," Maeshon told Rivals. "I got to spend more time with coach Self and the coaching staff, which was real good. We got the questions answered that we wanted to get answered and we got the feel of the game day atmosphere. It was just a great visit and everybody made us feel comfortable."
He's OK
KU's Sherron Collins said he's not nursing any injuries. He appeared to hurt his shoulder when getting knocked to the floor early Monday. "Nah, I'm fine," he said. "It was a hard fall, but I got back up."
Stats, facts
Collins made his 500th career assist. He joined Darnell Valentine (1,821 points, 609 assists) and Kirk Hinrich (1,753 points, 668 assists) as the only three Jayhawks in history to collect at least 1,700 points and 500 assists. Collins' totals are 1,722 points and 500 assists. ... Collins, who has a career record of 122-16, on Saturday can tie Raef LaFrentz, Billy Thomas and C.B. McGrath (1995-98) as the winningest player in KU history with 123 victories. ... Brady Morningstar had zero turnovers. He has not committed more than one turnover in a game for the last six games. In that time, his assist/turnover ratio is 21/4, and he has 11 steals. ... Texas A&M; outrebounded Kansas by eight (41-33), which was KU's biggest rebounding deficit of the season. ... Kansas stopped a 16-game winning streak for Texas A&M; in Reed Arena. ... The attendance of 13,657 was a Reed Arena record.
Campers galore
Hundreds of Texas A&M; students set up tents and camped out Sunday night to assure themselves the best seats at Monday's game.
"They've done it in the past. There were a few more than we normally have," A&M; coach Mark Turgeon said. "We've been working hard to get students involved in our games and become more a part of it.
"The ones who camped out last night ... it's become a badge of courage for them. It was cold in Texas last night," Turgeon added in lauding the fans.
More like this story on KUsports.com