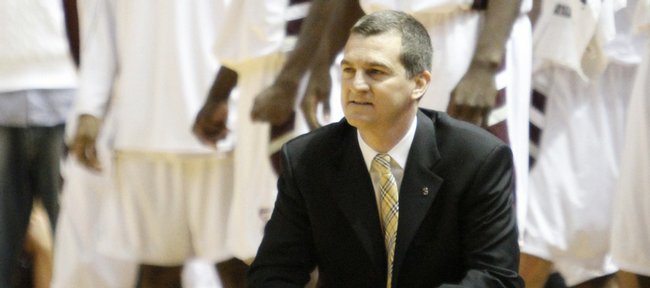 College Station, Texas — Kansas University's basketball players aren't talking much yet about the possibility of going unbeaten in the Big 12 Conference.
Texas A&M; coach Mark Turgeon did it for them following the Aggies' 59-54 loss Monday night.
"Our league's good, and they're 11-0. I don't know if anybody can beat them," Turgeon said. "I've seen the teams. I thought K-State could at K-State, and they didn't.
"If they stay focused, I don't know who's going to beat them."
Turgeon said he was especially impressed with the Jayhawks' defense, as the Aggies made just 22 of 63 shots (35 percent) in their first home loss of the season.
"I wasn't sure how good they were watching them on film, and they're much better than I thought, in person," Turgeon said. "And they're getting better."
Turgeon, who played point guard at KU from 1984-87 and was an assistant there from 1987-92, was visibly dejected in the postgame news conference, often staring down at the table during responses.
"You just hate to let it slip away, because I thought we had 'em," Turgeon said, tapping his fingers on the base of his microphone. "We're all pretty disappointed right now."
The coach said the difference in the game was free throws. Texas A&M; averaged 29 free throws per game coming into the contest, but attempted just 11 against KU, making five.
The Jayhawks, meanwhile, were 18-for-26 from the line.
"(Donald) Sloan wasn't himself; give them credit. Bryan Davis wasn't himself; give them credit," Turgeon said. "But I never thought we should have been behind."
Turgeon said the key stretch for A&M; was when it went ahead, 52-48, with 6:36 remaining. Though the Aggies allowed just four points over the next three minutes, they went just 1-for-6 on the offensive end with two turnovers.
"I said before you guys I can't believe we lost the game," Turgeon said. "I just thought we were in control the whole game. I never thought we were going to lose. I'm a little disappointed."
The Aggies went 0-for-7 from the floor in the final 4:08.
"I thought they had pretty good defense the whole game," said Sloan, a senior guard. "I guess our elbows got tight, and our legs got a little stiff. A lot of shots weren't going in for us that were going in for us earlier in the game."
The game was another close call for the Turgeon-coached Aggies, who also lost in overtime to then-No. 1 Texas on Jan. 16.
"I'm in there (locker room) beating myself up," Turgeon said. "I'll coach 'em better, and we'll get better. Our day's coming."