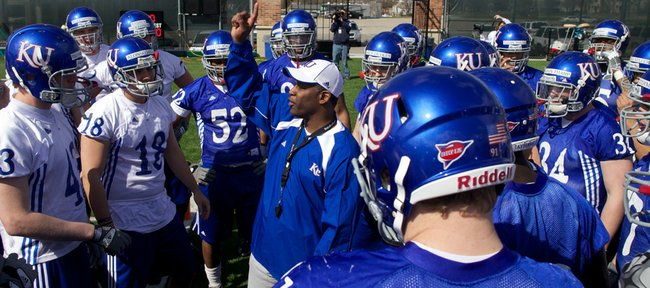 So far this spring, Kansas University football coach Turner Gill has kept his practices closed to the public. But last weekend several area football coaches took an up-close-and-personal look at how Gill runs his program.
A large chunk of the more than 70 coaches who participated in KU's annual coaches clinic Friday and Saturday were from the high school ranks. That included Lawrence High coach Dirk Wedd, who has attended several KU clinics in the past.
Wedd said several things stood out about this year's clinic. A new coaching staff, different philosophies and tons of energy highlighted the list. He also said he was impressed by the way Gill emphasized that his practices would not run longer than two hours and 15 minutes and that special teams would be a part of every practice, not limited to one day a week.
"It's clear that the kids enjoy going out there," he said. "I like their tempo and the way they seem to have fun with everything."
In addition to the obvious, Wedd said he picked up a few new tricks, not the least of which was the method by which Gill kept his practices moving on a strict schedule.
"He's the first football coach I've seen use the clock like a basketball coach," Wedd said. "You know, session one will last seven minutes, and then you'll move on to the next drill. He uses the clock like that. And that's good because the kids know how long they have at each session, and the coaches know how much more time they have to work on something."
Wedd said he was mesmerized by the way Gill's staff was able to refocus a drill when looking up to see that just a few minutes remained on the clock. But that was nothing compared with what Wedd saw from defensive coordinator Carl Torbush.
"I'm terribly impressed with Torbush," Wedd said. "I think he's a big-time coach. I really like the way he coaches. There is no detail that he lets slide. The kids play hard for him, and I think he'll do a good job."
Overall, the weekend was as much about getting acquainted with Gill's assistants as it was about meeting the Jayhawks' new boss.
"Great energy, very impressive staff, very well organized," said Bonner Springs High defensive coordinator Monty Bechard. "They've got some good people."
In addition to observing KU's new coaches, those in attendance were able to watch the way Gill's crew ran meetings and sessions in the weight room. In fact, KU strength coach John Williams put all of the visitors through an actual workout, with KU players and coaches demonstrating the drills.
"It's a little different out here this year," said Bonner Springs head coach Lew Kasselman, who, like Wedd, had attended similar clinics put on by former KU coach Mark Mangino. "But it's just great that they let us come out here and see what they're doing. Any time you have a new group of coaches, you can always learn a lot."