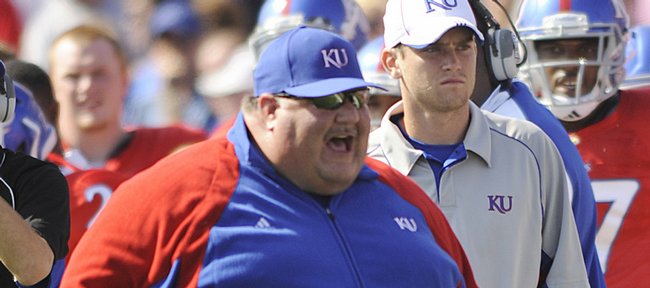 Given the events of the past few days, the question posed to embattled Kansas University football coach Mark Mangino five minutes into his Tuesday meeting with the media seemed relevant enough.
Asked whether he wanted to remain at Kansas in the wake of an investigation into his treatment of players and the maelstrom that has since erupted because of it, the coach indicated that leaving the school would mean leaving behind a foundation he and his staff have spent the past eight years constructing.
"We have players that have made great investments into this program, we have assistant coaches and support staff people who have made this the single focus of their life for several years," Mangino said. "And me personally, I've said this before, this is on record: I've put every waking moment of my life since I got hired here into this football program. To be quite honest with you, when I'm not at work, I'm still at work. This job, for me, has been something that I have put my heart and soul into."
Is 6-6 enough?
KU coach Mark Mangino seemed confident Tuesday that a victory over Missouri in Saturday's 2:30 p.m. Border War would be enough to propel Kansas to its third straight bowl appearance.
"Everything I'm hearing from my sources, which I think are pretty credible, (tells) me that 6-6, for us in the Big 12, would qualify for a bowl," Mangino said.
Check out Dugan Arnett's full KU notebook here
Whether he'll be able to keep doing so, however, has been the source of much speculation.
An internal probe launched by KU athletic director Lew Perkins last week into Mangino's treatment of players — which, according to the coach's contract, is the first step in a potential "termination for cause" of Mangino's tenure in Lawrence — has raised serious questions as to whether the coach will be on the KU sideline next season.
Mangino's current contract, set to pay him $2.3 million annually through 2012, would cost the university approximately $6.6 million if the coach is fired without cause.
On Tuesday, Mangino called his relationship with Perkins a "good working relationship," though he insisted he could only speak for himself in that regard.
"That's my perception of it," he said, adding, "Perhaps you should pose that question to him. I think that would be fair."
He also expressed comfort with his program and the manner in which it is run, before adding, "What I believe and what I think probably is not as important as what other people are believing or thinking that are involved in this situation."
As he's done on multiple occasions during the past week, meanwhile, Kansas senior receiver Kerry Meier defended Mangino and allegations that the coach goes overboard in his disciplining of players.
Meier said Tuesday that he met with Mangino one-on-one in the days following Perkins' announcement of an investigation, in an attempt to show his support for the coach and "(make) sure he was doing all right."
"He's so comfortable and happy to be here," said Meier, who spoke to KU assistant athletic director/risk management Lori Williams last week as part of her investigation. "He's done so much for this program, and if they're going to try to seek out a new coach better than coach Mangino, I tell them good luck."
According to most players available Tuesday, things have been surprisingly normal around the football complex this week. No extra sentimentality or 'Win one for the gipper' speeches.
"I haven't planned on coach not being here," said junior defensive back Chris Harris. "So there hasn't been any 'Win one for the 'ol coach.'"
Still, it's hard to ignore the speculation that has surfaced in recent days.
Even during a week as anticipated as this one — in addition to taking on Missouri at Kansas City's Arrowhead Stadium at 2:30 p.m. Saturday, the Jayhawks (5-6 overall, 1-6 Big 12) would likely secure a third-consecutive bowl berth with a win — Mangino and the ongoing university investigation have stolen the headlines.
"That's the only thing that anybody wants to talk about," said senior defensive back Justin Thornton. "My friends back home, family back home, it's not 'So, how are you guys looking to get past Missouri this weekend?' It's 'What's going on with your coach?' It's frustrating."
Joked senior Darrell Stuckey: "I think the investigation is moving faster on the outside than it is on the inside."
Mangino, for his part, is plowing forward. He insists the time he devotes to game preparations hasn't wavered from weeks past and seems as devoted to winning this weekend's game as he has each of the 11 games before it.
A victory Saturday would pull him within one win of tying A.R. Kennedy's program record of 52, meanwhile, and at least one current player hopes he sticks around long enough to do it.

"What's been built here thus far, it's definitely a solid base and it's definitely a foot in the right direction," Meier said. "A few more years and a few more quality seasons will definitely get this program to where it needs to be.
"And hopefully coach Mangino is here to do that."
More like this story on KUsports.com