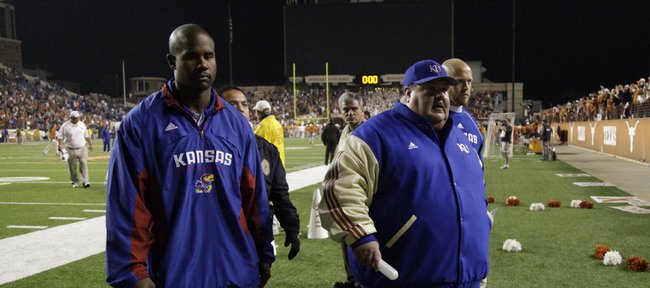 KU vs. Texas stories
Reader poll
A

3%

76 votes

B

21%

442 votes

C

40%

813 votes

D

20%

419 votes

F

13%

265 votes
2015 total votes.
Austin, Texas — Mark Mangino could have used a break Saturday night.

During a week in which KU athletic director Lew Perkins announced he was launching an investigation into the behavior of the eighth-year coach — who, among other things, is alleged to have poked his finger into the chest of senior linebacker Arist Wright during a practice several weeks ago — a single piece of good news certainly would have been welcomed.
Unfortunately for Mangino — the only coach in Div. I history to be named national coach of the year and the nation's top assistant — he didn't get one.
The Jayhawks lost for the sixth straight time Saturday, falling 51-20 to No. 3 Texas, and with the university's ongoing investigation growing hairier by the day, there has been widespread speculation that — depending on the outcome of assistant athletic director/risk management Lori Williams' ongoing investigation — Mangino's time as Kansas' coach is nearing an end.
Still, the eight-year coach wasn't feeling sorry for himself following Saturday's loss.
"Let me tell you something that's really important that's on my mind," he said. "I have a player — D.J. Marshall — who's in Tulsa, Okla., in a cancer center. He just started his chemotherapy this week.
"That's called a bad week. I've had a great week."
In light of various allegations from former players involving the coach's abusive behavior, however, "great" might be pushing it.
Still, asked whether he thought Mangino should finish out the season as the Jayhawks' coach — the Jayhawks take on Missouri next weekend in their final opportunity to gain bowl-eligibility — senior defensive back Justin Thornton said, "I think he should stick around 'til the last of the season. I don't think there's sense in starting up any commotion and stuff. I honestly wish none of this came up in the middle of the season. I think it's something that could have waited until we were done. We only had two or three games left when this whole situation came up.
"(Mangino's) in a tough situation, (and) we're all in a tough situation," Thornton added. "It's tough on all of us. It's not just Mangino's issue. This is a Kansas University football program issue."
Even as the media swarmed and various developments became public this week, however, Mangino remained steadfast in his insistence that his focus hadn't shifted from beating Texas and leading the Jayhawks to their sixth victory of the season.
And for a while Saturday, it looked like Kansas might be able to make a game of it.
Two minutes into the second quarter, the Longhorns held just a four-point lead, 7-3, and were struggling to move the ball offensively, punting on their first possession and fumbling the ball away on their third.

But then came a 38-yard touchdown pass from Texas quarterback Colt McCoy to receiver Jordan Shipley. Then came a 49-yard field goal from kicker Hunter Lawrence, and a Cody Johnson one-yard touchdown run, and before long, the Longhorns held a 24-6 lead that would never be in jeopardy.
A number of missed opportunities for KU, meanwhile, along with a much-hyped Texas defense that turned out to be as good as advertised, and at the end of the day, it was all too much for the Jayhawks to handle.

"It's not the way we wanted things to turn out," said KU quarterback Todd Reesing, who threw for 256 yards but failed to throw a touchdown. "We played an extremely good team today. I'm sure they're poised to head off to the national championship."
Mangino's postgame walk from the field, meanwhile, took a little longer than usual Saturday night.
He spoke at length with Texas coach Mack Brown at midfield, met an awaiting McCoy for another few moments and was stopped on numerous occasions by Longhorns assistants, who were liberal with back-slaps and handshakes.
Before long, however, as players began to clear the field and the crowd began to disperse, the coach made his way slowly across the turf and through the visitors' tunnel.
And then he was gone.
More like this story on KUsports.com