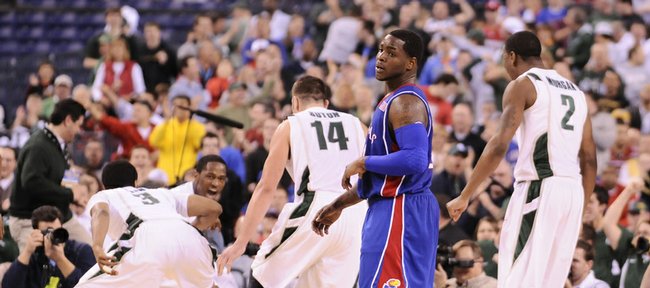 Sherron Collins spoke in hushed tones, his eyes staring holes in the carpet in a somber Lucas Oil Stadium locker room.
"This stings," Collins, Kansas University's junior guard, said after the Jayhawks' 67-62 Sweet 16 loss Friday to Michigan State.
KU led by 13 points late in the first half and five points with three minutes remaining, but the Spartans nonetheless managed the victory and earned a spot in Sunday's Elite Eight game versus Louisville.
"I take the loss. I take it on my shoulders," Collins said dejectedly. "I'm so proud of this team, these guys, (but) I didn't want it to end like this."
As in pretty much all of the Jayhawks' 27 victories and eight defeats, prying media eyes focused on Collins' play at the end of this one.
Michigan State point guard Kalin Lucas, with 10 seconds left on the shot clock in a 60-60 game, drove past Collins and hit a short shot in the lane. He also drew a bump from Collins, which was deemed a foul.
Lucas hit the free throw at :48 to give the Spartans a 63-60 lead, which MSU would not relinquish.
"I'm a little disappointed in myself. I think I could have gotten a stop if I stayed on my feet against Lucas," Collins said. "He got me in the air. I didn't think I bumped him, but I'm not complaining about any call. The ref saw it and called it."
KU coach Bill Self, of course, wishes that play ended differently.
"We defended the entire clock, then he left Sherron," Self said of Lucas. "After he lifted him, we would have been better off fouling the crap out of him rather than giving him the easy one. He stepped to the line and made his free throws."
Lucas answered two free throws by Tyshawn Taylor with :32 left with two of his own at :26, giving MSU a 65-62 lead.
KU's Collins was fouled by Lucas at :19, but missed the front end of a 1-and-1 free-throw situation, and MSU rebounded. Lucas was fouled at :14 and made two more free throws, effectively ending the game.
"I thought it was good out of my hands," Collins said. "I just missed it. This is really tough, because I don't want to take anything away from Michigan State, but I think we could have beaten them by double digits. We went brain-dead late in the first half (when 13 point lead dipped to seven by half) and late in the game.
"Turnovers hurt us," added Collins, who shook his head upon glancing at the stat sheet which showed him for six turnovers to go with his 20 points and three assists.
The other half of KU's dynamic duo, Cole Aldrich, had 17 points and 14 boards, plus four blocks, four assists, two steals and four turnovers.
"It's going to take me a long time to get over this," said Aldrich, who led the Jayhawks to a 37-31 rebound advantage over a team that had been outboarded in just three games all year. "It really hurts."
The 6-foot-11 Aldrich placed his arm around 5-11 buddy Collins as the two entered the handshake line after the game.
Of course, Aldrich would not stand for anybody suggesting Collins was at all responsible for the season-ending setback.
"I love Sherron," Aldrich said. "Sherron is a little stubborn at times. We butt heads at times. He's led us through ups and downs. We are together. We are sticking together."
Aldrich, who like Collins has not yet made up his mind whether he'll be back at KU next season or will enter the NBA Draft, tipped his cap to an MSU senior who may be playing for money next year.
Senior center Goran Suton scored 20 points with nine rebounds and five steals.
"He was tough to guard. He hit a few jumpers off the pick and pop," Aldrich said. "He's really a good player. Give credit to Michigan State. They've got a great team."
It's a team that beat KU by 13 points earlier in the year in East Lansing, Mich.
Collins had 25 points in that game.
This game featured Collins not bringing the ball up court as much as in some games. He was more an off guard, effective at times and turning it over others.
"It's a set of plays we run. Most sets the ball will come to me," Collins said. "I didn't make enough plays."
Noted guard Tyrel Reed, who along with Taylor brought the ball up a lot: "We were running different plays, giving them different looks. We like to get Sherron on the wing to do some creating. He can feed Cole that way, drive or kick it out for open shots. Coach Self does a lot of things like that to put us in position to win. We stopped ourselves by making some bad plays at the end of each half."
The bottom line, according to Self, is that it is a game KU could have, but didn't, win.
"It was obviously a hard-fought game," Self said. "I thought we played very hard. I thought Michigan State played really hard. Even though we never had control of the game totally, we were up five with three plus left, and they made all the plays down the stretch.
"I'm certainly proud of my guys. I mean, a bunch of young kids came in here and competed hard and wasn't in awe of the atmosphere and the stakes. We gave them a run. We just didn't finish the game."
More like this story on KUsports.com