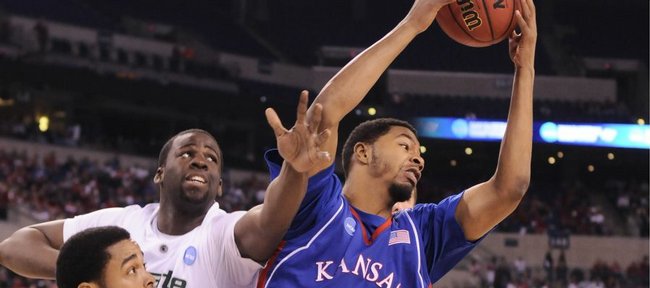 NBA talk
Sherron Collins and Cole Aldrich addressed the NBA question numerous times after Friday's season-ending loss to Michigan State.
The bottom line is, both have yet to make up their minds one way or another, but both indicated they would love to return to KU and make another run for a national title.
Collins said his first priority was to return to Chicago to "see my son. I haven't seen him in a while."
After that, he'll consult with KU coach Bill Self, who will check with his NBA contacts to see where Collins and Aldrich might be selected in the draft.
"It's a strong possibility, a real strong possibility," Collins said of returning to KU. "Whatever coach tells me to do, I'm going to do. I'm not in a rush to go. Financially I'm fine. Nothing's hurrying me to go.
"I love this team so much. My roommate, Brady (Morningstar), Cole … I'd rather be around these guys another year. Right now I'm coming back," Collins added.
Collins admitted that "a loss like this makes you want to come back. It'll be coach's decision what I do."
As far as Aldrich, he, like Collins, had no time frame on a decision.
"I have no idea," Aldrich said. "I'm not worried about that right now. It'll take me a good while to get over this one. This hurts."
He said he would benefit from returning to KU.
"There are numerous things I can improve on. I can go down the list," Aldrich said. "I want to set myself up for a successful career, whether it's this year, the next or two years from now, I want to be successful."
Self said he thought the Jayhawks could make a strong run for an NCAA title if the team remained intact.
"We'll wait and see how things may play out by May 1 in recruiting," he said. "Our guys may test the waters. I really haven't talked to anybody yet."
He said he wouldn't be surprised if both returned.
"Hopefully they have not been thinking about it. They will be thinking about it now," Self said. "I'll get information. They'll do what's best for them. I do have an opinion what is best for them for life, but it's my opinion."
Self has said he wants players to make a decision that will keep them in the league for many years, not just one or two.
Coach proud
What was Self's message to the team after the game?
"He's proud of us," Aldrich said. "He's disappointed we are out of it now."
"He said it was a positive year," Collins said. "Nobody thought we'd do what we did, reach the Sweet 16. He wanted another two wins (in Indy), but there's no time to get it back."
Sprained ankle
KU freshman Marcus Morris twisted an ankle with 3:51 left, KU up, 58-55. He didn't return.
Travel plans
KU officials said the team plane was slated to leave Indianapolis at 11 a.m. EDT today and likely arrive in Topeka about 11:30 CDT, weather permitting.
What was he thinking?
A humorous moment occurred when MSU's Idong Ibok tried to take the ball out after his teammate, Chris Allen, hit a pair of free throws with 11:01 left.
Ibok looked confused as his teammates were all the way downcourt ready to play defense. The refs finally corrected the situation and gave KU the ball to inbound.