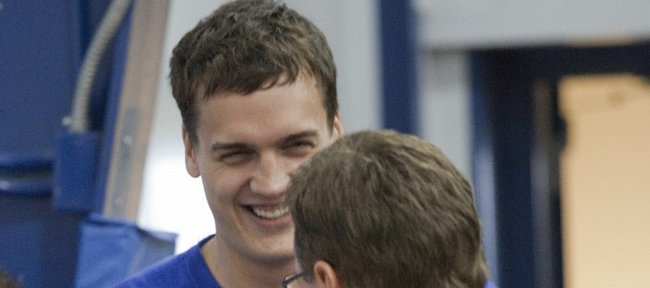 Sasha Kaun is living the good life back in his native Russia.
In his first season as a member of the tradition-rich CSKA Moscow team, the 24-year-old former Kansas University basketball center received ...
• Free use of a BMW X5 vehicle.
• A rent-free luxury apartment.
• And oh, yes, $1,047,042 American dollars in salary.
"I haven't really bought anything yet. They give you everything there," said the 6-foot-11, 250-pound Kaun, in town for this week's Bill Self basketball camp following a grueling rookie season which lasted from September until May.
"There's no need to buy anything," Kaun added.
Kaun — he averaged 5.2 points, 3.2 rebounds and 12 minutes a game for the Russian League champs who placed second at the Euroleague championships — said he enjoyed reconnecting with relatives and friends in his homeland after spending the last seven years in the U.S.A.
"It was good to be close to my mom," said Kaun, born and raised in Tomsk. "It was different — the whole pro athlete life, not going to school, not staying up at night doing computer projects, making money. It's just different."
He said he especially enjoyed devouring his mom's home-cooked meals again, with just one irritant to the back-home experience.
"Traffic is just ridiculous. It was one of the most stressful things for me," Kaun said. "Moscow ... it's like crazy New York, like New York on drugs. I hired a driver the second half of the season."
As far as his on-court experience, Kaun said he improved as the year progressed. He garnered some important minutes in Euroleague Final Four games.
"It was a growing season for me. I got adjusted to the program, the style of play," said Kaun, who played on the inside, rarely drifting out. "I learned what the coach wants and started to do the things on the floor I'm good at instead of thinking too much about what I need to be doing and getting my butt chewed."
Kaun will remain with CSKA Moscow for a second season, then will decide if he wants to utilize a clause in his contract that would let him join the NBA team with his rights — the Cleveland Cavaliers.
Kaun, a second-round pick in the 2008 NBA Draft, declined an invitation to play for the Cavs' summer league team.
"Trying out for our national team (to compete in European Championships), I can't physically do both," Kaun said. "It'd be way too much for the summer. I'd have no time off. The season was from September to May. At the end I was like, 'I'm done. I can't do this anymore.' It's not going to happen. We'll see what happens next summer."
Kaun says a highlight of the summer of '09 is his trip to Lawrence. He heads back to Moscow next week for a 10-day minicamp, then will return to the States for the month of July.
"I miss the fans, my friends I made the last four years, the school. It's a special place," Kaun said. "Some of the players I talk to about their schools. They are like, 'I really don't ever want to go back there.' With Kansas, I'm like, 'No matter what, I will go back.' It's just a special place, pretty much everything about it."
More like this story on KUsports.com