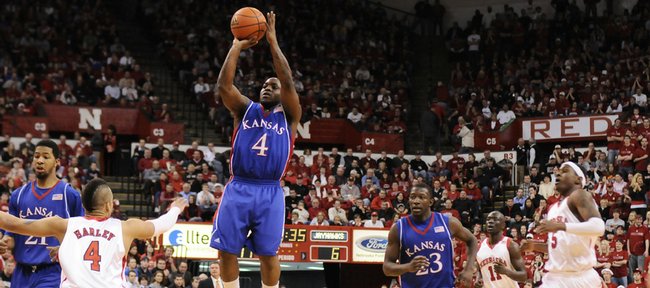 KU scoring
Collins 17, Morningstar 11, Aldrich 8, Reed 7, Taylor 6, Releford 5, Marcus Morris 5, Markieff Morris 5, Little 4.
KU was 22-for-39 from the floor (56.1 percent), 19-for-27 from the free-throw line (70.7 percent) and 5-for-10 from three-point range (50 percent).
NU was 24-for-60 from the floor (40 percent), 7-for-14 from the free-throw line (50 percent) and 7-for-24 from three-point range (29.8 percent).
KU out-rebounded NU, 38-22 (and 26-9 in the second half). KU had 21 turnovers to NU's eight.
FINAL: KU wins 68-62
Running out of time on an inbounds pass, Henry throws a ball deep in the backcourt, and Collins elevates to intercept it. He's fouled and makes both free throws to put KU back up by five.
Harley misses a short one with 10 seconds left, and Reed comes away with the rebound. After a free throw, NU doesn't have enough time to come back. KU escapes with the six-point victory.
KU 65/NU 62 — 26.5 seconds left in game
KU's mistakes put it in a close game. NU's Sek Henry hits a three from the corner, and Reed turns it over on an attempted pass to Aldrich. Henry buries another three from the corner, and the lead is down to one.
Self doesn't call timeout, and I'm shocked. KU looks rattled.
Collins takes the ball to the rim and gets his shot blocked, but a phantom foul is called on Ryan Anderson. What a break for KU. That's Anderson's fifth, so he fouls out. Collins makes both free throws to put KU up three. Timeout NU.
KU 62/NU 56 — 1:38 left in game
Two made free throws from Marcus Morris — a 49.1-percent free-throw shooter.
Aldrich gets a defensive rebound before losing it out of bounds. Dagunduro makes it hurt, getting a turn-around shot in the lane to fall.
Taylor overthrows a pass for a turnover. Self quickly calls Morningstar to check in.
KU breaks the press, and Marcus Morris's layup rolls around the cylinder twice before dropping through.
KU 57/NU 51 — 3:59 left in game
Nice skip pass by Marcus Morris to Reed, who drains another three. Reed then takes a step toward Miller before screaming toward his face. The crowd didn't like that. Nice to see some emotion from Reed.
What was that? Salomon fires up a three with under 5 minutes left? Keep in mind, he's only played 20 minutes this whole season coming into today. The shot misses, and that's a gift for KU.
Aldrich gets a rebound inside and makes two free throws. He's reappeared during crunch time for KU.
KU 51/NU 50 — 5:59 left in game
Somewhat unexpectedly, the two teams start trading baskets. Layup for Aldrich. Two for Dagunduro. Jumper by Little. Layup by Harley.
Not afraid of the big shot, Reed puts in an uncontested three. Big shot for KU.
NU 46/KU 44 — 8:19 left in game
Aldrich gets fouled, but misses both free throws (That's how you know he's off — he was an 80-percent foul-shooter coming in). Little gets the board, though, and Collins hits a tough 18-footer to give KU its first lead at 42-41.
Aldrich gets a turnaround to go, but Cookie Miller drains a three to tie the game and get the crowd going.
The fans get even more fired up a few seconds later. On a jump ball, Miller and Little get tangled up, with both players coming out of the pile shoving. The two teams are separated, and Self is livid that a foul wasn't called for Miller jumping on Little for the loose ball.
Ade Dagunduro gets an easy two on an inbounds play, and the energy has returned to the Devaney Center. Timeout KU, as Self is furious with Aldrich.
NU 40/KU 40 — 11:21 left in game
Markieff Morris shows some aggression in there. Markieff scraps for a pair of offensive rebounds before getting fouled. He hits one of two free throws, tying the score at 40.
KU's guards are out of control at the moment. Taylor charges in for another turnover. Collins tries a pass out of bounds that hits the underside of the backboard. Luckily for KU, NU can't get any shots to go down on the other end.
NU 39/KU 37 — 15:46 left in game
Good sign for KU. In the first minute of the second half, Aldrich gets his first rebound and field goal.
NU still can't find any rhythm on offense. There's not much movement, either. The Huskers aren't going to be able to sit on a three-point lead.
Morningstar hits a jumper after getting an offensive rebound, and Collins pulls up for a 14-footer on the break. The mid-range shots have been open for the Jayhawks, and they're starting to take (and make) them.
KU scoring
Collins 9, Morningstar 9, Releford 5, Little 2, Markieff Morris 2, Taylor 2.
KU made 11 of 19 shots (57.6 percent), four of five free throws (80 percent) and three of six from three-point range (50 percent).
NU was 15-for-30 (50 percent), 1-for-3 from the free-throw line (33.3 percent) and 3-for-9 from three-point range (33.3 percent).
KU had 13 turnovers to NU's five. The Huskers out-rebounded the Jayhawks, 13-12.
Halftime thoughts
• Marcus Morris turned out to be significant for KU, just in the wrong way. He found Self's doghouse in the first two minutes and never returned. It's too bad, because he's KU's best chance at offensive rebounds.
• If KU wins, don't forget about Collins' three straight baskets in the first half when the Jayhawks needed the points. KU was still down 10, but it could have been a blowout then and there if Collins didn't step up.
• Morningstar seems to have elevated his offensive game right when the team needed him as well. Nine points on 3-for-4 shooting. He needs to seek his shot more in the second half against NU's gambling defense.
• Solid game from Releford so far. He seems to be the only person capable of finding the open spot in the back of the NU defense.
• Not a good sign for Cole Aldrich — he was blocked by Cole Salomon, who is a walk-on who played just 20 minutes coming into tonight. Aldrich was 0-for-1 in the first half with 0 points and 0 rebounds in 11 minutes.
NU 34/KU 29 — Halftime
Little tries to throw a deep pass that gets picked off by NU. It seems like KU is underestimating the Huskers' speed on defense.
Morningstar travels after an offensive rebound. That's 13 turnovers. KU averages 13.7 per game.
Morningstar hits a three, and Markieff Morris gets a pair of free throws to keep KU close.
On the last possession, Taylor makes a great adjustment in mid-air on a three-point attempt, finding Releford inside for a layup before the buzzer. Somehow, after that nightmare of a first half, KU is only down by five.
NU 31/KU 22 — 3:29 left in 1st half
KU seems to have figured some things out offensively. After running a weave, Morningstar gets a three-point play following a drive to the rim. Collins slings a nice bounce pass to Travis Releford on the next possession, who puts one in off the glass.
The Jayhawks just can't avoid the turnovers, though. Tyshawn Taylor charges in for an offensive foul, just seconds after making a bad pass that was nearly stolen. Self stomps his foot in frustration.
NU's offense has gone stale, but Velander hits a guarded three to get the crowd back into it.
Aldrich has gotten the ball twice in the paint but has lost it on the way up both times. He's having a poor half, for sure.
NU 26/KU 16 — 7:48 left in 1st half
Three straight turnovers for KU. That makes seven in the first 10 minutes.
Sherron Collins has started to pick up the slack for KU offensively. It almost looks like he's forcing himself to score. A tough shot off the glass. An 18-foot pull-up between two defenders. A pull-up three after an NU made basket. The guard scores seven straight points for KU, and still the Jayhawks are down 10.
NU 17/KU 9 — 11:56 left in 1st half
An early entry for Quintrell Thomas. Don't think Self is happy with the twins.
Tyrel Reed dishes to Brady Morningstar in the corner for a three.
Harley's on fire, though. He hits another high-arching, wild shot from the side.
Another offensive rebound and putback, and this time it's Cole Salomon. NU is out-rebounding KU, 10-3.
NU 11/KU 6 — 14:32 left in 1st half
KU starts out with two turnovers on its first two possessions. Guess the Jayhawks didn't read the scouting report.
Chris Balham follows a miss with a slam, and KU coach Bill Self is furious. He calls timeout, screaming at Marcus Morris. Mario Little checks in. He promptly misses a shot, ending his 11-field-goals-in-a-row streak.
Nebraska is seventh-worst in the nation in offensive rebounding percentage (getting offensive rebounds on only 24 percent of their possessions), but the Huskers have four offensive boards in the first 2 1/2 minutes.
Steve Harley has started to heat up, hitting two shots in a row, including an impossible–to-guard fadeaway on the baseline.
6:20 p.m.
There must have been a thousand or so NU fans in the bathroom. It looks pretty full now.
Side note: Is anyone else like me during the National Anthem? I've found that instead of even looking for a flag, I simply watch the videoboard version of a waving flag. It's three-fourths of the way through the song before I even realize I'm doing it.
Marcus Morris is starting tonight. As I said earlier, he might be the biggest key for KU, as the Jayhawks will need his offensive rebounding.
6:17 p.m.
A pretty sparse crowd so far here at the Devaney Center. I know we have some time left before the game, but I was expecting a near-sellout. It doesn't look like we'll have that.
There are also some decent splashes of blue around the arena, as at least a couple hundred KU fans have made the trip north.
5:37 p.m.
Welcome back to The Newell Post Live, coming to you from the Devaney Center in Lincoln, Neb., where the Kansas Jayhawks are getting set to take on the Nebraska Cornhuskers.
Let's look at some keys for both teams in tonight's game.
If Nebraska wins, it will be because …
the Huskers force the Jayhawks to turn it over. NU is second in the nation in turnover percentage defense, forcing its opponents to turn the ball over on 27.7 percent of their possessions. The Huskers are second in the Big 12 in turnover margin (+6.3), forcing 18.0 turnovers per game. KU's guards need to watch their passes, especially when trying to feed the ball inside to Cole Aldrich.
the Huskers make their threes. Like Iowa State, NU hoists up a ton of shots from the outside (36.5 percent of their field-goal attempts, which is 82nd nationally). The Huskers have an identical three-point shooting percentage as the Jayhawks (37.9 percent), which is good for third in the Big 12. Paul Velander should be the biggest focus for KU, as he's made 49 of his 104 three-point attempts this year (47.1 percent).
the Huskers limit the Jayhawks' three-pointers. This is actually a strength of NU's, as its opponents have made just 31.1 percent of their threes against the Huskers (that's second in the Big 12). KU has been helped by the three during the first four games of the conference slate, making 25 of its 55 long-range shots (45.5 percent).
If KU wins, it will be because …
the Jayhawks guards find a way to get Aldrich the ball. This won't be as easy as it seems. NU should have quick guards swarming around Aldrich all game to try to deny him the ball. Aldrich will be effective if he can get it. Oftentimes, especially in the first half, KU hasn't looked his way enough.
the Jayhawks get production from Marcus Morris. A lot of people have jumped off the Marcus bandwagon after his 0-point, six-rebound performance against Iowa State, but I'm not going to be one of them. How quickly KU fans have forgotten that, before the ISU game, Marcus had two straight 10-point games. KU will need him on the offensive boards against a much smaller NU team. Though Marcus has played 190 fewer minutes than Aldrich, he only has 16 fewer offensive rebounds than him (57-41).
the Jayhawks force turnovers. NU will almost certainly force KU to turn it over 15-plus times, so the Jayhawks need to force some Huskers miscues as well. It won't be easy: NU turns it over on only 18.2 percent of its possessions, which is 41st nationally. KU's defense has held its last five opponents to under 40-percent shooting, but it wouldn't hurt to pick up the pace and get some easy baskets in transition. NU leads the Big 12 in scoring defense, allowing just 57.8 points per game. The Huskers will want to play slow, while the Jayhawks will want a faster pace.
Prediction: KU 68, Nebraska 66
The higher the score, the better for KU. Expect the Huskers to make this one close by forcing turnovers and making threes, but I think KU's inside presence will be a little too much. Would I be shocked to see the Huskers win this one? Absolutely not. Remember, NU held Missouri to 51 points at home in a 56-51 victory. If the score stays in the 50s, KU most likely will be in trouble.