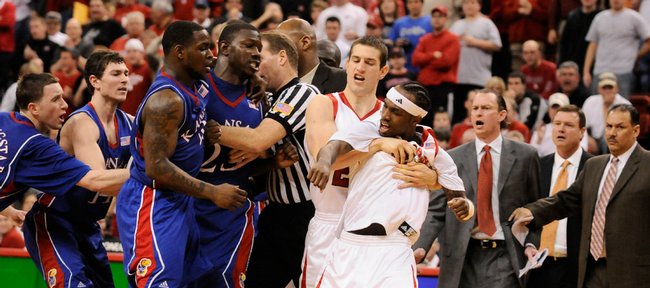 Lincoln, Neb. — Mario Little, who grew up on the mean streets of Chicago, doesn't appreciate being called one particularly nasty four-letter word.
"Everybody has their own opinion of us that we're soft,'' Little, Kansas University's junior forward, said after the Jayhawks out-slugged Nebraska, 68-62, on Wednesday night in Devaney Center.
"I've never played soft. I've never been soft. We've got to let teams know we're not soft. Guys are out there trying to talk their talk and scare us verbally.
"It's just talk. We got through it," Little added after pulling down seven rebounds in a career-high 30 minute-stint.
Little didn't back down when feisty 5-foot-7 guard Cookie Miller tied up the basketball with 8:47 left in an ugly, low-scoring game that was deadlocked at 44.
Miller tried to yank the basketball away from Little with two hands. He kept grabbing and pulling and yelling some things in the process — things that ultimately fired up the Jayhawks, who went on a 15-7 run to grab a 59-51 lead with 3:59 left.
"I don't know what he was doing, but I wasn't going to let it go. I had it with one hand. Good thing it was my good hand," said Little, who had a hand injury earlier this season. "I wasn't about to do anything. I know it got everybody fired up. It got Sherron fired up, and he got the whole team fired up."
Collins was furious at the actions of Miller, who, "was trying to prove a point," Collins said. "He was saying, 'It's our house,' or, 'It's my ball.' He's so little, I think Mario could have picked him up there if he wanted to."
"We weren't going to take nothing from nobody," Collins added. "They were trying to punk us in their house. We don't back down."
Collins — who had three turnovers and no assists on a night the Jayhawks had six assists versus 21 turnovers — responded to Miller's challenge in crunch time.
After Sek Henry's consecutive threes cut KU's 63-56 lead to one point, Collins drew a controversial foul on the baseline and swished two free throws at :29.1 to up the lead to 65-62.
Collins then went high to steal a deep inbounds baseball pass at :16.4 and hit two more free throws to give KU a five-point lead and effectively ice the game.
"I got hit across the head," Collins said of a Ryan Anderson bump called right before Henry blocked Collins' inside shot. "The block was clean. Anderson hit me before I got the shot up."
Of his steal, which resembled an interception on a deep pass in football, the 5-foot-11 guard said with a smile: "Some people say I can jump pretty high. I was dunking at shootaround today."
Collins was more impressed how one of his teammates responded to Miller's challenge.
Tyrel Reed hit consecutive threes that erased a 50-48 deficit and gave KU a 54-50 lead at 5:41.
Reed barked in Miller's face after the second three.
"Tyrel got a little jaw-jacking in, a little out of character for him," Collins said with a smile. "He keeps hitting big shot after big shot for us. He doesn't back down."
Reed, who scored seven points in 20 minutes, didn't recall what he yelled at Miller, who finished with eight points off 3-of-10 shooting on a night Ade Dagunduro led the way with 24 points.
"I mean, in the heat of the battle, competitive juices ... it's fun being out there," Reed said. "I couldn't tell you what I was saying in the heat of the moment."
Coach Bill Self — who Little said also sometimes calls "us soft when we deserve it" — had a lot of things to say to his players (mostly negative) after KU improved to 16-4 overall and 5-0 in the league.
The Jayhawks were down by as many as 13 in the first half — a half in which Cole Aldrich didn't score or grab a rebound and the Morris twins didn't score or grab a rebound. It was a half in which KU had 13 turnovers and four assists.
"He (Aldrich) had a bad game. He'd be the first to tell you that. He didn't play as well as he has been," Self said of Aldrich, who finished with eight points and eight boards in 26 minutes.
"We're very fortunate to win tonight because we played poorly. We wasted probably 20 possessions. This will be a great teaching tape. They know I'm not pleased right now."
Still, Self will take the victory on a night the Jayhawks put up 39 shots (hitting 22) to NU's 60 shots (24 makes).
KU outrebounded NU, 26-9, the second half.
That in itself is a sign of toughness.
"This game reminded me of the Oklahoma State game last year when it was sitting on a tee, and all we had to do was make plays," Self said of a loss in Stillwater. "We didn't, and they did. Tonight, it was sitting on a tee, and we're up three at the under-four timeout, and we made some plays.
His bunch survived an undersized yet spunky NU team (12-7, 2-4) that came to defend its home turf.
"Nebraska made us look bad the majority of the game," Self said. "You've got to find some ways to win when you don't play your best. You have to win games like that if you want to have a good year."