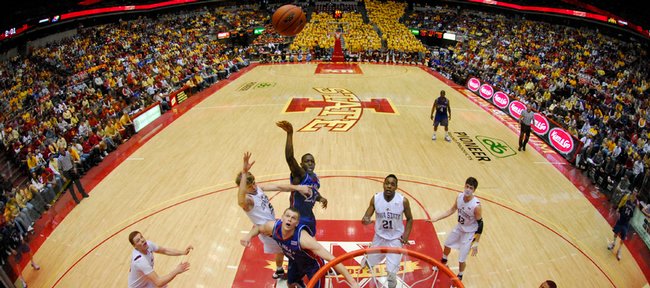 Audio clips
2009 KU-ISU Jan. 24
Reader poll
Iowa State

37%

762 votes

Nebraska

9%

204 votes

Kansas State

4%

101 votes

Colorado

1%

26 votes

Missouri

46%

960 votes
2053 total votes.
Ames, Iowa — Not many college basketball players even attempt 14-foot turnaround fadeaways off one leg.
The shot comes naturally for Mario Little.
"I don't work on it any more. I never really worked on it. I just did it a lot," Little said. "It's nothing I work on. I can make those all day."
Little showed more of his offensive repertoire in Kansas University's 82-67 victory over Iowa State on Saturday than he had in his earlier appearances.
That included the nearly unguardable fadeaway — one resembling the shot of Little's childhood hero, Michael Jordan — coming at the 3:35 mark of the first half.
"That's probably my first time hitting that shot (for KU), actually," Little said. "It's good. If I hit that, I know I'll be on a little bit."
Little was on for the rest of the half, as he put in two more shots in the next 97 seconds to score six consecutive points for the Jayhawks.
Both buckets came on jumpshots after Little took a few dribbles toward the rim. He even made one mid-range jumper while getting fouled by ISU's Craig Brackins.
"I'm not hesitant," Little said. "Especially if we're struggling, I'm really trying to help us out on the offensive end. I'm not a go-to guy — I'm one of the guys to maybe look for sometimes.
"But we had Sherron (Collins) playing his butt off. Cole (Aldrich) has been playing good, too. Tyshawn (Taylor) has been stepping up. (Sherron's) going to be the man, so I'm just going to pick my spots, try to get him open. By me getting him open, maybe I can get open."
Little, for the second straight game, made all his field-goal attempts.
He went 4-for-4 Saturday, scoring nine points in 12 minutes. Going back to the Kansas State game, he has made 11 consecutive field goals.
Little said he once had a long free-throw streak, but he'd never experienced a continued shooting stretch like this.
"It's just about me getting more reps out there and shooting my shot," Little said. "I had confidence in myself."
Little didn't fare quite as well on the defensive end. He finished with four fouls and had just one defensive rebound.
"I thought (Mario) was good," Self said. "He just needs to quit fouling."
Asked jokingly if he was going to miss a shot the rest of the season, Little said, "Probably next game."
Later in the interview, the junior tried to take back his prediction.
"It's just something I said. I say a lot of things that I don't mean," Little said. "I know I'm going to eventually miss. That's unheard of. We'll see."
More like this story on KUsports.com