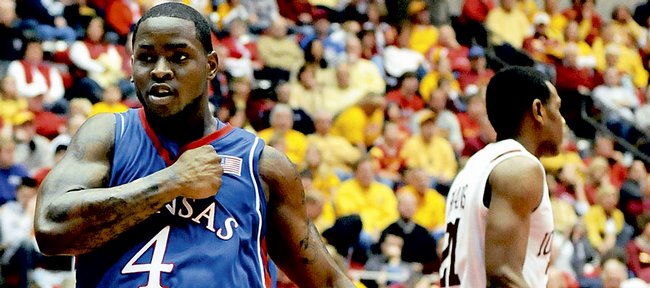 Audio clips
2009 KU-ISU Jan. 24
Reader poll
Iowa State

37%

762 votes

Nebraska

9%

204 votes

Kansas State

4%

101 votes

Colorado

1%

26 votes

Missouri

46%

960 votes
2053 total votes.
Ames, Iowa — Unlike in the movies, where the virtuous cowboy gets a few chairs broken over his head and takes a couple of clean punches to the jaw and then bounces back to beat up the guy wearing the black hat, in real life, the guy who lands the first punch almost always wins.
The Kansas University basketball team knows how to land the first punch. Blitzkrieg beginnings have become as much a part of this Kansas basketball team as hearing the old familiar chant at the end of games.
It's impossible to win a basketball game if you never get the lead, and Iowa State was the latest to be reminded of that by Kansas, which wasted the Cyclones, 82-67, Saturday after a 12-3 start.
"I think it all started with the start of the game," Iowa State star Craig Brackins said when asked to identify why his team came up short, despite his 42 points. "They came out and got a lead, and we didn't come out as ready as we thought we had planned."
Brackins went on to mention that he thought the team practiced particularly well in preparation for the defending national champions. The thing Kansas has going for it, though, is that there is no way for an opponent to simulate the quickness and power with which Sherron Collins throws a punch to start a game.
"You could understand it at home because of what they have at Allen Fieldhouse," third-year Iowa State coach Greg McDermott said. "... But they did it at Arizona, got off to a great start. Really, throughout the season they've gotten off to great starts."
The reason for those explosive beginnings doesn't puzzle McDermott.
"They have a very young team, but the guy who's making all the decisions is a very experienced player," McDermott said. "When you're starting the game, and Sherron Collins is the guy calling all the shots, he's as good a guard as there is in this league. He's either scoring himself or he's setting up his teammates for easy shots. I thought he played a terrific game."
McDermott called an early timeout, and his team inched back into the game. It wasn't difficult for the Cyclones to determine where to attack to get back into it. Iowa State's greatest strength, the offensive prowess, intersected with KU's greatest weakness, the not-ready-for-Big 12 defense of freshman twins Marcus and Markieff Morris.
Whereas deluxe defender Brady Morningstar and to a lesser extent Tyshawn Taylor have taken heat off of Collins defensively on the perimeter, nobody has developed enough defensively to take the burden off of Cole Aldrich. He's not ideally suited to cover big men who do their best work facing the basket.
Arizona's Jordan Hill, too quick for Aldrich, ate him up by driving around him. Aldrich gave Brackins some trouble, but rarely guarded him. Brackins proved too big for Mario Little (24 points in 26 minutes the past two games), too disciplined for the Morris twins (combined two points, six rebounds, zero assists, five turnovers in 26 minutes) and too skilled to let KU's quick start stun him.
Collins' ability to get in the first punch made the difference, but finding defensive help for Aldrich remains an issue on a team capable of contending for another Big 12 title.
More like this story on KUsports.com