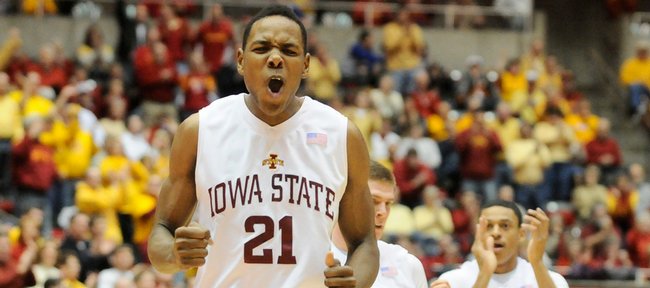 Audio clips
2009 KU-ISU Jan. 24
Ames, Iowa — Iowa State sophomore Craig Brackins, bound for first-team All-Big 12 honors, threatened the conference scoring record with 42 points Saturday in an 82-67 loss to Kansas University in Hilton Coliseum.
Afterward, someone asked Cyclones coach Greg McDermott whether the team relies too heavily on Brackins.
"That will never worry me, if they're looking at him too much," McDermott said without hesitation. "He's become so much more comfortable with the double-teams and reading where they are coming from. That's an offense in itself. We as coaches could try to dream up things all day where you have an offense where two guys are guarding one of your guys and the other three are trying to guard the other four.
"That's a pretty good deal. If they're going to commit to do that — and Kansas didn't sell out to do that; they picked their spots — then we have to make them pay for it. At times we did. And at times we found open shots; we just didn't knock them down."
Most of the time it was the latter. Excluding Brackins, Iowa State hit just 22 percent (eight of 36) of its field-goal attempts. Although Brackins scored 63 percent of his team's points, he attempted only 35 percent of the Cyclones' shots from the field.
Brackins made 11 of 19 field goals, including three of five three-pointers, and hit 17 of 21 free throws.
He also had a game-high 14 rebounds.
A 6-foot-10 sophomore, Brackins fell two points shy of the Big 12 single-game scoring record held by former Kansas State forward Michael Beasley.
"It doesn't matter," Brackins said of his 42-point game. "It wasn't enough."
It was Brackins' fourth game this season in which he scored at least 30 points.
"The sky's the limit for him because his body's not even close to where it can be from a strength standpoint, a physical-size standpoint," McDermott said. "He's got room to put another 15, 20 pounds of muscle on his frame, which makes him even more effective, 15 feet and in. He's made great strides in all aspects of the game. His defense has improved. Offensively, I think he's added to his repertoire, and then finally today he stepped up and made some free throws."
Brackins appeared more comfortable talking about Sherron Collins' big game than his own.
"He came out and was just on fire," Brackins said. "He came to play, and he was going at us hard."
More like this story on KUsports.com