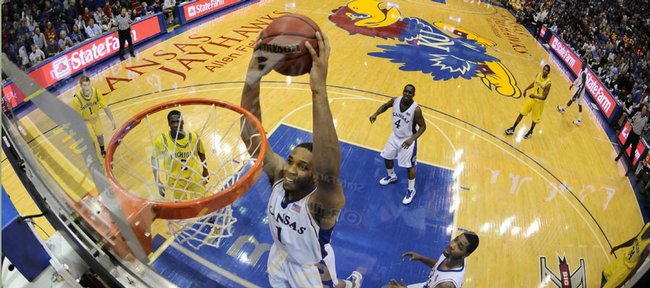 When Kevin Durant caught fire at Allen Fieldhouse in March 2007, scoring 25 points in the first half, I thought he was the best freshman I had ever seen play college basketball.
The Texas sensation finished with 32 points, despite being slowed by an ankle injury in the second half. It was one of the best performances in a half I can remember from an opponent at the fieldhouse. Some of my friends who were at the game — I did not attend — told me they were so mesmerized by Durant's dominance that they found themselves quietly applauding the future NBA star.
Of course, they could cheer louder when Kansas, using an unparalleled home-court advantage, overcame a 16-point deficit in the first half and won, 90-86, behind 21 points from Mario Chalmers. KU would also clinch the Big 12 regular-season title.
But anyone with a decent memory remembers that game as the Kevin Durant show.
Durant, who averaged 25.8 points per game in his one season with the Longhorns, was named Associated Press Player of the Year in 2007.
Here in Big 12 country, we've been spoiled with a variety of fantastic freshmen over the years.
Just one year after Durant, Michael Beasley of Kansas State came along and dropped 26.2 points per game in 2007-2008, the best scoring average for a freshman in Big 12 history. North Carolina's Tyler Hansbrough was named player of the year that season. I would have voted for Beasley.
Other Big 12 freshmen who had an instant impact: Curtis Stinson averaged 16.2 points per game with Iowa State in 2003-04; Blake Griffin put up 14.7 points and 9.1 boards per game with Oklahoma in 2007-2008; how about T.J. Ford's 8.3 assists per game at Texas in 2001-2002?
When referring to defense, Chalmers was mature beyond his years for a freshman, averaging a dynamite 2.7 steals per game for Kansas in 2005-2006. That 2.7 average stands as a Big 12 freshman record.
This season, the conference boasts a slew of freshmen who are critical to their team's success. Here's a list of the Top 10 freshmen in the Big 12 for 2009-2010:
10. Thomas Robinson, Kansas
Few freshmen have the physical stature of the 6-foot-9, 230-pound Robinson, who's averaging 4.8 points and 4.5 rebounds this season. His minutes have been sporadic because of his inconsistency, but he should be a force at Kansas for the next few years. Robinson must improve from the free throw stripe (15-for-35, 42.9 percent).
9. Steven Pledger, Oklahoma
The 6-4 guard has shown flashes of three-point mastery, drilling six on Nov. 26 at Houston, on his way to 23 points. Problem is, he's only averaging three points per game in his last six outings. He attempts five three-pointers per game, so the opportunities are there. Pledger is averaging 8.4 points per game on the season.
8. Ray Penn, Oklahoma State
The 5-11 Houston native has started nine of the Cowboys' 11 games at point guard. It's a difficult position to be in at Oklahoma State, which has grown accustomed to Byron Eaton running the show the last few years. Penn is averaging 8.5 points and 2.6 assists per game.
7. Tommy Mason-Griffin, Oklahoma
The Sooners' freshman floor general has been steady, putting up 10.9 points, 4.6 assists and 3.2 rebounds per game. Oklahoma is struggling this season at 8-4, but the Sooners play a slew of freshmen and sophomores. Mason-Griffin's best outing of the season came on Monday when he scored 20 points off 7-of-14 shooting (4-of-9 from beyond the arc) in a loss against UTEP.
6. J'Covan Brown, Texas
The 6-1 guard has scored in double figures in eight of the 10 games he's played this season. Brown started four games for coach Rick Barnes, but has recently come off the bench behind Dogus Balbay. Brown had a memorable 21-point effort on Dec. 19 against North Carolina at Cowboys Stadium in Arlington, Texas.
With Texas sophomore guard Varez Ward out for the remainder of the season with a ruptured right quadriceps tendon, Brown will continue to see plenty of time. He's averaging 23.6 minutes per game, with 12.5 points per contest.
5. Alec Burks, Colorado
The 6-6 guard out of Grandview, Mo., has to be the most surprising freshman in the Big 12 this season. Burks immediately cracked coach Jeff Bzdelik's starting lineup and is averaging 15.9 points per game, good for 11th in the conference. Colorado (7-4) is still a poor team, but Burks should be able to get his chances to be the Buffaloes' second scoring option behind junior Cory Higgins (19.2 ppg., third in Big 12).
4. Jordan Hamilton, Texas
Rivals.com ranked Hamilton No. 6 in the country in the Class of 2009. He hasn't had a poor season by any stretch (10.2 points per game), especially since he's come off the bench in every game this season. He's a dangerous three-point shooter with a similar low-elevating form to Baylor's LaceDarius Dunn. He should stay another year in school, where he'll get the chance to start next year and elevate his stock, before thinking about the NBA.
3. Tiny Gallon, Oklahoma
Gallon, at 6-9 and 300 pounds, is anything but tiny in stature. The nickname — his real name is Keith — came about at age 14 when his AAU coach in Houston jokingly called him Tiny. It didn't matter that he was 6-6 and 340 pounds at the time. The nickname stuck.
Gallon already has four double-doubles this season for Jeff Capel's Sooners. The Vallejo, Calif. native is averaging 11.8 points and 8.9 rebounds per game.
2. Avery Bradley, Texas
Had there been a Big 12 defensive freshman award, Bradley would win it. He's a suffocating defender who's produced seven steals in his last three games. Bradley was a defensive-minded player before he arrived in Austin, and coach Barnes' instruction has only made him more tenacious.
Barnes' players have the luxury of playing in-your-face defense at all times, even far away from the basket, and Bradley thrives in this kind of environment. UT is deep enough that if any defender is tired, they'll get a breather.
Bradley, who Rivals.com ranked No. 4 in the country in the Class of 2009, is averaging 11.6 points per game. He's shown the ability to knock down the three-point shot (12-for-30, 40 percent) and drive to the bucket.
Bradley came off the bench the first two games, but has started all nine since. He's considered a top 10 draft pick if he chooses to leave after his first year.
1. Xavier Henry, Kansas
Henry leads all Big 12 freshmen with 17.2 points per game and ranks fifth in the country in freshman scoring average. The Oklahoma City native has a chance to be KU's most gifted freshman scorer ever. Danny Manning holds the freshman record with 14.6 points per game in 1985.
Henry's efficiency is startling. He's converted 53.2 percent of his field goals and 48.2 percent of his three pointers.
"He has a chance to lead us in scoring any night," Kansas coach Bill Self said of Henry. "He won't because we have Sherron (Collins) and Cole (Aldrich) or whoever else. He'll have a chance to do that and I'm sure there will be multiple nights he does do that. He has been a model of consistency for us so far."
Henry is a projected top 10 draft pick and will likely declare for the NBA after this season.
View Eric Sorrentino's Top 10 freshman from last season.
More like this story on KUsports.com