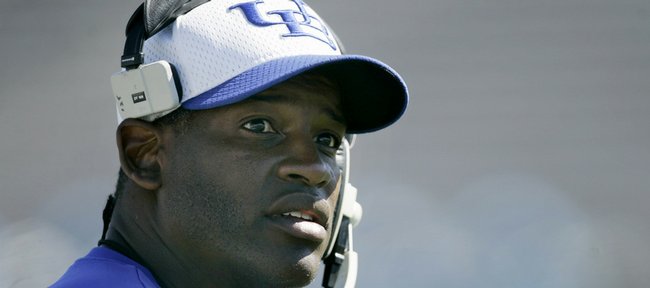 It appears Buffalo football coach Turner Gill is playing the waiting game.
According to Bulls senior defensive lineman Dane Robinson, who spoke with the Journal-World on Wednesday, Gill, the fourth-year coach who interviewed Sunday for the Kansas University football coach vacancy, is carrying on as usual as KU athletic director Lew Perkins continues his search to replace Mark Mangino.
"He's done all he can do on his part as far as putting his name in the hat," said Robinson, who met with the coach earlier in the week and discussed the coach's interest in the KU job. "And anything that's going to happen is going to happen from Kansas' side."
In the past two days, Buffalo's players have spoken highly of Gill, who has emerged as a notable candidate to replace the recently resigned Mangino. Mangino left the program amidst allegations that he physically and verbally abused players.
Two current players reached by e-mail Tuesday wished Gill the best wherever he ended up, and Robinson reiterated that sentiment, insisting he'll take away nothing but pleasant memories from his time under Gill.
"He's always told us he's just like us — he's learning too," Robinson said. "He's told us, 'If I make a mistake or you think I'm not doing something right, let me know. It's not one-sided, where other coaches are giving you all the feedback. Let me know how I'm doing.'"
Robinson, who described Gill as a "players' coach," praised Gill's approach to the program, including his handling of a controversial incident last year that shone a national spotlight on the Bulls' program.
Gill, who had led Buffalo to an 8-5 regular-season record and MAC championship, was reportedly a finalist for the Auburn opening that eventually went to Iowa State's Gene Chizik, and the school's decision to go with Chizik — who had a 5-19 record in two seasons at Iowa State — rubbed some the wrong way.
That included outspoken former NBA standout Charles Barkley, an Auburn alumnus who contended that his alma mater's decision was race-related. Gill is African-American; Chizik is white.
"I think race was the No. 1 factor," Barkley said at the time. "You can say it's not about race, but you can't compare the two résumés and say (Chizik) deserved the job. Out of all the coaches they interviewed, Chizik probably had the worst résumé."
The comments sparked a small maelstrom — and players discussed the incident — but Robinson said Bulls players were impressed with how Gill failed to let the situation affect the team's preparation for its first bowl game in school history, an International Bowl berth against Connecticut.
"It definitely brought some interesting attention to Buffalo," Robinson said. "I think the players took it as kind of flattering toward coach Gill, that there was all this commotion over him, and we knew we truly had something valuable here in a head football coach."
As Perkins' coaching search drags into its seventh day, meanwhile, little new information has surfaced in regard to the athletic director's plan of action.

The only two coaches known to have spoken with Kansas officials are Gill and Ole Miss' Houston Nutt.
Nutt pulled himself from contention Tuesday, and Minnesota's Tim Brewster — who was touted as a potential candidate — on Wednesday professed his fondness for Minnesota and declared himself not a candidate. With Houston's Kevin Sumlin reportedly close to signing a contract extension with his current school, the list of possible candidates appears to be shrinking.
This may or may not explain why Perkins spent Wednesday night taking in the Connecticut-Kentucky men's basketball game at New York City's Madison Square Garden.
It has been rumored that UCONN football coach Randy Edsall is a potential candidate for the Kansas job, though the 11th-year Huskies coach has also been linked to the Notre Dame opening — arguably the top available coaching job at the moment.
Akron passes on KU's Warinner: KU offensive coordinator Ed Warinner, who Monday interviewed for the University of Akron head-coaching vacancy, did not get the job, a school official confirmed Wednesday.
Akron, which last month fired coach J.D. Brookhart and his staff following a 3-9 season, is expected to announce Notre Dame assistant head coach Rob Ianello as the program's new coach during a news conference today.
Warinner began his career at Akron in 1984, when he served one season as the running backs coach before moving to Michigan State. He served two seasons there before moving on to Army, Air Force and Illinois.
Akron would have been Warinner's first head-coaching job.
In the past three seasons under Warinner, who was recently named a finalist for the American Football Coaches Association's National Assistant Coach of the Year award, the Kansas offense thrived, finishing the 2009 season ranked seventh in the NCAA in passing offense (310.3 yards per game) and 25th in total offense (422.42).
More like this story on KUsports.com