Podcast episode
The guys (Jesse Newell, Dugan Arnett, Eric Sorrentino) break down KU's game with Colorado. Topics of discussion include Jake Sharp, the struggles of the Jayhawks' special teams and Colorado's tough luck with offensive linemen.
Videos
KU football vs. Colorado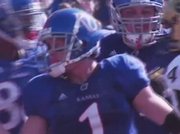 Complete video coverage of the Jayhawks' first home conference game of the season against Colorado
KU Football vs. Colorado: Pregame
Colorado University quarterback Cody Hawkins threw for 2,693 yards and 19 touchdowns last season. He led the Buffaloes over third-ranked Oklahoma, Texas Tech and Nebraska and a berth in the Independence Bowl.
But when Colorado coach Dan Hawkins - who also happens to be Cody's dad - earned a contract extension earlier this week that will keep him in Boulder through 2012, the quarterback didn't get so much as a bump in allowance.
"Oh, absolutely not," joked Cody, who is in his second season as the Buffaloes' starting quarterback. "I never get an allowance. It's garbage. If I ever want anything, I always have to schmooze my mom into it."
Despite a slow start this season - he has thrown for 926 yards, but has regularly been under fire as the team's offensive line has dealt with the loss of five offensive players to injury or eligibility issues - Hawkins has helped the Buffaloes to a 3-2 record and a victory over then-21st-ranked West Virginia.
He threw for a season-high 261 yards against Eastern Washington, and in a loss to the Longhorns last week in which he faced heavy pressure throughout, the 5-foot-11, 190-pound sophomore displayed enough resiliency to impress the coach of this week's opponent, Kansas University's Mark Mangino.
"He can take a lot of hits," Mangino said. "The Texas game last week I watched on tape, and he took some vicious hits and jumped right up. When you have that kind of leadership at your quarterback position, you have an opportunity to be successful."
Growing up as the son of a coach, the younger Hawkins became accustomed to not staying in one place for too long. As his father bounced around the country to various coaching jobs - he spent time at Williamette University (Salem, Ore.) and Boise State - before arriving in Boulder in 2006, Cody was always along for the ride.
A few years in California. A few more in Oregon. A few more in Idaho, where he developed into an All-American and earned an invite to the prestigious Elite 11 Quarterback Camp.
"Roughly, by the time I'm done here, I will have spent a fourth of my life in four different states," Hawkins said.
Now settled in Boulder, father and son hope to return Colorado to the level of prominence it enjoyed in the 1990s, when the Buffaloes were regularly ranked among the best teams in the country. And the next step in that quest comes at 11:30 a.m. today, against the Jayhawks at Memorial Stadium.
In last year's meeting between the teams, the Buffaloes held Kansas to its lowest scoring output of the season - 19 points - as Hawkins threw for 287 yards and two touchdowns. This week, facing a Jayhawks' secondary that, by most estimations, is a step slower than last year's version, might be as good as any to get things going.
"They're a team that might give you some things, but they're very fundamentally sound," Cody Hawkins says. "I think anytime you get a well-coached defense like that with guys who will buy into the system and play as hard as they do, their team is very tough to beat."
More like this story on KUsports.com