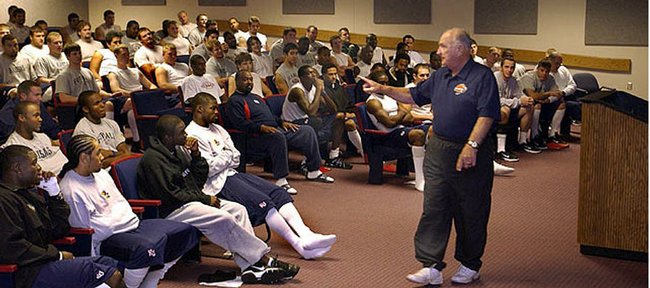 It's almost Don Fambrough speech time at Kansas University, which means that it is a particularly good time to be a Jayhawk football player.
When the former Kansas coach and player makes his way over to the Jayhawks' locker room, as he does every year during the week of the annual Border War matchup between Kansas and rival Missouri, things tend to get interesting.
The annual speech Fambrough bestows upon Kansas players is widely considered one of the most anticipated moments of the season.
The heart of the talk remains the same each year, although a few added wrinkles keep things interesting. Historical accuracies do not appear overly important, as Fambrough has contended that Civil War guerrilla leader William Quantrill is a graduate of the University of Missouri.
At its most basic level, the speech is a profanity-laced motivational tool that uses both humor and intensity to hammer home a point — that point being, it is very, very, very important that Kansas beats Missouri.
So notorious are Fambrough's speeches, in fact, that current Kansas coach Mark Mangino felt it necessary this week to issue a disclaimer of sorts.
"He is a private citizen, and he's entitled to his own opinion," joked the coach during his meeting with reporters on Tuesday. "His opinion does not reflect KU football or Mark Mangino's opinion."
Fambrough is a local hero, a former Kansas head coach, a symbol of the oldest rivalry west of the Mississippi River, a nod to old-school values, a lifelong Kansas supporter and a very swell guy if you don't happen to live 35 or more minutes east of Lawrence.
And the jewels that have rained from his mouth over the years tend to stick in the memories of players long after the speech has ended.
There's the time Fambrough jokingly — or maybe not-so-jokingly — implied that, due to the similarities in their last names, it was fair to assume that Kansas senior center Ryan Cantrell was a distant offspring of Quantrill.
Or the time he was recounting the story of how Quantrill and his men stormed into Lawrence and proceeded to rape the town's women and kill its horses. Problem was, the old coach got a little mixed up in his fiery state, and inadvertently changed a few words around. This resulted in a worked-up Fambrough telling a locker room full of players and coaches that Quantrill had raped the town's horses and killed its women.
"The kids were like, 'Wow! That was a mean guy!'" says KU defensive coordinator Clint Bowen.
As you might imagine, such proclamations from an 86-year-old man tend to warrant quite a reaction from the team's first-year players, most of whom are untrained in the School of Fambrough.
The result is lots of slack jaws and looks of disbelief.
"I didn't know too much (about him) when I was a freshman," junior cornerback Justin Thornton said. "I just knew that he used to coach here at KU. And then he got on his spiel about Mizzou, and I was like, 'Oh yeah, that man has some fire about this rivalry.'"
Even quarterback Todd Reesing, unflappable as he is on Saturday afternoons, was taken aback the first time he witnessed this elderly gentleman spewing venom.
"You've got this old guy coming in, and he's just getting fired up," Reesing said. "He starts trotting back and forth and huffing and puffing. The first time, you're kind of like, 'Oh my God, is he really doing this?' But it's pretty cool to see."
Older players, meanwhile, have come to rely on certain aspects of the speech. A staple is the story of how, during a JV football game in Columbia years ago, then-coach Fambrough discovered the Missouri chain gang was altering the length of the first-down marker to give the Tigers a significant advantage. This realization did not sit especially well with the coach, who responded by blitzing on three straight plays.
You know, to prove a point.
Senior defensive end John Larson insists the team purposely schedules Fambrough's speech early in the week of the Missouri game in order to keep the players from getting too jacked up too close to game day.
"If he was in the (locker room) beforehand," says Larson, "I don't know what would happen."
To a man, players insist the speech works wonders for motivation, and this year's version, like each one before it, is highly anticipated — although players have been forced to wait longer than usual for their annual treat. Fambrough, felled by a recent bout with the flu, was in bed Wednesday afternoon and forced to cancel his scheduled meeting with the team.
It was unclear earlier this week whether he would be able to give the talk at all, but if history tells us anything, it's that Fambrough is not likely to let a little cough get in the way of an opportunity to bash Missouri football.
"We're trying to work him back in here before we leave for the game, and I think we will," Mangino said following the team's practice Wednesday afternoon. "This is a big game for him. He'll be ready to go."
More like this story on KUsports.com