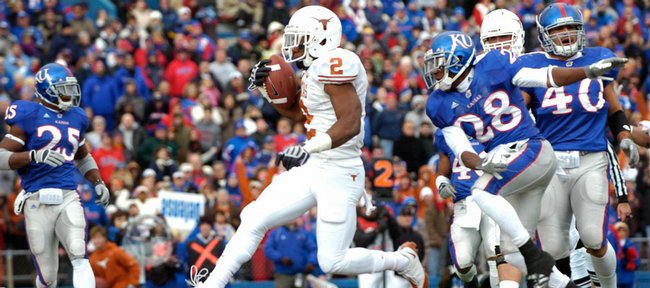 Go figure
166
Rushing yards by Texas
47
Rushing yards by Kansas
4.5v
Average yards per rush by the Longhorns
2.0
Average yards per rush by the Jayhawks
+3
KU's advantage in passing yards (258 to 255)
78
Team-leading rushing yards by Texas QB Colt McCoy
-34
Rushing yards by Kansas QB Todd Reesing (hurt by 4 sacks)
4-for-4
UT's success scoring inside the red zone
1-for-2
KU's success scoring inside the red zone
7
Plays KU ran inside the UT 10-yard line on the final scoreless series
There is, perhaps, no play that better sums up the Kansas University football team's game against No. 4 Texas on Saturday than the Jayhawks' final offensive play of the afternoon.
Kansas had moved the ball to the Longhorns' two-yard line with less than two minutes left in the game. It was fourth down. Already, the game's outcome had been decided. Kansas was down big. Texas had played nearly flawless defense. A comeback was not in store.
This was more about pride.
At this point, one of two things could have happened. A touchdown would make the score a bit more respectable; helped the Jayhawks end on a high note; proven - at least to those still in attendance - that the Kansas offense can score anytime, anywhere, on any defense in the country.
Instead, it ended with quarterback Todd Reesing lying on his back, near the UT 20-yard line, having been sacked for a 16-yard loss that in no small way acted as a microcosm of the Jayhawks' 2008 season.
After KU's 35-7 loss to Texas, it became very apparent that Kansas has a long way to go before joining the ranks of the conference's elite. The game marked the team's fourth loss in its past five outings and did nothing to dispel sentiment that the Jayhawks' 2007 success was due at least in part to a schedule that featured very few Goliaths.
In a reversal of roles Saturday, the Jayhawks' offense wasn't able to match the performance of the team's defensive unit - which, in the context of one of the most offensively dominating Big 12 seasons in history - was above average.
While Kansas' defense held the Longhorns to just 14 first-quarter points and stifled UT Heisman Trophy candidate Colt McCoy into 255 passing yards, Kansas coach Mark Mangino called Saturday the most frustrating outing of the season for his offense.
And it was hard to argue with his assessment.
The Jayhawks finished with a season-low 305 yards and seven points. They converted on just six of 16 third-down opportunities. And despite moving the ball within the opponent's 30-yard line on three occasions, only managed one touchdown.
"Our offense did not capitalize on the opportunities that our defense gave us," said Mangino, whose team falls to 6-5 (3-4 in the Big 12). " ... You've got to convert third downs and fourth downs, you've got to keep the ball moving, keep the chains moving, go to score, gotta get in the end zone, and we just did not do that."
Part of the problem, surely, stemmed from the loss of a pair of the team's top offensive players. Running back Jake Sharp and receiver Kerry Meier both left the game in the first half due to injuries, and quarterback Todd Reesing practiced just one day this week while recovering from an injury sustained in last week's loss to Nebraska.
Even with Sharp and Meier in the lineup, however, Kansas wasn't having much success against a Texas defense that finished with four sacks and held Reesing to 258 yards on 25-of-50 passing.
"Football's a pretty physical game," KU center Ryan Cantrell said. "It's not like we're going out there having a pillow fight. People are going to get hurt. It's late in the season; everybody's banged up. If you talk to somebody and they say they feel great, they're lying or they don't play."
Things didn't appear to be going terribly for the Jayhawks early on.
Texas managed just a 14-0 lead in the first half.
The Jayhawks received a spark early in the third quarter, when Reesing threw a nine-yard touchdown pass to receiver Dexton Fields that pulled Kansas within 21-7 and re-energized a fan base in desperate need of a jump-start.
But just as quickly, Texas thwarted the Jayhawks' comeback attempt. The Longhorns proceeded to score the game's next 14 points, pulling away in the final quarter and a half to move to 10-1 (6-1 in the Big 12) this season.
"We did some good things," Reesing said. "But we also did some bad things. And it just wasn't the kind of effort we needed to beat Texas."
With six victories, Kansas most likely has locked up a berth in a postseason bowl. But beyond that, little is guaranteed for a team that, at this point last season, was undefeated and battling for a spot in the national championship game.
Following a bye week this week, the Jayhawks will face rival Missouri at Arrowhead Stadium on Nov. 29, and according to players, the ability to end their regular season on a winning note - particularly against a team that ended KU's national title aspirations a year ago - would be a large step in salvaging a season that has gone awry.
"We just have to keep our heads up and play for pride now," senior linebacker James Holt said. "For the senior class, the last game versus Missouri is going to show what we are all about. We are either going to lay down or we are going to come out and fight, and I think we have a lot of fight in us."
More like this story on KUsports.com