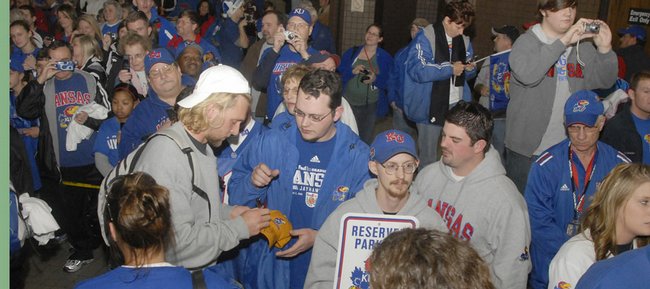 Audio Slideshow
Kansas Football 2007 Year in Pictures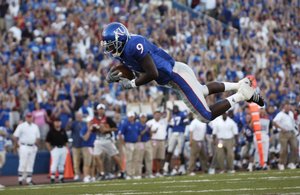 Relive the 2007 Kansas football season in pictures
Feature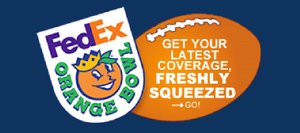 Video, photos, blogs, podcasts, latest news and more!
Feature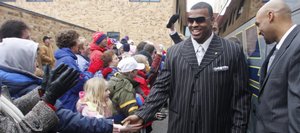 Journal-World KU reporter Jonathan Kealing is covering the fans in and on their way to Miami for the Jayhawks' first ever BCS bowl game. Check out some pitstops and potholes on the way to Miami and keep up with Journal-World Orange Bowl coverage from Miami on our interactive road trip map.
The kids didn't know any better, and as a result they had the party figured out better than anyone.
A gap-toothed 7-year-old held high a poster of coach Mark Mangino wearing a crown of oranges. Ten-year-old Sydnee Pointer of Independence, Mo., showed off her KU cheerleader outfit and told how she got to wear it to school.
And the boys, they danced around puddles of melted snow, throwing red and blue footballs and practicing to be the next crop of Jayhawks.
Then there were the adults.
The grownups who showed up Friday afternoon at Allen Fieldhouse to welcome home the Kansas Jayhawk football team - the first in school history to win the Orange Bowl - were a bit more confused.
"We aren't real sure what to do right now," said Hollyce Morris, one of about 15 people who milled around the concourse of Allen Fieldhouse. "It's not like the basketball celebrations. This is all new to us, but I have a feeling we're starting a new tradition."
Yes. A new, yet unpolished, tradition. There was a false start when the crowd saw a blue SUV with a bright Jayhawk emblazoned on its side roll by the south entrance of Allen Fieldhouse. Perhaps it was the escort for the triumphant team.
Nah. Just the company car for the local radio station. But it got the crowd outside, where the wind whipped, and emotions started to bubble to the top.
"I'm here because I've been watching bad football for 20 years, and now it is no longer here," said David Pointer, who traveled from Independence, Mo. "I've seen a lot of bad football games."
Digital cameras started to be pulled from purses. Kids started to perch themselves atop the shoulders of fathers. Fans started to get sentimental.
"Good kids. That's what he has here," Bob Johnson, a Lawrence resident and season ticket holder since '82, said of Mangino's team. "You listen to him talk to his team, and you can tell they're learning something about life."
This party was beginning to look a lot like the Jayhawks' season - it got bigger as it went along. The crowd had grown to about 150 to 200 people, all crowded near a makeshift rope line.
The low rumble of a diesel engine got the crowd's attention. Heads turned in anticipation of a charter bus. Instead, it was a FedEx truck. Another five-yard penalty for a false start.
But eventually - about 3:45 - the charter buses came. Some grade school-aged boy got what likely was the biggest ovation of his life. He was the first to step off the bus. Some wiseguy cracked that it was Todd Reesing, the Jayhawk star quarterback who happens to be a bit height-challenged.
Only about a third of the team - 30 to 35 players - were on the charter. The rest had taken separate flights from Miami after KU's 24-21 victory against Virginia Tech to head home for the remainder of the winter break. Coach Mangino also was absent. He already had left for New Orleans to pick up the Eddie Robinson National Coach of the Year award.
Players streamed by and soaked up the chants, touched the outstretched hands. All-American cornerback Aqib Talib sported the most flamboyant smile and most flamboyant multicolored T-shirt. Native Kansan Kerry Meier - last year's quarterback who became a fan favorite this year as a jack-of-all-trades, signed the most autographs by far.
And then it was over. The players dispersed to their cars to go do whatever college students do with two weeks to kill before classes begin.
Allen Fieldhouse workers picked up the rope line, but then a funny thing happened. The crowd ended its march to their vehicles and took a sharp turn into the Allen Fieldhouse lobby. There was a buzz that something was going to happen inside.
A crowd of a hundred or more waited for the show to begin. But the police officers had left, and the fieldhouse crew continued to tidy up. A reporter asked one of the crew members: "This is over, right?"
"Yeah, it's over," he said.
But the crowd waited. You couldn't blame them.
After all, who really wanted this season to ever end?
No parade plans yet
The Kansas University athletic department has no immediate plans for a Lawrence parade to celebrate Thursday's Orange Bowl victory.
Mike Strauss, the football sports information director, said many of the team's players did not return Friday with the team to Lawrence. Instead, they traveled to be with their families because KU classes are not in session.
Some public celebration could be scheduled after the spring semester starts Jan. 17, Strauss said.
More like this story on KUsports.com