Videos
The Border War 2007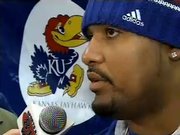 ¢ 6Sports video: Beaten but still in top 5<br /> ¢ 6News video: Fans cheer on Hawks from Lawrence<br /> ¢ 6News video: Crowds brave cold for ESPN's Gameday<br /> ¢ 6News video: Broken dreams<br />
Audio clip
Three Questions with ... Chuck Esposito, who sets betting lines at Caesars Palace in Las Vegas
Reader poll
QB Chase Daniel

35%

1656 votes

RB Tony Temple

1%

72 votes

TE Martin Rucker

9%

463 votes

TE Chase Coffman

6%

289 votes

Do-it-all Jeremy Maclin

44%

2045 votes

Someone else

2%

114 votes
4639 total votes.
OK, gambling geniuses: Who put $100 on Kansas at the beginning of the season and let it ride?
You'd have $102,400 to wager on this weekend's Missouri game, with a shot at much, much more.
"It would be a substantial payday," said Chuck Esposito, vice president for race and sports at Caesars Palace in Las Vegas. "That would put a big smile on somebody's face, I'm sure."
That's because the Jayhawks have achieved a consistency of success somewhere other than on the scoreboard, said Esposito, who sets the legal betting lines for all 13 Harrah's Entertainment properties in Nevada: the Jayhawks have covered the points spread in 10 of the team's 11 games so far this season.
The only miss? Sept. 1, when Caesars didn't post a line for Kansas' season-opening 52-7 victory against Central Michigan.
Since then the Jayhawks have covered in every sense. KU is 11-0 overall, 10-0 against the spread.
"The betting public - anyone who has backed KU - pretty much has a big smile on their face because they have covered the points spread that we have put up," Esposito said Monday, from his office at Caesars. "But every game is different."
And so far this week - and despite a season of on-field and spread-beating success - the majority of the money from the betting public is counting on the Missouri Tigers being difference-makers.
Esposito's opening line for Saturday's game had the Jayhawks giving two points, meaning that someone placing a legal bet on the Jayhawks would need KU to win by three points.
Now, as of Monday afternoon, the line had slipped to KU by 1.5 points, meaning more people had been putting their money on Missouri to cover.
Of course the line, Esposito points out, doesn't predict a winner or a loser; it's merely the number set for the sports book to get enough betting action - "good, two-way action" he calls it - on both sides of the game.
While he won't estimate how much money will be legally wagered on the Border Showdown, he said it would be akin to many other late-season, heated-rivalry games carrying big-time postseason implications.
"I expect the handle to be tremendous," Esposito said, "rivaling what we took this past weekend on Michigan and Ohio State."
More like this story on KUsports.com