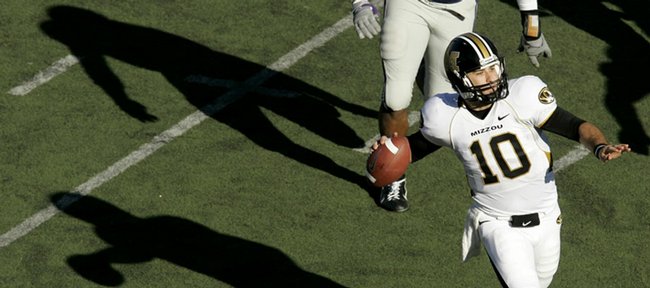 Missouri University quarterback Chase Daniel was in Columbia, Mo., on an unofficial visit while in high school, when he stopped at an ice cream shop to satisfy his sweet tooth.
"Right when we were leaving, someone said, 'Beat KU all four years you're here, and we'll still love you no matter the outcome.'" Daniel recalled with a laugh.
No word on if the fan added, "By the way, where's the rest of you?"
The rest never came to be. Daniel might hit 6-foot after a good stretching session, yet he will be the tallest quarterback on the field when No. 2 Kansas University and No. 3 Missouri play the anticipated Border War game Saturday in Kansas City, Mo.
That's because KU quarterback Todd Reesing is just 5-10, a good five inches shorter than what's considered prototypical.
Those precious inches prevented the two - both native Texans with sparkling high school careers - from being offered by local schools like Texas, the big dog in the Lone Star State.
Whether it was spelled out specifically for them didn't matter. Both Daniel and Reesing knew what was holding back the interest - a tape measure.
"There weren't a lot of people beating down my doors asking me to come play football for them," Reesing said.
Could've fooled about anyone these days. Wonder how both Missouri and Kansas have itty-bitty numbers next to their names in the Top 25 polls? It's in big part because of those itty-bitty quarterbacks under center.
Reesing has thrown for 2,910 yards with 30 touchdowns and four interceptions this season. Daniel has 3,590 yards with 30 touchdowns and nine picks. Both are Heisman Trophy candidates, and Saturday's game obviously is the biggest stage yet to flash their credentials.
Kansas State coach Ron Prince, whose quarterback stands 6-6, has seen both Reesing and Daniel beat his team this season.
"I think one of the things that's really happened in college football, which is really exciting right now, is that you just don't have to do it the same way as everybody else," Prince said. "The thing that Reesing and Daniel both have in common is that they're phenomenal players who experienced a tremendous amount of success winning in high school, in programs that were very structured. They had a chance to compete and be really well-coached."
Daniel was a Parade All-American in high school at vaunted Southlake Carroll High in the Dallas Metroplex. Reesing, down I-35 in Lake Travis, Texas, was the 4A state player of the year as a junior.
Prior to his senior season, Reesing made an unofficial visit to Lawrence to meet coach Mark Mangino and his staff.
"The coaches said, 'What do you think?'" Mangino recalls. "I said, 'He's small, but I still like him. We're going to offer him.'"
Mangino took a leap that too many coaches were nervous about taking. The question is: Will that gamble - which obviously paid off - cause others to get similar courage down the road?
"Maybe coaches will now look at it a little bit different," MU coach Gary Pinkel said. "I always thought around the 6-foot mark is where you want to be. The biggest thing is that a quarterback has to be able to see and have a high enough release to where it's not a factor.
"Without question, not only will kids look at this and say 'I've got opportunities out there' from watching these quarterbacks. But also, coaches might reconsider themselves."
So call Saturday's Border War game - however it turns out - a victory for the little guys. At the same time, consider the two's recruitment proof that the work continues to be cut out for the ones who don't exactly fit the part.
"Nowadays, the 6-5 guy has to show that he can't play. The 6-foot guy has to show he can," Daniel said. "I think it's a little bit overrated. No matter how tall you are, no matter what type of arm you have, if you're a great football player and you prepare well, height shouldn't matter."
More like this story on KUsports.com