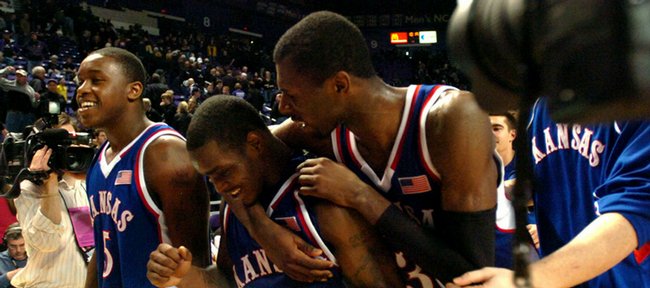 Manhattan — Clarion Hotel roommates Sherron Collins and Russell Robinson decided to turn on the 6 p.m. evening news before heading to Bramlage Coliseum early Monday night.
"There was a shot of their fans lining up outside the building. The announcer said, 'If K-State wins, they break a long streak and could get to the NCAA Tournament,''' Collins said.
"We looked at each other. We got pumped up."
Collins was so pumped up he erupted for 20 points - 14 in the second half off 5-of-6 shooting - in KU's 71-62 victory over K-State.
It extended KU's winning streak in Manhattan to 24 games and improved the Jayhawks' all-time record in Bramlage to 19-0.
"Just happened to be flippin' the channel," Robinson said with a smile. "We saw how hyped their fans were for the game and how excited coach (Bob) Huggins has them here about basketball. We were really pumped up and ready to play, too."
Collins had eight points and Darrell Arthur (13 points, 12 rebounds) four in a 16-4 run that busted a 43-all tie and opened a 59-47 advantage with 5:39 left.
It was the key stretch of the game by far.
"Sherron carried us on his back," said KU coach Bill Self said, also lauding Mario Chalmers' 12-point effort the first half that kept it close.
KU trailed, 30-29, at the break.
Collins was so effective in hitting eight of 11 shots and collecting three assists with three rebounds and four turnovers in 31 minutes, it sparked a postgame discussion about whether Collins should be starting.
"It's probably not fair to him (to not start), but it's what's best for the team," Self said, indicating he thinks Collins is playing as well as or better than any freshman in the country. "I talked to Sherron. I told him, 'You are playing well enough to start.' He said, 'I know, but I don't want to change and screw up chemistry.' He gets it."
Indeed, Collins "gets it."
"It's no big deal. It's the way I want it," the Chicago freshman said of not starting. "Russell and Mario are brothers to me. I love my teammates. They've got my back all the time. It might hurt somebody's confidence. This is best for the team."
Chalmers finished with a team-leading 17 points off 5-of-11 shooting. He hit three of nine threes.
Robinson had three points and two assists, while Brandon Rush and Julian Wright had off days offensively, scoring 11 and four respectively off combined 5-of-16 shooting.
Led by Wright's strong defensive effort on David Hoskins (nine points, 2-of-15 shooting), KSU managed to hit just 32.3 percent of its shots and eight of 23 threes.
"I knew we'd play tough tonight," Self said after his Jayhawks hit 51 percent of their shots despite bricking 16 of 21 threes. "Just by looking at the guys and their focus. They seemed to be focused at shootaround and before the game. They rise to the level."
It took some toughness to win on a night the building was rocking.
Three live chickens were thrown on the court before the game during introduction of KU players. The fans were definitely juiced, the cheerleaders holding an impromptu pep rally with the fans who were let in the building two hours before the game.
"I heard they had a pep rally for 30 minutes straight, so that kind of set us off a little bit," said Rush, who missed two technical foul shots after Huggins was whistled with a T at 7:26.
Collins bailed out the possession with a three, giving KU a 55-47 lead at 6:49.
"We heard some of it (in locker room) but were trying not to pay too much attention to it and stay focused on the game," Rush said of the pep rally.
There were so many reasons to be fired up Monday.
"I think it was what coach Huggins said at Late Night, that he guaranteed our streak would end," Chalmers said of Huggins' guaranteeing a victory in Manhattan over KU. "We just wanted to keep the streak going and prove him wrong."
"Our main motivation," Self noted, "is the league race. We need to win to stay with A&M; (co-leaders in league)."
The Jayhawks (24-4 overall, 11-2 Big 12) will play host to Iowa State at 5 p.m. Saturday at Allen Fieldhouse. KSU (19-9, 8-5) will travel to Colorado Saturday.
Go figure
51.0 KU's field-goal shooting percentage32.3 K-State's field-goal shooting percentage23.8 KU's three-point shooting percentage (5-for-21)34.8 K-State's three-point shooting percentage (8-for-23)21-6 K-State's scoring advantage in points off turnovers4 Sherron Collins' turnovers in the first half0 Collins' turnovers in the second half0 Victories by K-State over KU in Bramlage Coliseum33 Bench points for KU (20 for Collins, 13 for Darrell Arthur)21 Bench points for K-State (including 19 for Cartier Martin)
More like this story on KUsports.com