Reader poll
Toledo

20%

12 votes

Home

20%

12 votes

Friend's house

20%

12 votes

Restaurant/Bar

20%

12 votes

Not watching

20%

12 votes
60 total votes.
There's really no point in diving into Paul Como's world without first discussing his hair.
The Kansas University football senior has a bona fide mane. It's really something. He hasn't visited a barber in three years now, and he insists this isn't a case of tonsurphobia (fear of haircuts) like one might believe.
Rather, it's day after day after day of saying, "I didn't yesterday, so why should I today?"
Pretty soon, it gets to the point where there's no turning back - until genetics force the hand, anyway.
"I don't think I will be able to grow it out the rest of my life," Como said. "I'll probably be going bald here in a few years."
Como is certainly the "out there" guy of the KU football team, and he's now the "out everywhere" guy on the football field. With a slew of new defensive players, KU's coaching staff has mixed and matched personnel and situations to get the most out of their players.
They came to the conclusion that Como needed to be an every-down defensive end. However, in third-down, three-man-front situations, Como can drop back and be a versatile outside linebacker.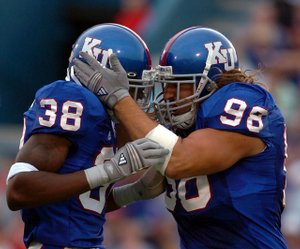 How common is that, really? For Como, it's just another notch on the belt. He played defensive tackle and tailback in high school, middle linebacker in junior college and now has two more positions to his credit at Kansas.
Hair aside, Como's really starting to stand out on KU's revamped defense.
"Paul Como has been a very underestimated player in our program," KU coach Mark Mangino said. "He's a quiet guy, he doesn't bring a lot of attention to himself, but he's a steady, solid, dependable player for us week in and week out."
Yeah, coach, but what about that mane?
"I'm not worried about Paul's hair," Mangino said with a grin. "As long as he's playing well, going to class and being a good citizen, he can do whatever he wants with his hair."
Finding Kansas
Truth is, having hair longer than most of his female friends can pose a problem for a football player.
"I get it pulled quite a bit from the offensive linemen," Como said. "Sometimes that gets old and doesn't feel too good."
It hasn't stopped him yet. Como was KU's leading tackler with eight stops against Louisiana-Monroe, and he already has four tackles for a loss this season.
Como was expected to get an increased role on the defensive line this year, with the loss of Charlton Keith and Jermial Ashley. But really, who expected a Southern California guy through-and-through to find his niche in Kansas to begin with?
Como grew up in Dana Point, Calif., an ocean-front town that neighbors pop-culture paradise Laguna Beach. After playing two years at Saddleback junior college in nearby Mission Viejo, Calif., Como signed with Kansas and left for Lawrence as a mid-year transfer in January.
Yikes.
KU vs. Toledo
"Right when I got here, there was snow and everything when I was walking to class," Como said. "It was really different."
Behind Keith and Ashley, Como's duties were limited to being a third-down pass-rush specialist in 2005, his junior year. He racked up 13 tackles, including four for a loss playing in all 12 games.
In the meantime, he became one of the team's most popular players.
"He just lets it loose," linebacker Mike Rivera said. "He just has fun. He keeps it fun on the field. Paul's a good guy."
With roughly a dozen major contributors on defense lost after last season, KU's coaching staff examined and dissected their available options for '06. What they found was that they needed Paul Como in every play - but not always in the same spot.
The new bandit
Como is now KU's starting defensive end opposite Rodney Allen, as expected when most pundits examined KU's 2006 roster.
But third-down plays were a different story. Piecing together the puzzle, defensive coordinator Bill Young approached Como about the possibility of Como moving back to outside linebacker in addition to his defensive-end duties - oftentimes in successive plays.
Como was all for it, and KU's new defensive utility player was made.
"It's been a lot of fun moving around and not just playing strictly defensive end, but playing a little bit of outside linebacker, too," Como said. "In junior college, I played middle linebacker, so I'm real comfortable with the position and being able to do both things."
KU vs. Toledo
KU has seen the benefits. Last year's outside-linebacker specialist for the third-down package was Brandon Perkins, who didn't play much outside of those situations and wasn't asked to do much beside what he was good at - rushing the quarterback.
Como, though, is versatile enough to pressure the quarterback AND drop back into pass coverage. Not bad for a defensive lineman, but not surprising to Mangino, either.
"Paul was a linebacker in junior college," Mangino said. "He ran pretty decent for a linebacker, but he was a thick kid. We thought if he could put another 10-12 pounds of lean body weight on, we could play him down. It's worked out very well."
Not to be forgotten in all this, Como also retains the always-important team lead in hair length, too, despite valiant efforts by Rivera, David Ochoa, Derek Fine, Ryan Cantrell and Kerry Meier, among others.
Como was the pioneer of the Jayhawks' recent hair revolution. But Mangino isn't holding it against him.
Heck, when the mane gets that long, you've just got to let it go.
"He jokes around a little bit with it," Como said, "but I don't think he has a problem with it."
More like this story on KUsports.com