Julian Wright's reputation as a high-flying human highlight reel grew to new heights during the 2006-07 preseason.
"Oh my goodness," gushed Northern Arizona basketball coach Mike Adras, "I saw (Julian) Wright on the top 10 plays from Tuesday night. I didn't see him from last week, but one of our assistant coaches from the women's basketball team came in and said half his body was above the rim on the dunk."
Wright, a 6-foot-8, 225-pound Kansas University sophomore who will start in today's 7 p.m. regular-season opener against the Lumberjacks, had rim-rattling dunks against Washburn and Emporia State - both worthy of mention on ESPN SportsCenter's Top 10 Plays of the Day.
"That's cool," Wright said of the ESPN mention. "It wasn't like it was me doing it by myself. When we rebound the ball and move and run the floor, a lot of players get the opportunity to be on the highlights. If we rebound and pressure, a lot of our players will get opportunities like that this season."
Wright only saw tape of one of the two SportsCenter telecasts. He says he's not thinking about dunks heading into tonight's opener.
As a somewhat undersized 4-man, his duty is to hit the backboards as he did Tuesday, when he pulled down 14 rebounds in a rout of ESU.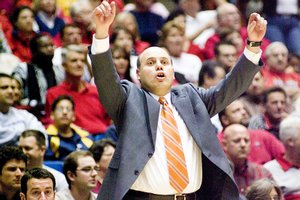 "I just want to go out and be active on the glass, especially offensively," said Wright, who had nine offensive rebounds. "I feel I can do things to help the team get extra points. I'm not big on scoring. I'll take the shot if it's there, but I'm not trying to force the issue. I'm trying to rebound and help start fast-break opportunities."
Wright, who averaged 4.6 rebounds his freshman season, averaged 11.5 in KU's two exhibition games.
"I need to attack the glass with energy," Wright said. "Sometimes coach (Bill Self) tells me to stop standing and watching. I can go out there with my length and get rebounds."
Self said Wright was capable of rebounding with the big boys.
"I thought Julian was great the other night on the offensive glass, not just because he got them (rebounds), but because of where he got them," Self said. "He made some great efforts.
KU vs NAU
"I think he needs to work on rebounding and being a better defensive presence. In the first two games, as you saw, guys would back him down and shoot over him. With all due respect, we're going to face bigger, stronger guys than that. Of course, we didn't do anything to help him (down low), and that was by design. That way we can get exposed and know what we need to get better at."
Wright, who will play somes small forward once injured center Sasha Kaun returns, isn't predicting his double-digit rebound average will continue through the regular season.
"We'll just see how it goes," Wright said. "If I am in position, not in foul trouble and coach needs me to stay on the floor, I believe I can do close to that. When Sasha gets back, that will really help the team, getting spark and rebounds and outlets. It's my focus now especially until Sasha gets back, pick up the load and pick up rebounds."
More like this story on KUsports.com