Emporia State's basketball players and coaches didn't catch Kansas University's 30-point exhibition rout of Washburn on TV.
"When was that : Thursday? We were probably going 20 miles an hour at that time. Our bus was breaking down on us. Clogged fuel pump," sixth-year E-State coach David Moe groaned.
He and his Hornets were hoping to make it from Emporia all the way to Denver on Thursday - well in advance of a scheduled practice and scrimmage against Northern Colorado at 9 a.m. Saturday in Greeley, Colo.
The team bus had different ideas, sputtering about the same time the Jayhawks were steamrolling the Ichabods, 99-69.
"We made it to Colby, stayed the night and got the bus fixed Friday morning," Moe said.
He rewarded his players for their patience by taking them to a Denver Nuggets game Friday before the practice Saturday and long, uneventful drive back to Kansas on Saturday night.
"Nobody complained," said Moe, son of Nuggets assistant Doug Moe. "We've got guys with great character - guys who try to do the right things.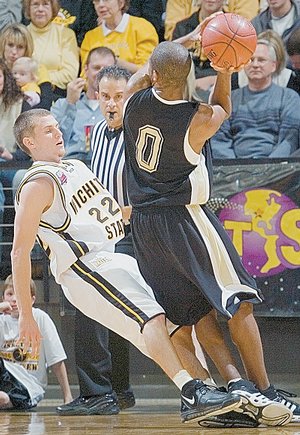 "They're 'Johnny Hustlers,'" he added, perhaps coining a nickname for a team he hopes scraps and claws and dives for loose balls in tonight's 7 p.m. exhibition at Kansas.
Moe's Hustlers, who trailed Wichita State, 42-21, at halftime of Wednesday's exhibition in Wichita, lagged just 45-41 in the second half of an 87-62 loss.
"We made some mistakes and learned from them at Wichita State," Moe said. "We played better against Northern Colorado. They're closer to our level. We got better on some things, but it certainly wasn't like playing Kansas in Allen Fieldhouse, especially when we've got a bunch of guys (eight) from Kansas. There will be a little bit of being in awe in there."
Moe has been a head coach for two games in Allen Fieldhouse, many more as an assistant at Colorado from 1993 to 2001.
"Once we were pummeled by Roy; the other time throttled by Bill," said Moe, who was a graduate assistant under Larry Brown on KU's 1987-88 national title team.
Roy Williams' KU team pounded ESU, 113-61, in a regular-season game in 2002. Self's Jayhawks blasted the Hornets, 115-70, in 2004.
More Gameday
"If I was in the Big 12, it might be upsetting," Moe said of leaving Allen Fieldhouse a blowout victim. "But for a MIAA team, it's great for our program to go there (and receive $20,000 guarantee money) and play against those guys. It's good to see them up close.
"I have no expectations. If we quit playing hard, it would be upsetting. It's character-building for us and an experience deal for us. There's only one Allen Fieldhouse."
Guards Donta Watson and DeAndre Townsend led the Hornets with 19 and 17 points respectively versus the Shockers. The team, picked to finish ninth in a 10-team league, is in a bit of transition with seven new players off an 18-13 team.
"One of the guys that left the team after last year said we wouldn't win six games without him," said Moe, who said three players left the program by mutual decision. "Evidently, several other coaches in the league feel the same way. We have a good group of kids. We'll do the best we can. I'll enjoy coaching this group."
More like this story on KUsports.com