In its only home event of the season, Kansas University's rowing team lost just five races.
But the Jayhawks' top boat won just one weekend race, and KU coach Rob Catloth couldn't help but notice.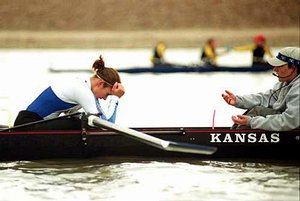 "We've got a long ways to go," Catloth said Sunday, the second and final day of the Jayhawk Rowing Invitational at Clinton Lake.
On Saturday, KU won 11 of 14 races. On Sunday, Kansas won four of six races.
But the Jayhawks' top boat, the first Varsity 8 boat, lost to Iowa and Massachusetts in its first race on Saturday, beat Indiana on Saturday afternoon and lost to Tulsa on Sunday.
"In a way, it is frustrating," said Heather Muir, a senior from Eden Prairie, Minn., and the only returning rower with experience on the top boat. "We all know how to race. But when you get to the high-caliber races, the intensity is so high. It's so much more intense. We have a lot of rowers from the third boat and the second boat. There's a lot of chemistry involved, and chemistry is hard. It's a learning process, and we'll definitely be faster by May."
Speed, curiously, hasn't been a problem.
In practice, at least, the Jayhawks' top boat is outperforming the first Varsity 8 boat of last season, when the Jayhawks were ranked 20th nationally. That's the highest ranking since the program started in 1995.
"We have so much potential," Muir said. "We show that every day in practice. It's amazing how fast we go. It's just a matter of getting race experience. It's just a matter of putting together all the pieces. You have to find the right match. It's like the card game, Classic Concentration."
The Jayhawk Invitational was a case of Classic Cautious Optimism for Catloth.
While KU's first Varsity 8 team struggled, the other boats excelled. KU's second Varsity 8 and Varsity 4 boats remained undefeated through four races.
"Our depth is really good," Catloth said. "Our freshmen are doing really well. We just need to get our top-end boat up to speed. We have two weeks off. We scheduled a break because we knew we'd be young. There could be some personnel changes in the next two weeks. When you get to the NCAAs, you take three boats your first Varsity 8, your second Varsity 8 and your 4s. But it's your first Varsity 8 that gets you there."
Or, as Muir put it: "Usually, your first boat is supposed to set the standard for your team. Everybody looks up to you. It's disappointing when everyone's doing well and you're not. But we'll get faster. We definitely have potential. We just have a few things to figure out."
Idle next weekend, the Jayhawks will travel to the prestigious Ohio State Regatta on April 14.
JAYHAWK INVITATIONAL
Race conditions: Raced over a full 2,000-meter course in stake boats with a slight breeze.
Varsity 4 1. Kansas (Angie Kratochvil, Hayley Dool, Mary Koboldt, Christy Newton, Tiffany Marquart), 8:06.6. 2. Indiana, 8:37.1.
Novice 4 1. Indiana, 8:35.3. 2. Kansas A, 8:37.9. 3. Kansas B, 8:42.1.
2nd Novice 8 1. Kansas (Coxswain Sara Kilbride, Jenny Bambara, Megan DesCamps, Christy Grissom, Sasha Amirahmadi, Rachel Davis, Stacie Lee, Jen Widerstrom, Megan McDonald), 7:44.6. 2. Kansas State, 7:59.1
2nd Varsity 8 1. Kansas A (coxswain Jasmin Smith, Chris Corbett, Alane Thomas, Jen Van Ruyven, Erin Harrington, Lauren Royall, Galina Levin, Sara Stuart, Laura Adamson), 7:19.4. 2. Tulsa, 7:34.6. 3. Kansas B, 7:35.9.
2nd Varsity 8 1. UMass, 7:22.3. 2. Kansas State, 7:37.4.
1st Novice 8 1. Kansas (coxswain Lindsay Abbott, Gretchen Schmidt, Casey Smith, Luci Lyon, Beth Olson, Kelsey Stover, Amber Snyder, Kristen Reynolds, Jessica Watson), 7:22.0. 2. Indiana, 7:43.1. 3. Kansas State, 7:56.3. 4. Tulsa, 8:06.5.
1st Varsity 8 1. UMass, 6:56.2. 2. Kansas State, 6:59.5. 3. Indiana, 7:14.2
1st Varsity 8 1. Tulsa, 6:56.5. 2. Kansas, 6:58.6.
More like this story on KUsports.com