The plan for the fifth-ranked Kansas men's basketball team against North Dakota State's quality big men on Thursday night was to make their heads spin before they got set.
Boy, did it work.
In a game that was all but over 10 minutes into the first half, Kansas overwhelmed NDSU 82-59, winning the first half 48-19 to set the tone for the run-away victory.
"Speed makes size do funny things," acting KU coach Norm Roberts said after the victory. "And we looked really, really fast in that first half. And I think it caught them off guard."
Photo Gallery
Kansas basketball v. North Dakota State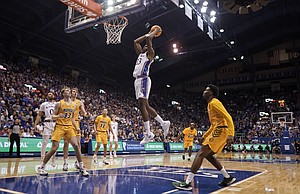 View a gallery of images from Thursday night's game between the Jayhawks and Bison at Allen Fieldhouse.
The lessons the Jayhawks (2-0) learned from their poor start in their exhibition win over Pitt State continued to pay off on Thursday night.
Kansas was anything but lethargic in the early going on Thursday, racing out to leads of 12-3, 26-9 and 40-16 en route to the easy victory.
In both regular season games, KU's defense has been turned up to the maximum level on every possession in the opening minutes, and many of their defensive possessions have led to easy offense on the other end.
That's the way Kansas coach Bill Self and acting head coach Norm Roberts want all of their teams to play all of the time. And this group already seems to have embraced that philosophy, even if there is still some fine-tuning to do regarding the specifics.
"Coming into the game, you want to establish yourselves to the opponent and let them know we mean business right out the gate," KU big man Ernest Udeh Jr. said after Thursday's win. "If we always focus on defending, defending and take care of the ball, that just creates offense for the whole team."
Few players benefited from that more than KU junior Jalen Wilson, who scored 17 points in the first half before cooling off in the second half and ending with 21, two off a career high.
Wilson was aggressive early and dialed in his jumper at the same time, with a highly efficient 6-of-8 first-half shooting performance. That included three makes from behind the 3-point line and Wilson making six of seven shots after misfiring from close range on the game's opening possession. Wilson also added a team-high nine rebounds.
Kansas freshman Gradey Dick called Wilson's start "extremely" important for this team, because it sets the tone for the night and allows the rest of the lineup to settle into the flow of the game.
"He's our leader," Dick said. "We need him to be aggressive and make plays and we know he's going to do that."
Added freshman MJ Rice, who made his KU debut on Thursday: "He's like the OG of the team. He's always bringing the energy and when he goes in and plays his game that just opens up the gate for us to come in and follow him and be aggressive."
As a team, KU shot 56% from the floor in the first half (50% from 3-point range) while holding the Bison to 25% shooting.
It wasn't just an off-shooting night for NDSU, though. Kansas simply never let the Bison get comfortable. Dribbling and passing were major challenges for the visitors during Thursday's first half, nevermind their difficulty hitting shots.
KU's defensive pressure forced five steals — three in the game's first few minutes — and that quickly turned into offense and easy buckets.
"That's the thing," NDSU coach David Richman said after the loss. "You can't simulate that kind of size, speed and strength in practice. Those guys come in here (and) play their tails off. They look like men. They're unselfish. That's a fun group to watch as you're scouting them and not a very fun group to play against."
Other than Wilson, no one in the KU lineup benefitted more from the Jayhawks' swarming style than sophomore guard Bobby Pettiford. Pettiford played just five minutes in the first half but appeared to be in total control when he was out there.
He found childhood friend Rice for two easy baskets and tossed a lob to Udeh for another. Pettiford, Rice and Udeh were the first three players off the bench for KU in Thursday's win.
Zach Clemence and Joe Yesufu also combined to play 13 first-half minutes.
Rice checked into the game early in both halves and finished the night with 10 points on 5-of-10 shooting, adding 5 rebounds in 18 minutes.
Fellow-reserves Udeh (8 points, 4 rebounds in 11 minutes), Joe Yesufu (8 points in 16 minutes) and Pettiford (8 assists and 1 turnover in 19 minutes) also provided Kansas with solid production off the bench.
North Dakota State won the second half 40-34, with KU cooling off on offensive and letting up a little defensively. None of that surprised Roberts nor did it bother him too much.
"We got a little ragged, the ball stopped moving (and) defensively we got kind of out of whack a bit," he said. "But sometimes when you've got a lead like that, that's going to tail off. I was really proud of the guys in the first half and how they played and attacked."
Next up, Kansas will head to Indianapolis next week to take on No. 7 Duke in the Champions Classic. Tipoff is slated for 8:30 p.m. on Tuesday on ESPN.