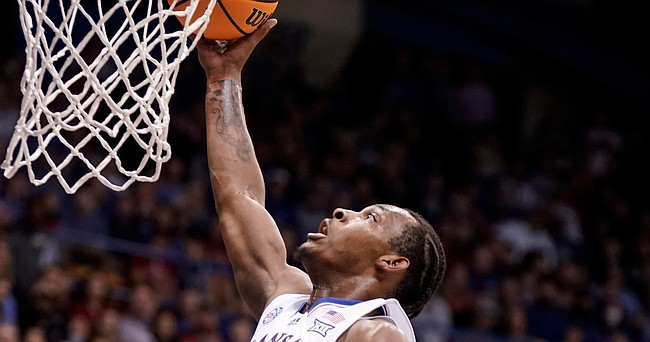 It did not take Kansas freshman MJ Rice long to make a memorable impact in his first game as a Jayhawk on Thursday night.
And Kansas fans likely won't soon forget it.
After missing the season opener and KU's exhibition win last week, Rice suited up and played on Thursday night, scoring 10 points on 5-of-10 shooting to go along with 5 rebounds in 18 minutes. Fifth-ranked Kansas defeated North Dakota State 82-59 in the win.
"I thought he was terrific," acting Kansas coach Norm Roberts said after the victory. "I thought his energy level was great. He tried to guard and move his feet and then he got out in transition. MJ can really, really score. He can score at all three levels and he's strong, he's physical. He's going to be a really good player."
Photo Gallery
Kansas basketball v. North Dakota State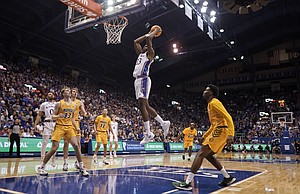 View a gallery of images from Thursday night's game between the Jayhawks and Bison at Allen Fieldhouse.
The former McDonald's All-American first checked in at the 14:09 mark of the first half and was on the board 89 seconds later, converting an easy layup off of a pass from Bobby Pettiford.
Two possessions later, the duo that grew up down the street from each other in North Carolina connected again, this time on a lob dunk that left Rice hanging on the rim with his tongue hanging out.
"It was great," said KU freshman Gradey Dick of seeing his roommate in a game for the first time. "We've been seeing it all summer and in practices this year. For him to finally get back and do a little bit of what he can do, we know that's just the (tip of the) iceberg. It's going to be a fun year."
Rice showed no ill effects of the back injury that kept him out of a week of practice until earlier this week, and he consistently showed off his athleticism, strength and instincts during KU's victory.
Rice played a little over seven minutes, uninterrupted, during his first action as a Jayhawk, finishing the half with six points, two rebounds and a steal on 3-of-5 shooting.
Asked after the game to divulge his favorite moment, Rice was quick with his answer.
"The win was the best part of the game," he said.
Been there before
Acting Kansas coach Norm Roberts and KU head coach Bill Self have had plenty of communication and contact during the first week of Self's university-imposed suspension.
But not on game days.
According to the rules of the suspension, Self and KU assistant Kurtis Townsend are not allowed to have any contact with any part of the KU program during the 24-hour period that makes up game day.
That has not kept Roberts from wondering how Self handled the time away because he's lived it. Roberts missed last year's home win over Iowa State because of COVID, and he recently recalled what it was like to watch the Jayhawks play from home.
"My wife wanted to kill me because I was down in my basement and I could not stop screaming and yelling," Roberts said. "I would imagine there was some of that going on (with Self)."
With two games now in the books, Self is down to two more nights away — next Tuesday when KU plays Duke at the Champions Classic in Indianapolis and Nov. 18, when KU plays host to Southern Utah at Allen Fieldhouse.
On his Hawk Talk radio show earlier this week, Self noted that watching from home was different and something he didn't love doing, but he reiterated that serving the suspension was "the right thing to do."
He also said he had faith in his players and Roberts and the rest of the staff to do what needs to be done on the nights he's not around.
"Hopefully what happens on game day is a reflection of what happens in practice the other days of the week," said Self, who can still work with his team in practices.
Starting lineup update
The Jayhawks used the same starting five for the second game in a row on Thursday night, with sophomore forward KJ Adams playing the 5 to open the game.
Adams was joined in the starting five by Dajuan Harris Jr., Kevin McCullar Jr., Gradey Dick and Jalen Wilson.
First on the floor
After years — and years and years — of watching former KU big man Mitch Lightfoot take the floor before any other players during KU's pregame warm-ups, the torch has officially been passed.
Thursday night, before KU's second game of the season, redshirt freshman Kyle Cuffe Jr., was the first one on the floor, shooting jumper after jumper while KU assistant Joe Dooley rebounded for him.
As last season went on, former KU All-American Ochai Agbaji started to join Lightfoot out on the floor earlier than anyone else, and it's clear that Cuffe picked up a little something from the two KU veterans during his first season with the program.
Jayhawks on Watch Lists
With the season now under way, and players off and running toward making their case for postseason honors and accolades a few months down the road, here's a quick look at the Jayhawks who opened the 2022-23 season on college basketball's various watch lists.
Jalen Wilson landed on the 20-man NABC Player of the Year Watch List and the Julius Erving Small Forward of the Year Watch List, and newcomer Kevin McCullar Jr. was named to the Jerry West Shooting Guard of the Year Watch List.
The two veterans and longtime friends also were named to the preseason all-Big 12 team voted on by the conference's coaches.
If there's an omission here, it's likely at the point guard position, where KU's Dajuan Harris Jr., was not included on the 20-man Bob Cousy Point Guard of the Year Watch List this preseason.
Each of these awards, however, notes that players can play their way on and off of the lists throughout the season and the lists will be cut to 10 in late January and five finalists in late February.
This and that…
KU's win on Thursday night moved the Jayhawks to 2-0 for the 11th time in Bill Self's 20 seasons at Kansas. Self was not at Allen Fieldhouse for the win. Instead he watched from home while serving the second game of a four-game suspension…. KU officials said before Monday's season opener that the results of the Jayhawks' first four games would not go on either Roberts' or Self's individual record. Instead, they'll be program wins or losses… KU now leads the all-time series with NDSU, 3-0, with two of the wins coming at Allen Fieldhouse and the other in the 2009 NCAA Tournament. KU is now 832-116 all-time inside its home venue and 2,359-877 all-time, good for the most wins in NCAA Division I history.