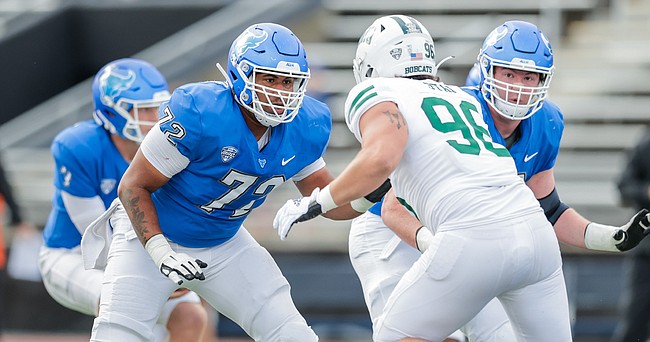 Deondre Doiron knows how it looks.
Doiron, who on Friday decided to transfer from Buffalo to Kansas, is aware of the perception that he's yet another player following head coach Lance Leipold and some of his assistants from the Northeast to the Midwest.
And while Doiron does acknowledge that's technically true, he said his decision was made more so because of what he heard about Kansas from the others who have taken that path.
"When I entered the portal, it wasn't predetermined or anything like that that Kansas would offer," Doiron said Friday afternoon, not long after offering his commitment to the Jayhawks. "I didn't think that they would have a spot for me, if I'm being completely honest. I got in the portal and I got some offers ... and I thought it was a great opportunity for me.
"Obviously, I love those guys and I know what they're building and I know what Mike Ford and (Mike) Novitsky have told me about what they're building over there, so it was perfect for me."
A right tackle who will be a redshirt sophomore in the fall, Doiron will be the eighth player to make the move from Buffalo to Kansas once the transfer is completed. Ford and Novitsky, other offensive linemen who made the move, are among that group, as is Nolan Gorczyca, who transferred to Kansas after last season and is the teammate whom Doiron said reached out most frequently.
Doiron, who is 6-foot-4, 284 pounds and from London, Ontario, Canada, started 10 of 12 games for the Bulls last season. He said it wasn't difficult to decide to stay at the university after Leipold and his assistants left for Kansas, even though they had recruited him to the school.
"When they left," Doiron said, "it was, 'OK, let's bond together. This is a moment we have to get through. Obviously, we're going to miss this coaching staff. We loved those guys, but we understand this is the nature of the beast in college football. Let's bond together and go get it and do what we have to do to continue the success that we had.'
"I love those guys. I stuck around. A couple of them left and we understood that, but the guys who stayed back, we decided that's what's best for us."
That changed in recent weeks as Doiron, who formalized his decision to switch schools by entering the transfer portal on April 27, said he "just didn't feel happy at Buffalo."
Nearly immediately, plenty of schools began contacting him, he said, to a point where he couldn't pick up his phone without being notified someone else had reached out. Eleven schools, including Kansas, offered Doiron a scholarship within three days.
"I didn't know if anything would happen, and then I mean, in the first two days, I picked up 10 times the offers I got out of high school and it kind of just rolled from there," he said.
Doiron's commitment is the third the Jayhawks have landed within eight days and the second from an offensive lineman after Flavio Gonzalez, who spent the last two seasons at Butler Community College. Former Minnesota wide receiver Doug Emilien committed to the program on Monday.
Although Doiron has experience playing right tackle, he doesn't know where he'll fit at Kansas. The Jayhawks have four of five starters returning on the offensive line as only left guard Malik Clark, who will try out for the Kansas City Chiefs this weekend, has departed.
Doiron told teams during his recent recruitment that he didn't want to hear any guarantees on playing time because he wants to embrace competition and tried to avoid those conversations.
"If they need me to play all five (positions), I'll play all five," Doiron said. "Wherever they have me slotted at, playing or not playing or filling up the water, that's what I'm willing to do."
Doiron, who wants to be a high school teacher and coach football once he's done playing, won't have much time to make the adjustment to Lawrence. His final exam at Buffalo is on May 18, and he'll begin summer workouts at Kansas after arriving on May 29.
That's a quick turnaround for someone who didn't visit the campus before committing, but that's no problem for Doiron.
"That's kind of how I want it," he said. "I kind of want to get to work. I want to get started. I mean, they know that, and we kind of made that happen."