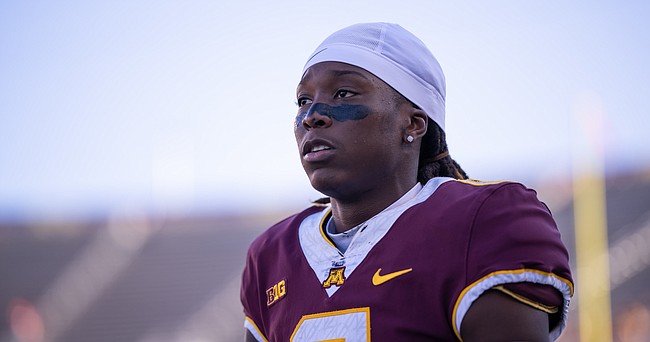 Kansas' newest wide receiver, Doug Emilien, said Tuesday that he had decided to join the Jayhawks after transferring from Minnesota because of the relationships he had built with the coaching staff over the past month.
Emilien committed to play for Kansas on Monday, his 21st birthday. He said his connections with head coach Lance Leipold and wide receivers coach Terrance Samuel played a large role in that decision.
But it was his relationship with running back Ky Thomas, a Topeka native who transferred to Kansas from Minnesota in January, that made the Jayhawks more appealing. Thomas was not just a former teammate but was Emilien's former roommate.
"It was my decision, but he told me that we're trying to build something, and I want that," Emilien said.
He called the ability to play with Thomas again "a blessing, for real, because we know what it's like to be at the bottom and we know what it's like to be humbled. We're coming out of the same situation."
Emilien, who is 6-foot-1 and 190 pounds, graduated from American Heritage School in Plantation, Florida, in 2020. Despite being one of Minnesota's top-rated recruits, he was also one of six players it added at the position that offseason.
That meant Emilien redshirted during his first season at Minnesota, and he only played in two games last season and did not make a catch. Though he stuck with the team through spring practice, he did not believe he would play much more in the fall and chose to leave.
"They had a couple guys that were there, and it went from they were throwing the ball a lot to they were running the ball a lot there, and he's just one of the kids that got lost in the mix a little bit," said Mike Smith, now the head coach at American Heritage and an assistant coach while Emilien attended the school.
Smith said Emilien was "one of the best receivers in South Florida" during his senior year. A consensus three-star recruit, he earned scholarship offers from nearly two dozen schools and chose Minnesota over Virginia and Cincinnati, but others, such as LSU and Miami, were in the mix late.
He will likely line up as an outside receiver for the Jayhawks, who have lost several players at the position in recent weeks. Kwamie Lassiter II, their leading receiver last season, was a sixth-year senior who signed a contract with the Cincinnati Bengals on Saturday.
Three wide receivers — Kyler Pearson, Tristan Golightly and Majik Rector — have left Kansas in the last month, and Lawrence Arnold, Trevor Wilson, Luke Grimm and Steven McBride are the only ones who will return having played significant snaps last season.
Smith said Emilien didn't play on the varsity team until he was a junior. He finished that season with more than 700 receiving yards, then had 36 catches for nearly 600 yards as a senior.
"He's a kid that was overlooked probably by a lot of people early on and he carries that chip to this day," Smith said. "You're going to get a kid that will use Minnesota as some type of motivation. He creates stuff like that to really get him going, but a very competitive kid, a hard-working kid, a good kid. I'm happy for him that he's found another home and a new start."
As for where that motivation comes from, Emilien didn't hesitate.
"It's me being slept on my whole life," he said. "Me just getting the opportunity to be a college athlete, that's a blessing. Where I come from, it's not that often that you see that, so I've got to represent every time. I've got to give it my all every time, because you know football is going to be over one day and I just want to give it my all and have fun with it and compete my (butt) off. I have that mentality."