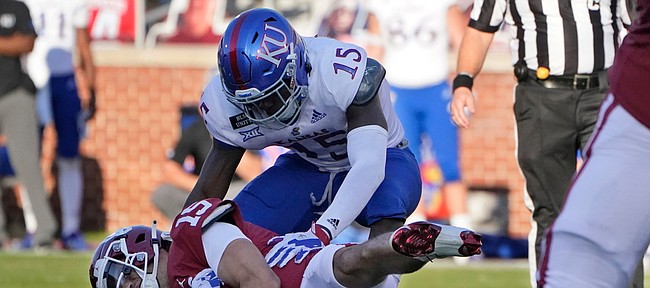 — Kansas (1-2 ) at Duke (2-1) • 3 p.m. kickoff, Wallace Wade Stadium, in Durham, N.C. • Game-time forecast: 75 degrees, mostly sunny, 0% chance of rain • TV: ACC Network • Radio: KLWN, FM 101.7 / AM 1320
Keys for Kansas
1. Fewer missed tackles
Rudimentary as it may sound, simply making tackles has been an emphasis for the Kansas football defense at practices this week.
"It's a concern across the board. We have to be better at it," head coach Lance Leipold said, coming off of the Jayhawks' 45-7 home loss in which missed tackles proved to be a consistent issue.
A number of factors played into the defense not finishing tackles, Leipold explained.
"Sometimes it has to do, unfortunately, with experience and youth and physicality and strength — and all the things that we've got to do better," KU's head coach said.
It was something KU's coaches tried to get out in front of, when it became a concern in the team's 49-22 loss at Coastal Carolina. Leipold said the staff began modifying some aspects of practice leading up to the Baylor game in order to work more on tackling. But that didn't give the Jayhawks the results they wanted, so they worked on and emphasized tackling even further this week.
Defensive coordinator Brian Borland said it wasn't as if they didn't talk about tackling before the Baylor game. But as they prepared for their nonconferene finale at Duke, Borland said, the mechanics of it became even more of a focus. The coaches showed the players specific video clips from the BU game in order to give them examples of mistakes, as well as instruction that coaches expect will help players avoid repeating those miscues in the future.
Borland said consistent issues, including stopping their feet before contact, plagued KU's defenders. The D.C. said drill work this week at practices mirrored the issues the coaches observed in the Week 3 blowout loss.
Said Leipold: "Our missed tackles and yards after contact are not where they need to be, and it's being talked about and addressed daily."
KU's head coach maintains that the Jayhawks are "playing hard" on defense, but thinks the players have to be more physical and grow in confidence during their first season in a new defense.
"I think we all knew that it was going to take some time and we don't know how much time it's going to take, and we're doing our best for this senior class and everyone to keep fighting forward and progressing," he said.
Sound tackling will be particularly important for the KU defense against Duke senior running back Mataeo Durant, who leads the ACC in rushing yards (398), scoring (48 points), total touchdowns (eight) and rushing TDs. Durant enters the weekend averaging 167 all-purpose yards per game (second in the ACC).
2. Expect pressure — and expose it
As the KU offense prepped for the Blue Devils this week, offensive coordinator Andy Kotelnicki said his game plan had to account for the pressure Duke will bring.
Through three games, the Blue Devils only have four sacks, but they have 16 quarterback hurries, too, and have blitzed to create disruption. Kotelnicki said the Duke defense bounces around, showing multiple fronts while looking to create havoc.
"So when you see a multiple pressure team, you have two choices. You can kind of sit back and react to it," Kotelnicki said, "or you can say, 'Hey, we want you to react to us.' We're going to try to make them react to us."
When an opponent brings pressure, Kotelnicki said one of the first things he thinks about is what he can do schematically to challenge the defense. And, of course, the other crucial component is determining how to best protect the QB.
"And that's an area we're continually trying to improve on," KU's O.C. said of blocking well enough to keep starting QB Jason Bean out of harm's way. "And we're not at the level where we want (to be) yet. And I'm using the word 'we,' because I'm a part of that, and we've got to make sure that he's more comfortable back there and doing the things he's comfortable doing."
Bean (37-for-67 passing, 409 yards, three passing touchdowns, no interceptions) has been sacked six times so far this season, and five of those came in Week 2 at CCU.
If an offense handles and counters a pressure defense effectively, Kotelnicki pointed out, it should be able to find solutions to blitzes and take advantage.
"All of the sudden you're a gap short. And when you play as much man coverages as they do, bang, you get some of those explosive plays that they're really trying to minimize," he said.
Of course, to make that happen the Jayhawks' protection will have to be on point, and they will have to execute in their run game to counter what Duke is trying to pull off.
In their home win over Northwestern last week, the Blue Devils forced five turnovers (three interceptions and two fumbles) and recorded three sacks.
3. Remain competitive in 2nd half
While the Jayhawks hope to address a multitude of issues that popped up in in back to back losses, one obvious problem has been getting outplayed in the second half.
KU entered the third quarter down just 14-7 versus Baylor before the Bears dominated on the scoreboard after halftime, 31-0.
Though the offense didn't struggle as mightily in the second half the week before at Coastal, after the Jayhawks scored an early third quarter TD to cut the deficit to 28-22, the Chanticleers outscored KU 21-0 the rest of the way.
From a defensive perspective, Borland thinks the Jayhawks have shown they have the ability "to hang with" their opponents. "We just haven't been able to sustain it for the whole game," Borland added.
Baylor's third possession of the second half, when freshman safety O.J. Burroughs forced a fumble, was an outlier, as the Bears scored on five of their first six drives after halftime.
"We've just got to keep our ability to execute and function and keep the score in a matter that we're in it in the fourth quarter, because then anything can happen," Borland said.
The KU offense only had one productive drive the entire game in Week 3 and that came in the second quarter. In the second half, the Jayhawks only totaled 66 yards, averaged 2.4 yards per play and picked up just three first downs.
Kotelnick noted the offense lacked the explosive plays in the blowout loss that gave the Jayhawks some life the week before at Coastal. KU only had one play pick up more than 20 yards versus the Bears, and that was a 25-yard Bean run in the first half.
The Jayhawks need to get to a point where they're not only avoiding negative plays and turnovers, but also hitting on some chunk yardage plays.
"That's how you're able to sustain drives, stay on the field, keep the (KU) defense off and keep getting first downs and touchdowns," Kotelnicki said.
KU's O.C. said the players are learning from their struggles. Similarly, the coaches are discovering what may or may not work from a play-calling and personnel standpoint.
The KU coaches who came to Lawrence from Buffalo a few months ago have only coached these players in three games, Kotelnicki said, and the staff continues to learn how to "magnify and emphasize" the Jayhawks' strengths and avoid their weaknesses.
Prediction
Duke 35, KU 20