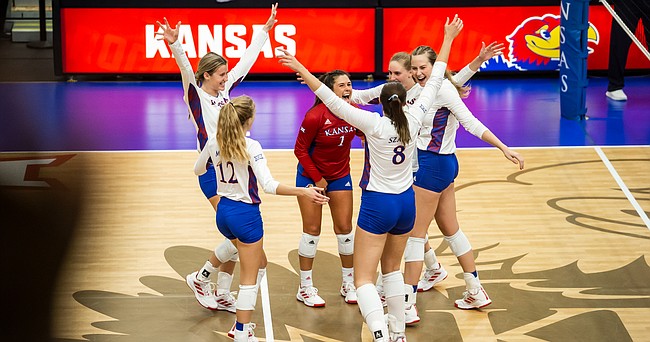 The Kansas volleyball team ran its winning streak to seven consecutive matches with a five-set, come-from-behind road win at Texas Tech on Friday night.
KU won 15-25, 25-22, 17-25, 25-18 and 15-7.
After falling 25-15 in the opening set, the Jayhawks won three of the next four, including the final two in must-win fashion.
The Jayhawks (9-3 overall, 1-0 Big 12) jumped out to a 7-3 lead in the final set, building on the momentum they gained from their fourth-set victory.
"We made enough plays late in the fourth set to get the momentum going and carry it over to the fifth," KU coach Ray Bechard said. "There could have been times we could have got a little frustrated and said 'hey, it's not our night' but we stayed the course and got a little better as the night went along."
Super-senior Jenny Mosser led Kansas with a season-high 18 kills on 49 attacks. Mosser also recorded 13 digs in the victory.
Sophomore Caroline Crawford chipped in with nine kills and five blocks and freshman Caroline Bien, the two-time reigning Big 12 rookie of the week, delivered nine kills and 12 digs. Crawford's nine kills came with zero errors, marking the second time in three matches that she avoided making an error on the attack.
Sophomore setter Elise McGhie picked up her first double-double of the season with 27 assists and 12 digs, and junior libero Kennedy Farris led Kansas with 16 digs.
KU out-hit the Red Raiders (.176 to .164) in a grind-it-out kind of Big 12 opener.
The two teams will square off again at 6 p.m. Saturday night from United Supermarkets Arena in Lubbock, Texas.
"I think we found out what it's going to be like night-in and night-out in the Big 12 tonight," Bechard said. "There are just a lot of good quality teams."