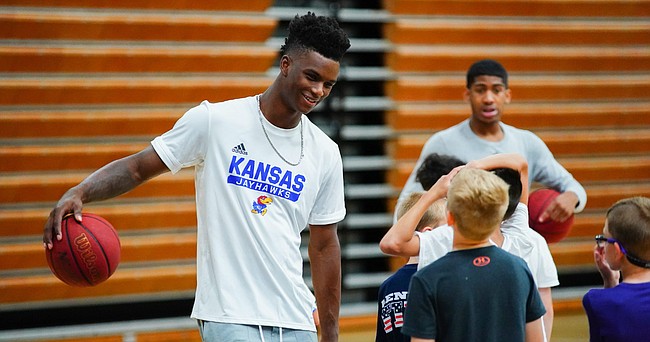 Three days into the Kansas basketball program's latest round of boot camp, seniors Ochai Agbaji and Cam Martin highlighted freshman forward KJ Adams as one of the standouts so far.
"I think just his God-given ability," said Martin, when asked what caught his eye with Adams. "He's a freak athlete and very strong and mature for his age. I think he's going to have really good career."
Both Martin, a super-senior transfer, and Agbaji, who is back for his fourth season as a Jayhawk, have had Adams in their small group during boot camp. So they've seen him as up-close-and-personal as anybody.
For Agbaji, that has meant doing everything he could to push Adams to fight through the exhaustion and uneasiness associated with the preseason conditioning camp.
One example surfaced Tuesday, when a Twitter video of some of the action showed Agbaji and Adams jumping side by side and lightly hitting their heads on the backboard.
Those were the instructions KU coach Bill Self shouted out be-fore the drill began, an indicator of his desire to field a more athletic team this offseason.
Both Adams and Agbaji executed much of the drill with smiles on their faces.
"I'm just helping him," Agbaji said. "But he's working hard. All the newcomers are doing a really good job so far."
In all, this year's boot camp features 10 new faces going through the conditioning course for the first time. While many of them have done something similar at past stops, Agbaji said he was sure they'd never seen anything quite like boot camp at KU.
"They haven't said anything," Agbaji said. "I know they're not complaining about anything that's different. But I know it is a different level from where they came from."
Martin, who played for former KU guard Jeff Boschee at Missouri Southern State, agreed while noting the one major change.
"Our conditioning program (was) pretty similar," he said. "But it was spaced out longer. But we still did about eight, nine days over three weeks. It's been a good experience so far, just building with your teammates and stuff like that. It's really fun."
The only part that hasn't been fun, for Martin at least, are the early-morning wake-up calls.
"I'm in the grad program right now, so I got in a bad habit of having all online classes and sleeping in in the mornings," the 6-foot-9 transfer said Wednesday. "So just getting up now is the biggest struggle for me."
Agbaji laughed off that notion, recalling his freshman season, when boot camp tipped off at 6 a.m. instead of 7 a.m.
By 6 a.m., that meant the first whistle blew when the clock struck 6. It also meant being on time was unofficially considered being late. In order to be ready, several players often got up well before 5 a.m., to wake up, get loose, get treatment and get on the floor on time.
"Anything's better than that," Agbaji said.