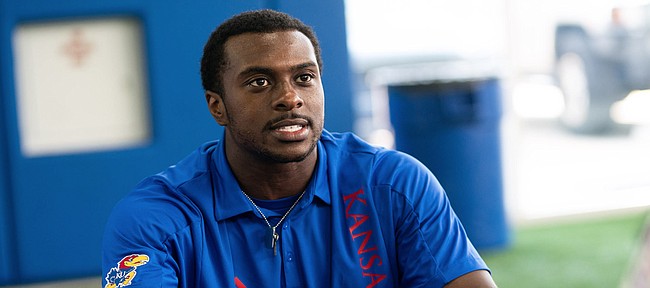 A super-senior currently playing his fifth season with the Kansas football program, Kyron Johnson through two games is proving to be one of the Jayhawks' most important and impactful players.
A 6-foot-1, 235-pound veteran from Arlington, Texas, who spent previous seasons as an outside linebacker or a D-end/linebacker hybrid, Johnson already has contributed 14 total tackles, 2.5 tackles for loss, 1.5 sacks, one forced fumble and a fumble recovery as a pass-rushing D-end under new head coach Lance Leipold and defensive coordinator Brian Borland.
Ahead of KU's Week 3 Big 12 opener versus Baylor (2:30 p.m. Saturday, ESPN+), Johnson spoke about his role and what he's hoping to get accomplished — on and off the field — this fall with the Jayhawks.
Q: What have you liked most about playing defensive end so far?
A: "The fact that I can rush off the edge more often."
"But people ask me this all the time. They're like, 'Kyron, how do you like D-end?' To me, I don't see it as a D-end spot. I see it as an OLB spot, because I can stand up or put my hand in the dirt. So it's like, I guess you could say I'm a D-end. I guess (laughing)."
Q: In terms of what you feel like you need to provide for the defense, how has your role changed this year? Do you feel like there's more on you as an individual than in the past?
A: "Not really, because the way I play my game, I just play with full effort. So with that, of course coaches come up to me and be like, 'Kyron, you have to lead the team. You have to set the tone.' That's how I play, though."
"So setting the tone and doing stuff like that, I guess you could say that's normal for me, because that's just how I play. I just have to get acclimated with how I do things and how the team does things, as well."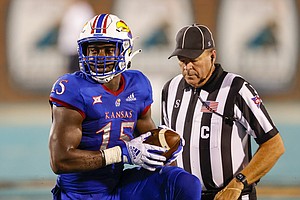 Q: You have 1.5 sacks so far, through two games — what do you think of that pace and the trajectory of what you're trying to do this season as a pass-rusher?
A: "Right now, I think I'm doing OK. Like I wouldn't say I'm doing it at my best, because of how I'm playing. Sometimes I'll find myself like being lackadaisical with something, and I'll really have to snap out of it and actually get going."
Q: How important is it to you individually to be a part of Year 1 of the Lance Leipold era and what these coaches are trying to build? It's a little different because you're older and on your way out and they're just getting started, but is that important to you?
A: "I think it's really important, because of the fact that we as seniors or super-seniors, we're setting the foundation right now for the younger guys to look up to."
"When I think about it, when I was a freshman, I was looking up to guys like Joe (Dineen), D-Wise (Daniel Wise), Steven Sims. And now that I'm in their shoes, it's like, 'oh, wow.' There's gonna be dudes looking up to me. So I have to really set this tone and make sure that I can be part of something great with Coach Leipold."
Q: Do you feel like the defensive line is the strength of this defense, and do you guys up front feel like it needs to be?
A: "For me, I would say yes."
"For me, the defensive line, we set the tone — not just for the defense, but for the whole team. It's like we have a standard to where people have to follow us or you just get left, basically."
"So with that, that's why I say D-line. I wouldn't say we're the strongest — OK, I would say we're the strongest unit. But I will say we're relentless. Just strong, strength, relentless effort. That's why I say we're probably the ones that set the tone for the whole team."