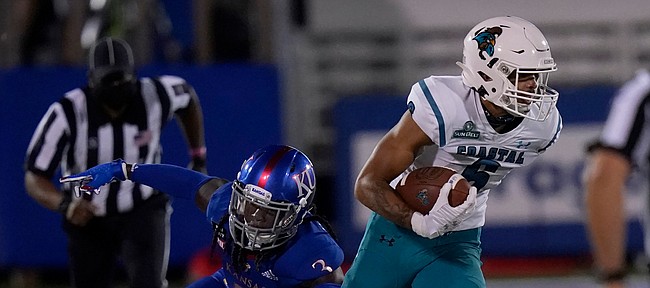 — Kansas (1-0) at No. 17 Coastal Carolina (1-0) • 6:30 p.m. kickoff, Brooks Stadium, in Conway, S.C. • Game-time forecast: 75 degrees, mostly cloudy, 0% chance of rain • TV: ESPN2 • Radio: KLWN, FM 101.7 / AM 1320
Keys for Kansas
1. Beware of Chants' option offense
After a narrow, 17-13 win over FCS opponent South Dakota in the season opener last week, the Kansas football team is about to take on a Coastal Carolina program that returns nine starters from what proved to be one of the best offenses in all of the FBS in 2020.
"I don't know that they're weak anywhere," KU defensive coordinator Brian Borland said of the No. 17-ranked Chanticleers, who rolled, 52-14, over The Citadel in their 2021 debut.
"So you can't say, 'They can't really do this well, so we'll really stop the other aspects.' There's nothing they don't really do well," Borland said. "So it's a heck of a challenge, for sure."
The Chants put up 37.2 points, 449.8 total yards and 218.8 rushing yards per game a year ago, when they ranked in the top 10 nationally in 3rd-down conversions (52.3%, fourth), team passing efficiency (177.72, sixth), fewest sacks allowed per game (1.17, 10th) and 4th down conversions (76.5%, 10th).
Coastal — which won in Lawrence each of the past two seasons — brings back from 2020 not only quarterback Grayson McCall, whom Borland described as "legit," but also its entire offensive line, running back Reese White, receiver Jaivon Heiligh and tight end Isaiah Likely. Borland said the 6-foot-4, 240-pound Likely "is really a wide receiver playing tight end."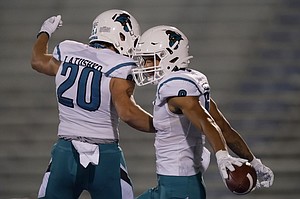 But what really makes Coastal extraordinary is that its scheme features a spread option offense that can gash a defense that gets caught off guard.
"The thing with option teams is not a lot of people do it," KU senior defensive end Malcolm Lee said. "If you're not handling your exact assignment — if everybody isn't handling their exact assignment — every single play, something's gonna bust — for a lot."
Lee said the hardest thing about defending an option offense like Coastal's is that the players have to be "extremely disciplined" for four quarters.
While CCU's scheme, Borland pointed out, isn't anything like a traditional triple option attack, such as the one Army has implemented, the Chants run a modernized version of the triple option, along with some more standard offensive looks.
"You've really got to spend a lot of time on that, because if you don't you're not going to be prepared," Borland said of CCU's option plays.
KU's D.C. actually started studying the Coastal offense before he even knew he'd be coaching the Jayhawks this fall. The Chants' 2021 schedule also includes a trip to play Buffalo on Sept. 18. During the spring with the Bulls, Borland said they prepared for the spread option.
Borland has so much respect for the Chants' offense that he made sure to carve out some practice time with the Jayhawks during the preseason to familiarize the defense with it far in advance of the typical game week preparation.
"It presents a lot of challenges," Borland told reporters this week. "If you've got any suggestions, fellas, I'll take them," he joked.
2. Show offensive progress from Week 1
While KU's offense did enough to make sure head coach Lance Leipold got a win in his first game with the program, the Jayhawks have plenty to work on heading into their primetime road game against a top-20 team.
Offensive coordinator Andy Kotelnicki liked the way QB Jason Bean (17-for-26 passing, 163 yards, two touchdowns) ran and made things happen when the pocket broke down in his KU debut. But what Kotelnicki appropriated most was Bean's ability to learn from his mistakes.
Kotelnicki pointed out that both of Bean's TD throws, as well as a crucial 4th-down completion in the fourth quarter, came on plays that he missed earlier in the game.
"All three of those plays were strikes when we got back to it the second time," Kotelnicki shared. "In the past I've dealt with guys who struggled to make those corrections from Week 1 to Week 2, let alone within the same game. So for him to do that tells me that his upside is still just rising."
The O.C. expects Bean will continue improving each day, and if the Jayhawks are to compete with the Chanticleers they will need that to be true of for all of its offensive personnel. Kotelnicki said he expects the growth from Week 1 to Week 2 for the offense will be significant, including on the offensive line.
The Jayhawks' work in progress offense will have to execute against a CCU defense that returns 10 starters from the 2020 team that went 11-1. Six of the Chants' top defenders have 21 or more career starts, led by linebacker Silas Kelly (34), a super-senior who made 80 tackles, 6.5 tackles for loss, five sacks and an interception last year.
Kotelnicki at least knows what to expect out of the CCU defense.
"We've got to do a good job of putting stress on them in certain ways," he said, adding it's up to KU's coaches to set the players up for success against the experienced defense.
Playing in a hostile environment, the Jayhawks also will need to get off to a better start at CCU than they did versus USD, when they didn't pick up a 1st down until the second quarter. A much improved rushing attack — junior running back Velton Gardner produced only 21 yards on 19 carries — will be crucial, as well, for KU's upset bid.
3. Make 3rd down stops
One reason the KU defense found success in the opener was the Jayhawks routinely got off the field on 3rd downs. USD only picked up three 3rd down conversions on 13 attempts.
It will be more difficult to stymie the Coastal offense in such situations, but it's a blueprint for success the Jayhawks will need to follow as best they can.
Typically, Borland said, making 3rd down stops has a lot to do with putting the offense in a tough spot with a tackle for loss on 1st or 2nd downs. But that often wasn't the case for KU in Week 1, he added.
"The 3rd down stuff, I thought we were able to be disruptive to the quarterback (Carson Camp)," Borland said of what helped KU most. "I don't think there was ever really any degree of comfortability back there with him, because he knew that we were able to get some pressure on him. Not always sack him, but be around him all the time quickly."
KU played a lot of man coverage in those situations and executed, the coach added, before he brought up what he liked even more about what the defense did against USD: denying all three of the Coyotes' 4th down attempts.
"I feel like guys really got a lot of momentum from that and a lot of confidence from those situations. I hope it keeps manifesting itself this week, too," Borland said.
While Leipold also enjoyed seeing the defense make so many stops in the opener, there are areas that need improvement, too.
"Like everything, as we move forward we want to tackle better than we did," Leipold said. "I think the two touchdowns (that USD scored in the second half) there were missed tackles."
Prediction
Coastal 41, KU 17