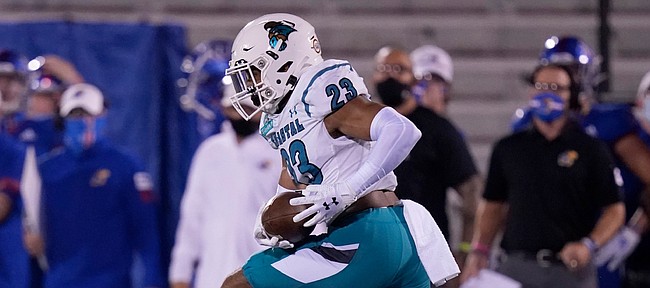 The Kansas football players who have been in the program the past two years know all about college football's 2020 darling from the Sun Belt Conference, Coastal Carolina.
Not only did head coach Jamey Chadwell's Chanticleers come to Lawrence and go back home to South Carolina with a win in 2019, but they did it again in 2020, kickstarting an 11-1 season with a 38-23 victory over the Jayhawks.
KU senior defensive end Malcolm Lee said ahead of Round 3 of the nonconference series (6:30 p.m. Friday, ESPN2) he remembers last year's game all too well.
"In my opinion, the final score was not indicative of the reality of that game. Because they beat us down bad," Lee said. "They were much more physical than us from the first whistle until it was triple zeroes. So I definitely want some vindication on that."
Originally, KU was only supposed to play Coastal twice — in Lawrence in 2019 and at Brooks Stadium in Conway, S.C., in 2020. However, when the Big 12 decided amid the pandemic last year that its football teams would not travel for any nonconference games, Coastal agreed to play at Lawrence again in 2020 if the Jayhawks could still become the first Power Five team to play at CCU in 2021.
Junior KU safety Kenny Logan Jr. said for veteran players in the program, "it's definitely motivating" this week to get a third matchup with Coastal.
"You've got to go out there with a different chip on your shoulder about this one," Logan said. "They came in here and beat us twice, so they have our respect, but we're going to go out there and do what we're supposed to do and hopefully bring home the dub."
The KU football program hasn't defeated a ranked opponent since 2010, when the Jayhawks beat No. 15 Georgia Tech.
The No. 17-ranked Chanticleers, Lee said, have the Jayhawks' respect and then some.
"It's a great squad obviously. I don't care what conference you're in, if you're going 11-1 you have a good football team," Lee said. "So it's going to be really exciting to go down there and have a good matchup."
Logan said the Jayhawks aren't building up this game to be bigger or mean more than other games on the schedule, but they're looking forward to it nonetheless.
Looking back at CCU's 12-7 win at KU in 2019, as well as its lopsided victory a year ago, Logan said the Jayhawks just had costly breakdowns.
"That's all we're trying to do, just learn from previous years and just build on this one," Logan added.
The nonconference trilogy comes with anticipation for both programs — CCU has asked its fans to all wear white for what is expected to be a large crowd in the 20,000-seat venue.
While KU's veterans are excited to face a top-20 team on national TV on a Friday night under the lights, some of the eagerness also stems from the recent past.
"All respect to them. They've gotten us the past two years. But I would really like this win — a whole lot," Lee said. "It definitely adds a little bit of an edge to the game. But I'm definitely looking forward to it. It's always fun to play them."