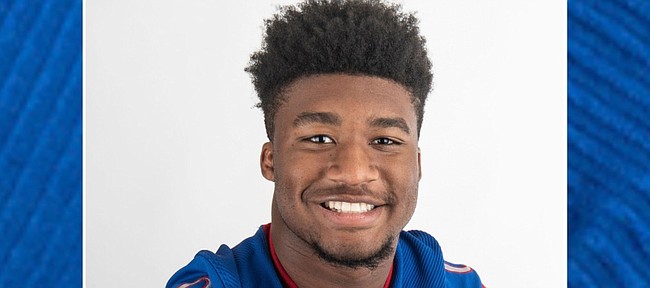 Kansas offensive coordinator Andy Kotelnicki said Wednesday that the coaching staff would like to give more work to freshman running back Devin Neal in the near future.
But both Kotelnicki and head coach Lance Leipold believe that the KU offense is going to have to get off to better starts in order for that to happen.
In his college debut, Neal, the former Lawrence High standout, gained just one yard on one carry and was on the field a limited number of snaps during last week's 17-14 win over South Dakota. But that small workload had very little to do with Neal or his performance.
"Honestly, we probably didn't get to see what we wanted with Devin Neal because we just didn't get any sustained drives going, especially early in the game," Kotelnicki said.
Photo Gallery
KU football v. South Dakota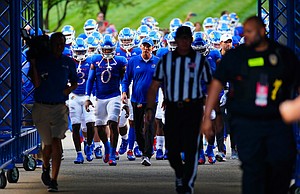 View a photo gallery from the Jayhawks' 17-14 win over the Coyotes Friday night.
Added Leipold: "If you're not moving the ball, if you keep rotating, nobody gets the feel of it."
So they didn't. Instead, the Kansas offense featured junior tailback Velton Gardner, who carried 19 times for 21 yards, with redshirt-sophomore Torry Locklin carrying the ball five times for eight yards and also playing a key role as a blocking back.
Neal's lone carry came on KU's second drive of the game. He went right for one yard and was upended just as he started to turn up field. He played the next play, as well, but was used as a receiver coming out of the backfield and was not targeted.
"You kind of go into some of those games going, 'OK, we're going to get this guy in on the third series or we're going to get this guy X number of carries,'" Kotelnicki said. "But when you go three-and-out, three-and-out, three-and-out, or whatever it was, there's no rhythm there."
It was actually one more three-and-out. The Kansas offense ran just three plays on four consecutive drives in the first quarter, gaining a total of three yards. KU's first first down did not come until the second quarter, but things improved slightly from there, as the Jayhawks had just one three-and-out the rest of the game after the rough first quarter.
Because it's still so early in the season — and also so early in Leipold's time in charge of the program — the first-year coach called the KU offense "a work in progress." He said Monday that everybody involved can be a little bit better and he believes that will happen quickly.
If it does, that figures to give Neal more opportunities as the coaches try to establish a rotation of running backs that works for both the offense and the players themselves.
"We wanted to get Velton going a little more," Leipold said. "That's probably why we stayed with him, to try to get a rhythm."
Added Kotelnicki: "The depth of your running back position will show up a heck of a lot more when you can stay on the field and sustain some drives."
Kansas heads to Conway, S.C., this week for a tough road matchup with No. 17 Coastal Carolina. Kickoff is slated for 6:30 p.m. on ESPN2.