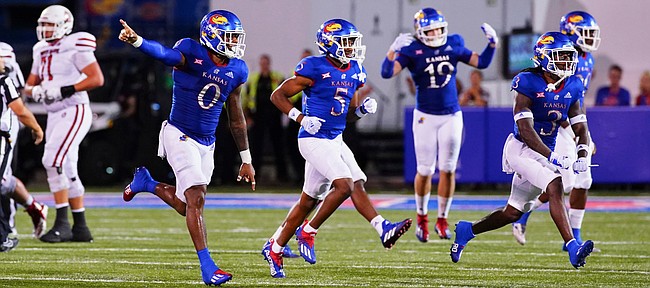 In order for the Lance Leipold era to begin with a Kansas football win, the defense had to seal the Jayhawks' season opener with a stop.
Before the players took the field for the decisive series, veteran safety Kenny Logan Jr. had a message for Leipold.
"I got you. We got you right here," Logan told him.
The confidence and execution that was on display in the final minute-plus of a three-point game has KU's defense even more optimistic about its potential this season.
With visiting South Dakota in need of a field goal to tie or a touchdown to go ahead, the Jayhawks didn't even give up a 1st down.
Even before the KU defense delivered the four stops it needed for a victory, senior D-end Malcolm Lee noticed an "air of confidence" within the group, as defensive coordinator Brian Borland sent in the personnel for KU's pass-rushing nickel package.
Up front, KU had super-senior Kyron Johnson and senior Hayden Hatcher as ends, and inside Lee lined up next to senior Caleb Sampson.
"We got our four best pass rushers in the fit and I wasn't really worried about it," Lee said of the trust he had in the alignment.
Linebackers Nate Betts and Gavin Potter played behind the pass-rushers for the critical possession. In the secondary, KU turned to graduate transfer Jeremy Webb and sophomore Duece Mayberry at the cornerback spots, along with junior Logan and true freshman O.J. Burroughs at safety, and junior Kwinton Lassiter as the extra corner who could cover a slot receiver.
After the Coyotes opened with a positive play on 1st down, a seven-yard pass completion over the middle, the Jayhawks didn't allow another yard.
The D-line collapsed the pocket for USD QB Carson Camp on 2nd down, and Logan chased him out of bounds before he could make a play. On 3rd down, Webb broke up a pass that would've been a 1st down.
Then came the 4th and 3 stop for the win. Hatcher raced into the backfield to put Camp under pressure, Johnson met the QB and hurried him as he tried to make a throw on the move and Logan knocked the pass to the turf for the stop.
The sequence was a favorite for Lee, who credited the 6-foot-3, 233-pound Hatcher for his "incredible little dip play" to blow by the right tackle and send the USD offense into a frenzy.
"Should've got the sack. I really wanted him to get that sack, because that was a cold little move he hit," Lee added. "He got the quarterback scrambling, and then Kyron came around and got that QB hurry. And then Kenny, of course, doing Kenny things."
With KU playing man-to-man coverage, Logan said once Camp was forced out of the pocket he could tell the QB was throwing off balance.
"I really thought I was going to have a pick. But the receiver kind of turned his shoulder, so I was able to break it up. And it was over from there," the smiling Logan recalled.
The junior safety from St. Augustine, Fla., said a lot of plays before his game-winning pass breakup led up to that and made the moment possible.
"I was just excited that I had a chance to go out there and just give it one last shot, and help my team get a victory," Logan said.
The Jayhawks (1-0) didn't have any interceptions or fumble recoveries in their opener, but the defense consistently made stops and held USD to 263 total yards of offense and just 98 passing yards.
The way they delivered clutch plays with the Coyotes trying to drive and score — and possibly win — in the final minute of the fourth quarter, Lee said the defensive players left Week 1 feeling like they had built some momentum.
"That first game of the year, if you're able to go out with a 2-minute situation, put your best four pass rushers out there and pretty much every single play get some pressure on that quarterback and hold them to a four-and-out — just don't even allow them to begin a drive — that's big for confidence down the road when it comes to coaches having faith in us to get the job done when it really matters," Lee said.
Leipold's longtime defensive coordinator, Borland said everything about that final series was a positive for the defense as it moves forward.
"We did a good job and implemented the things that we had practiced and worked on and talked about. The guys really responded. I thought they did a good job of getting some pressure on the quarterback and kind of making him throw — getting him off of his spot and making him throw under duress. And obviously we covered guys down pretty well," Borland said.
"So I hope that's a big confidence booster for us and let's us know that we're never out of it. And when things are truly on the line we can respond."
Pesek-Hickson's availability still in doubt
Leipold wasn't ready on Tuesday night during his weekly appearance on "Hawk Talk" to say redshirt freshman running back Amauri Pesek-Hickson will make his season debut on Friday at Coastal Carolina.
"Amauri's still week-to-week, day-to-day," Leipold said of Pesek-Hickson, who missed KU's win over USD. "It's progressing. I'd still say questionable for this week at best."
Pesek-Hickson didn't play at all during the first five games of the 2020 season, but once he got a chance during the final four weeks, the former Blue Valley North back averaged 3.6 yards per carry. As KU's primary back against TCU, Pesek-Hickson ran for 100 yards.
KU plays at No. 17 Coastal Carolina on Friday (6:30 p.m., ESPN2).