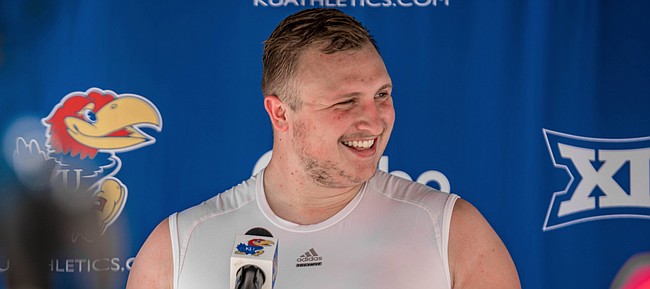 No stranger to starting at center for a Lance Leipold coached football team, former Buffalo standout Mike Novitsky will put on a Kansas football uniform on a game day for the first time this week.
Novitsky, a 6-foot-5, 295-pound redshirt junior who started every game at UB the past two seasons, shared his thoughts this week on his new situation, after he followed Leipold, offensive line coach Scott Fuchs and offensive coordinator Andy Kotelnicki to KU.
Q: What feels different for you this week, as you head into a season with another program?
A: "Of course it's different — it's a whole different team. But the bond that we've been able to create over the summer and stuff I think is really strong."
"And being confident in one another when you're out there under the lights is really important. And we all have confidence in one another."
"When it comes down to it, when you watch film throughout the week and you do reps in practice with one another, you're confident in those schemes and those plays. So when it comes game time, you're confident in one another to get the job done."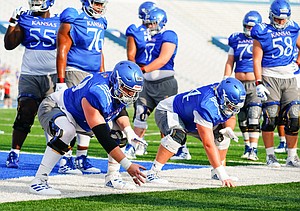 Q: Buffalo was this well-oiled machine the past few years. Now that you're joining a KU program that's rebuilding and opening a season in different circumstances, how does it compare to the program you just left?
A: "It's definitely a different look. It's a different team, with different people on the team, different personalities and stuff. So it's definitely different, but that doesn't mean that it's bad. It's just different."
"But like I said, we're confident in one another and our abilities to perform when we're out there for a game."
Q: Over the past few months that you've been here, what have you heard about the O-line last year, some of the struggles it had and where this position group was before you got here?
A: "There's a lot of potential here. And it just needed to have the right leaders with the coaches and coaching staff that we have. They just needed the right direction to get pulled in."
"There's a lot of potential in the locker room."
Q: What do you think you can do to help stabilize the O-line — either with your leadership or your play in games, how do you feel like you can make an impact?
A: "I think that I can just come out with a great attitude and great excitement and energy and try to give that to everybody else, so we can just all have fun when we're out there — we're playing football out there."
"And by doing my job I can set other people up for success."
Q: Which of your new teammates have impressed you, especially over the past month, as you guys have practiced and you're starting to understand who they are as players?
A: "A bunch of them have impressed me throughout camp and stuff, with the growth that we've had with the new technique and the new schemes and stuff. Everybody's improving at a rapid pace."