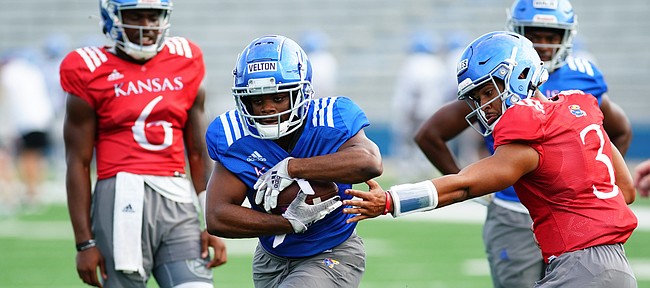 — Kansas vs. South Dakota • 7 p.m. kickoff, David Booth Kansas Memorial Stadium • Game-time forecast: 80 degrees, partly sunny, 47% chance of rain • Streaming: ESPN+ • Radio: KLWN, FM 101.7 / AM 1320
Keys for Kansas
1. Reboot the offense
During a winless 2020 season under a different coaching regime, the Jayhawks averaged just 15.8 points per game. Over the course of what ended up being a nine-game schedule, the KU offense only crossed the goal line for a touchdown 16 times.
The 2021 season opener, under new head coach Lance Leipold and his longtime offensive coordinator, Andy Kotelnicki, marks the Jayhawks' first chance to bury the memories of three-and-outs past.
For Kotelnicki, his KU play-calling debut won't be about flash. In order for the offense to be successful versus South Dakota, the O.C. said the Jayhawks can not beat themselves.
"We can't turn the ball over. We can't have negative runs. We can't have penalties," Kotelnicki said.
Regardless of which quarterback is at the helm — KU still hadn't announced its No. 1 QB on the eve of the opener — Kotelnicki also wants the offense to handle any level of adversity with poise.
"When those things occur in a game we have to be able to respond accordingly and overcome them. But we can not get into a situation where we're beating ourselves and giving them the game," he said. "So that's what I want to see. I want to see some good football that way."
Though KU's coaches and players have been careful during the preseason not to give anything away about the new offensive system, it's expected the Jayhawks will rely heavily on their running backs, led by junior Velton Gardner.
"It's definitely going to be a staple," Leipold said of the wide zone run scheme Kotelnicki used successfully at Buffalo, before the coaches were hired at KU. "I don't think that's going to be a secret."
2. Follow your leader on defense
What are people going to find out about the KU football defense when it takes the field for the first time?
Junior safety and team leader Kenny Logan Jr. has an answer.
"That we fly around, that we play with an edge. We're going to compete all four quarters," Logan said ahead of the opener. "We're just going to play with one another and just try to make plays all day to give the ball back to the offense. And just bring a lot of energy."
While longtime Leipold aide Brian Borland, KU's defensive coordinator, knows the Jayhawks will need to execute specific jobs to stop the Coyotes' offense, he's also looking for the type of effort Logan described.
"It always kind of starts the same: we've got to play hard, fast, physical, fundamentally sound no matter what. No matter what the situation is, respond in the same way," Borland said.
"We talk about: we've got to pursue, we've got to keep leverage on the ball, we've got to get off blocks and we've got to tackle," the coach added. "So if we can do those things, the scheme of things, what we're doing — or quite honestly what they do — it's of much less importance. We're really putting an emphasis on those things."
3. Don't overlook USD
The KU football program hasn't won a game since October of 2019 and enters the Leipold era on a 13-game losing streak. So the Jayhawks shouldn't be disregarding any opponent, including an FCS team in South Dakota that went 1-3 in a pandemic shortened 2020-21 season.
Predictably, KU's no-nonsense head coach is taking the Coyotes seriously. Leipold, who said when he was at UB he never wanted to schedule Missouri Valley opponents, noted USD returns 21 starters and all of its specialists.
"Exclude the scores," Leipold said of the Coyotes, who played all of last season's games in February and March, when they averaged 17.8 points per game and opponents put up 24 points an outing.
"They've got everybody coming back and they get to build upon what they were doing," Leipold added of the continuity head coach Bob Nielson and USD have going for them entering the fall.
The Coyotes' defense features All-Missouri Valley players at linebacker in senior Jack Cochrane and sophomore Brock Mogensen. In a shortened spring season, the defense recovered six fumbles, intercepted five passes and recorded seven sacks in four games.
"You see some maturity," Kotelnicki said of USD's defense. "You see a group of guys who are probably 21, 22 years old playing football, running around. They strike me as the kind of group that takes pride on executing."
Offensively, the Coyotes are bringing back a young starting QB, but Leipold said when he was watching video from the spring he couldn't tell Carson Camp was a freshman.
Camp threw for 241.8 yards per game in the spring. For comparison, Jalon Daniels was the only KU QB in 2020 to surpass 200 passing yards in a game, and he only did it once, going for 207 at Kansas State.
Borland thinks the USD offense is set up to get Camp in a rhythm with easier throws before the Coyotes start taking some shots downfield. The D.C. is expecting with the in-game reps Camp got in the spring — he completed 63.1% of his passes and threw three TDs and four interceptions —USD's QB will only be better this fall.
The Coyotes' offense also features a native of the Sunflower State at running back, where Travis Theis is stepping in as the new starter. Theis, one of the top players in the state in 2018 at Pratt, averaged 4.1 yards per carry and scored two TDs as a backup for USD last season.
Prediction
KU 34, USD 17