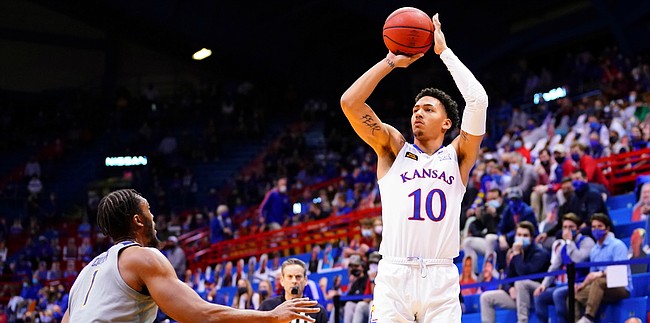 Updated 6:57 p.m. Oct. 31, 2021
Hours after the University of Kansas men's basketball team participated in a closed-door scrimmage in Tulsa, Okla., on Saturday morning, Kansas forward Jalen Wilson was arrested in Lawrence, according to the Douglas County Sheriff's Office.
Jail records show the redshirt sophomore was booked into the Douglas County Jail at 2:16 a.m Sunday, Oct. 31, 2021, for driving under the influence in the 400 block of W 23rd St. He was released a little less than two hours later, at 4:02 a.m. on $250 bond.
A Douglas County Sheriff's spokesman said Wilson was pulled over at 1:48 a.m. after a sheriff's deputy observed his vehicle not maintaining a proper lane in the 400 block of W. 23rd Street. Wilson was arrested after the deputy administered a field sobriety test at the scene.
No further details of the arrest were immediately available on Sunday, but a KU official provided the Journal-World with the following statement from Kansas coach Bill Self regarding the situation.
"We are aware of the incident involving Jalen Wilson (Saturday) night," Self's statement read. "And we are disappointed in his decisions. We are looking into the situation as we speak and will determine potential consequences with him once we have the rest of the details."
Wilson is in his third year with the KU program. After missing nearly all of his true freshman season because of injury, started 26 of the 29 games he appeared in last season.
The 20-year-old Wilson, who hails from Denton, Texas, will turn 21 on Thursday.