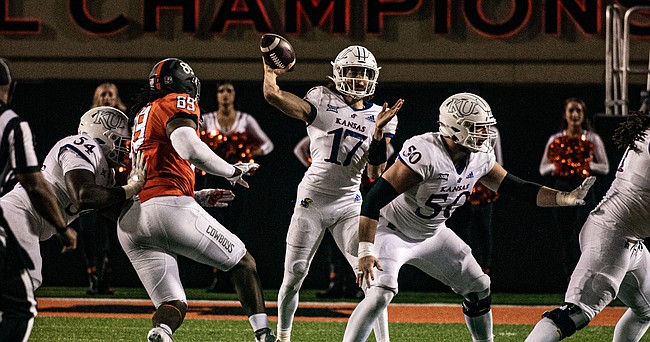 Stillwater, Okla. — After starting quarterback Jason Bean and the Kansas football offense got flattened in the first half at Oklahoma State on Saturday night, head coach Lance Leipold turned to backup QB Miles Kendrick to open the third quarter.
The Jayhawks failed to even pick up a first down the entire first half against the No. 15-ranked Cowboys. But shortly after Kendrick came in, on KU's first series of the third quarter, the offense was able to finally move the chains, with a little more than nine minutes left in the third.
Following KU's 55-3 loss, Leipold said he gave Bean the second half off as a result of his first-half struggles (3-for-10 passing, 10 yards, two interceptions). But Leipold said he isn't reevaluating the QB spot.
"I told him I wanted him to watch and try to learn in the third quarter," Leipold said, bringing up that Bean played well just a week ago versus Oklahoma.
"We all talked about how great he played last week," the coach said. "So again, he didn't have a good day. I told him — he's got a little baseball background — sometimes, you know, the best guys can get shelled. And he didn't have a very good day."
KU's senior QB, Kendrick ran for an 11-yard gain to give KU its first first down of the night on a fourth-and-7 from the Jayhawks' own 28-yard line.
Kendrick's first series also proved to be KU's first — and only — scoring drive, as Jacob Borcila hit a 45-yard field goal with 3:50 eft in the third quarter, putting an end to OSU's shutout.
Kendrick finished 6-for-8 passing, with 34 yards and threw one interception. He also ran nine times for a team-high 32 yards.
"We've talked about Miles before and I think we see what a competitor he is," Leipold said of KU's No. 2 QB. "And I was confident that he would spark us in that. But, as you could see with a lot of things, he unfortunately threw an interception, as well."
No Bryant in KU's secondary
On what would turn into a long night for the Kansas football defense Saturday at Boone Pickens Stadium, the Jayhawks were without starting cornerback Jacobee Bryant.
A starter in the secondary each of the previous five games, Bryant, a freshman corner from Evergreen, Ala., didn't make the trip to OSU. A KU spokesperson said Bryant suffered an injury during one of KU's practices earlier in the week.
Leipold said after the game the Jayhawks (1-7 overall, 0-5 Big 12) hope to have Bryant back next week.
"But we'll see," the coach added.
With Bryant out, KU's coaches turned to seldom used Cam'ron Dabney. A 5-foot-10 true freshman from Atlanta, Dabney made the first start of his career.
Dabney hadn't been a part of KU's cornerback rotation, but did play briefly in five of the first seven games. Dabney never subbed in at all the previous week, against Oklahoma.
At OSU in his first start, Dabney recorded four solo tackles and was credited with two pass breakups.
Gundy high on Neal
Ahead of Saturday's matchup with KU, Oklahoma State head coach Mike Gundy said he thought the Jayhawks have a physical team. After praising KU quarterback Jason Bean for his athleticism, Gundy turned his attention to freshman Devin Neal, the star of the Jayhawks' 2021 signing class.
Gundy brought up that OSU offered Neal, the former Lawrence High star, a scholarship during his recruitment.
"We liked him," Gundy said, when asked about Neal. "He's fast, he's physical and strong physically."
The OSU staff, Gundy said, liked Neal's physique and the coaches thought he could become "a really good college running back."
As KU's offense struggled at OSU on Saturday, Neal finished with only nine carries and 25 yards.
Before Gundy's first game against a Lance Leipold-coached KU team, the longtime OSU coach said Leipold does "a great job" with technique and fundamentals.
"Every week they're getting better," Gundy assessed.
Jayhawks from Oklahoma
Saturday's game at Boone Pickens Stadium marked the only time this year the Jayhawks who hail from Oklahoma got to play in their home state.
Some regular contributors for KU are from the border state to the south: junior linebacker Gavin Potter (Broken Arrow), sophomore cornerback Duece Mayberry (Tulsa) and sophomore punter Reis Vernon (Bixby).
One of KU's key offensive players in 2020, sophomore running back Daniel Hishaw Jr., who is out for the year due to injury, is from Moore.
Five more young players — each a redshirt freshman — on the KU roster are from Oklahoma: receiver Kyler Pearson (Tulsa), linebacker Donovan Gaines (Moore), linebacker Krishawn Brown (Tulsa), offensive lineman Jackson Satterwhite (Miami) and receiver Quentin Skinner (Claremore).
Chirs Harris honored by NFL
The NFLPA named former KU standout Chris Harris Jr. its Community MVP for this past week.
Harris, now in his second season in the secondary with the Los Angeles Chargers, distributed 500 bags of clothing and hygiene products for people experiencing homelessness in L.A., via his foundation's Chris Cares Winter Handout.
"We wanted to be able to make an impact out here," Harris said in a Chargers press release. "Just to be able to provide for these families, it's a hard time, so just to provide them food and hygiene kits, to make an impact (is special)."
Local prospect to walk on at KU
A senior at nearby Shawnee Mission Northwest High, Kael Farkes announced earlier this week his intentions to join the KU football program next season as a walk-on.
"Now it's time to get to work and make some more dreams come true," Farkes wrote in a note he posted to Twitter, making his decision public.