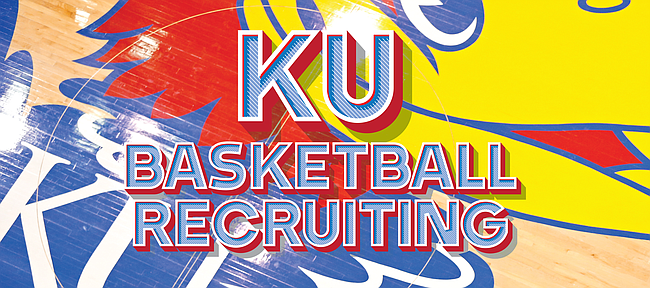 The Kansas men's basketball program added to an already-stacked 2022 recruiting class on Wednesday night, when four-star big man Ernest Udeh Jr., announced his commitment to KU.
A 6-foot-10 power forward with a 7-2 wingspan and a high motor, Udeh is ranked No. 29 nationally by 247 Sports. He revealed his choice live on CBS Sports HQ during a ceremony at his high school in Orlando.
After a few minutes of build-up and a video that featured both Udeh thanking his coaches and breaking a glass backboard on a dunk, the four-star prospect announced that he was "definitely taking my talents" to Kansas before unzipping a sweatshirt to show off the black KU T-Shirt he was wearing underneath.
When asked to explain why he picked KU over UCLA, Udeh said the impact the Kansas coaches made on both him and his mother was the deciding factor. Udeh visited KU earlier this month.
"Those guys are just real genuine guys," Udeh said. "They kept it straight-forward with me throughout the whole visit and it was very family oriented. Just seeing how (my mom) clicked with the coaches, guys she's never seen in her life, was just something that I really couldn't pass up."
247 Sports recruiting analyst Eric Bossi said Udeh had the potential to be an immediate-impact type of player for Kansas. But it was clear from his comments on Wednesday night that Udeh is not worried about his role just yet.
When asked on the broadcast to tell Kansas fans what type of player KU was getting, Udeh said: "Somebody who's always going to get after it. Someone who's nasty, who cares about winning, who puts team goals ahead of personal goals for sure. I'm just coming in and getting ready to play my role. (I'm not) going to ask for too much, just be the best player I can be, get better and have fun while doing it."
Udeh is the fourth player in the 2022 class to commit to KU, which now owns the No. 3-ranked class in the country according to 247 Sports.
He joins Sunrise Christian wing Gradey Dick and Garland, Texas, forward Zuby Ejiofor, along with Prolific Prep wing MJ Rice in pledging his services to Kansas.