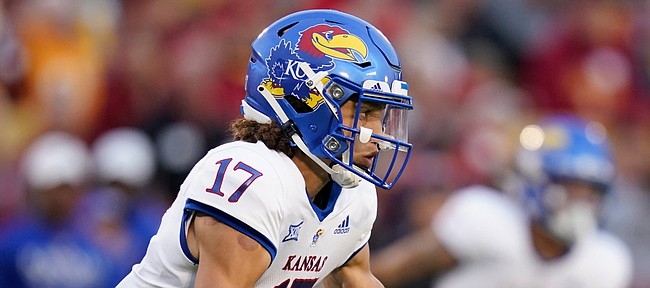 Though some Kansas football skill players have delivered highlight catches, throws and runs here and there for the Jayhawks early on this season, there haven't been enough chunk yardage plays to make the offense productive.
Five games into Year 1 of head coach Lance Leipold's rebuilding project, KU is averaging only 17.2 points per game, which ranks 120th out of 130 FBS teams.
The spikes — such as a 33-point, 530-yard outing for KU at Duke — show flashes of the Jayhawks' potential, but so far KU's offense is experiencing more crashes and inconsistencies. As a result, many of KU's statistical measurements have fallen short of where Leipold and offensive coordinator Andy Kotelnicki would like them to be.
With the help of quarterback Jason Bean's legs, KU's rushing attack hasn't been awful through five games. The Jayhawks entered their bye week averaging 149 rushing yards per game (tied for 80th in FBS).
But their passing offense, averaging 181.6 yards per game thus far, ranks 113th nationally.
The week before a 59-7 blowout loss at Iowa State, KU had its best offensive showing of the season in a 52-33 defeat at Duke. When the Jayhawks were at their best, Leipold pointed out recently, they were getting big plays out of a number of individuals, such as Bean, running backs Devin Neal and Torry Locklin, and receivers Trevor Wilson and Kwamie Lassiter II.
"Now it's not one dimensional," Leipold said. "It's not one person we're putting this all on. Hopefully as we build this program and this offense, we're going to have different people to go to and utilize and build confidence in. And then they feel confident about it."
Similar to some of the challenges KU's coaches have encountered with members of the defense, Leipold said, the less experienced players need to go through successful situations on game days to build their confidence.
As the belief grows for the offense, Leipold thinks the Jayhawks will be able to take more shots downfield and become more explosive.
"We've got to be able to generate more of those (big plays)," he said.
Here's a look at where the KU offense currently ranks among the 130 FBS teams in some key statistical categories.
KU football's 2021 offensive stats (through Week 5)
• Scoring offense: 17.2 points per game (tied-120th)
• Rushing offense: 149 rushing yards per game (tied-80th); 3.8 yards per carry (85th)
• Passing offense: 181.6 passing yards per game (113th); 7.1 yards per attempt (tied-86th); 122.48 passing efficiency rating (99th)
• Total offense: 330.6 yards per game (113th); 5.1 yards per play (tied-101st)
• Sacks allowed: 1.6 per game (tied-36th)
• Tackles for loss allowed: 6.8 per game (99th)
• Turnovers lost: 5 (tied-32nd)
• Fumbles lost: 2 (tied-30th); fumbles lost percentage of 40% (tied-48th)
• Interceptions lost: 3 (tied-45th)
• 3rd downs: Converting on 31.94% (23 of 72) chances (111th)
• 4th downs: Converting on 21.43% (3 of 14) chances (tied-121st)
• Red zone offense: Scored on 56.25% (tied-129th) of red zone trips (9 of 16; 7 TDs, 2 FGs); red zone TD percentage of 43.75% (tied-118th)
• Long scrimmage plays: 55 plays of 10-plus yards (tied-112th); 19 plays of 20-plus yards (tied-92nd); 10 plays of 30-plus yards (tied-61st)
• Long rushing plays: 21 plays of 10-plus yards (tied-82nd); 7 plays of 20-plus yards (tied-46th); 4 plays of 30-plus yards (tied-24th)
• Long passing plays: 34 plays of 10-plus yards (tied-102nd); 12 plays of 20-plus yards (tied-97th); 6 plays of 30-plus yards (tied-80th)
— Statistics from CFBstats.com