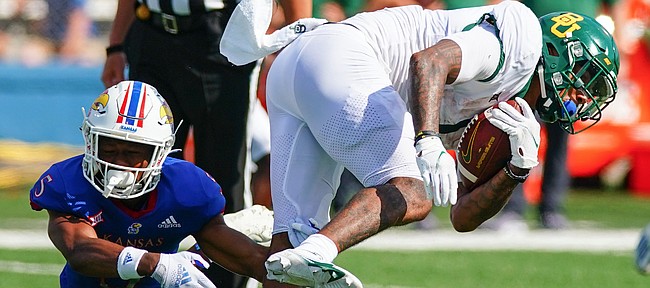 Five games into Lance Leipold's first season in charge of the Kansas football program, the Jayhawks' defensive shortcomings have proven to be problematic.
After a solid showing in the season opener against FCS opponent South Dakota — the Coyotes scored just 14 points and totaled 263 yards — KU's defense found it much more difficult to get stops against FBS competition.
Opponents have scored at least 45 points and posted at minimum 460 yards of total offense in the four consecutive losses leading up to the team's current bye week.
There were so many unknowns coming into this season, Leipold said recently, he didn't know back in the preseason exactly what to expect out of the defense.
"I wish we were playing better," he added, ahead of KU's 59-7 loss at Iowa State in Week 5.
Even before that blowout, Leipold said defensively the Jayhawks weren't "anywhere close" to performing at the level "we want them or need them to be" on third and fourth downs.
"Also there's too many big plays altogether. We continue to work on that," Leipold said.
Faults have popped up all over the place for KU's defense, including with the Jayhawks' tackling — an issue that defensive coordinator Brian Borland and Leipold have said they continue to address on a daily basis.
In the meantime, KU ranks among the worst in the country in a number of FBS defensive statistics, including scoring defense (43.8 points per game allowed, 128th) and total defense (494 yards per game allowed, 124th).
Leipold said the Jayhawks (1-4 overall, 0-2 Big 12) have to not only be more consistent defensively, but also improve their physicality and execution.
"A lot of that comes with experience. It comes with strength. It comes with confidence to play downhill. It's confidence in the scheme," Leipold said. "They're still learning and understanding to really let it loose."
Here's a look at where the KU defense currently ranks among the 130 FBS teams in some key statistical categories.
KU football's 2021 defensive stats (through Week 5)
• Scoring defense: 43.8 points per game allowed (128th)
• Rushing defense: 251.2 yards per game allowed (127th); 5.95 yards per carry allowed (124th)
• Passing defense: 242.8 yards per game allowed (84th); 9.9 yards per pass attempt allowed (130th); 70.7% opponent completion percentage (125th); 176.16 opponent passing efficiency rating (130th)
• Total defense: 494 yards per game allowed (124th); 7.4 yards per play allowed (128th)
• Sacks: 0.6 per game (tied-126th)
• Tackles for loss: 2.8 per game (130th)
• Interceptions: 0.2 per game (118th)
• Passes defended (broken up or intercepted): 2.0 per game (125th)
• Fumbles forced: 1.4 per game (tied-10th)
• Fumbles recovered: 4 recovered (tied-26th); 44.4% fumble recovery percentage (65th)
• 3rd down defense: Opponents converting on 51.72% (30-for-58) of their chances (125th)
• 4th down defense: Opponents converting on 57.14% (4-for-7) of their chances (tied-85th)
• Red zone defense: Opponents scoring on 100% (22-for-22; 20 touchdowns and 2 field goals) of their red zone trips (tied-124th); opponents scoring a TD on 90.91% of their red zone trips (130th)
• Opponent long scrimmage plays: 92 plays of 10+ yards allowed (125th); 27 plays of 20+ yards allowed (106th); 10 plays of 30+ yards allowed (tied-72nd)
• Opponent long rushing plays: 44 runs of 10+ yards (129th); 9 runs of 20+ yards (tied-107th); 3 runs of 30+ yards (tied-73rd)
• Opponent long passing plays: 48 passes of 10+ yards (tied-92nd); 18 passes of 20+ yards (tied-99th); 7 passes of 30+ yards (tied-62nd)
— Statistics from CFBstats.com