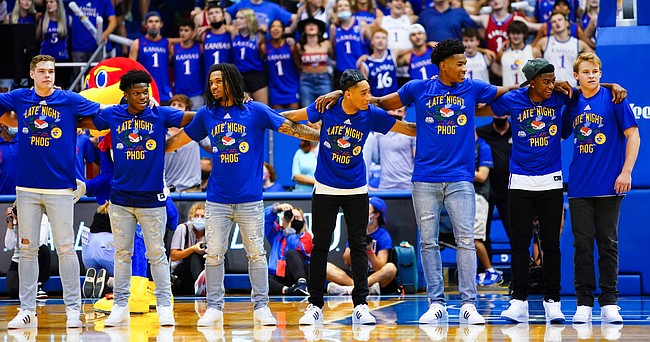 Kansas basketball fans, and everything that comes with them, were back inside Allen Fieldhouse in full force on Friday night, serving as an energetic backdrop for the first in-person Late Night in the Phog in two years.
And with Hollywood actor Rob Riggle hosting, a scrimmage by the top-five men's basketball team as the featured act and legendary hip-hop group Run-DMC capping the evening off in style, the 37th annual Late Night ushered in a new season of Kansas basketball like few before it.
"This is my third time to be a part of Late Night," Riggle said during his opening remarks. "And it never, ever gets old. It's always been the greatest thrill on Earth."
The action featured all of the same things as in years past. Dancing. Skits. Scrimmages. Stylish introductions. And even the half-court shots for a bit of Bill Self's money.
No one made one from mid-court, but KU student, Libby Frosst, drained a 3-pointer from the top of the key to earn herself and another KU student $5,000 apiece. After the shot swished through, Frost found herself at the center of a celebratory huddle with the Kansas players.
"She was probably the most impressive thing tonight," Self said later.
With 10 new players on the men's roster and 10 more on the women's roster, there was a lot of first-time excitement in the building on Friday night. And, of course, Kansas fans were thrilled to get their first look at Arizona State transfer Remy Martin and the other newcomers who have set the expectations for this team super-high as the season gets under way.
"Last year was a good year," Self told the crowd. "It wasn't great. The pandemic caused some problems for everybody in the world. But this year, we're bigger, we're faster, we're stronger and we say every year — but even more so this year — with your support, we've got a real chance."
While the experience was new for so many Jayhawks inside a steamy Allen Fieldhouse, even those who have been through it before found themselves feeling a little more nostalgic about this year's even after missing out completely a year ago.
"Chaos. Pandemonium. Hectic. Love. Live. Energy," senior forward David McCormack said while describing his expectations for the event. "This year (I'm) even more grateful for it since we couldn't experience it last year."
McCormack wasn't alone. With Riggle's help — who taunted KU rivals Kentucky and Missouri, both of which will play in Allen Fieldhouse this season — everyone in attendance seemed to have a little extra juice throughout the night.
"It's so loud in there," super-senior walk-on Chris Teahan said. "You get goosebumps the first time you hear the crowd noise."
When the festivities subsided, it was on to the main event, where KU's deep and talented roster split into two teams and competed in a high-intensity, up-and-down scrimmage.
The Crimson team, led by senior big man David McCormack's nine points, topped the Blue squad, 41-30.
Blue guard Ochai Agbaji led all scorers with 12 points, but Crimson supporting cast Christian Braun (8), Dajuan Harris (7) and KJ Adams (6) proved to be too much.
Both teams played above the rim throughout the scrimmage and both featured a bunch of shooters who were not afraid to pull the trigger.
Senior transfer Remy Martin, who had been hobbled by an ankle injury, started for the Blue squad and dished two assists in 17 minutes while teaming with Agbaji.
After the scrimmage, Mitch Lightfoot grabbed the mic and had a short and simple message for the KU fans.
"We appreciate you being here and your support," he began. "We're looking forward to a great year; let's pack the place."
KU women ready for a new start
When the KU women's team was introduced to the crowd on Friday, it was ushered in by a team video reenacting "The Fresh Prince of Bel Air" theme song.
After some dancing to old school hip-hop songs, KU coach Brandon Schneider came out to address the crowd and promised the crowd that his 2021-22 team would be one they could be proud of.
"We have a talented group, we have a group that's extremely fun to coach and when you have an opportunity to see them play in November, you're really going to appreciate how hard they compete for you, our university and our state," Schneider said.
Decked out in a throwback Run-DMC tour T-Shirt, Schneider bounced around center court with tons of energy, opening his address with, "How great is it to be back at Allen Fieldhouse?"
In addition to the women's scrimmage, four of Schneider's top shooters competed in a 3-point contest.
Guard Mia Vuksic knocked out junior Holly Kersgieter in the first round and then held off senior Julie Brosseau by draining 11 triples in the final round.
Brosseau reached the final by outlasting Zakiyah Franklin in Round 1.
Kersgieter and Franklin got the last laugh, though, as their Crimson team ran past Vuksic and the Blue team, 36-24.
Run-DMC rocks Allen Fieldhouse
About 15 minutes after the KU men finished scrimmaging, Run-DMC took the floor and closed down the night with some of their classic hits, including "It's Tricky," "My Adidas," "Mary, Mary" and "You Be Illin'."
Joseph Simmons, better known as Reverend Run, and Darryl McDaniels rocked the crowd with a 40-minute, high-energy set that featured both rappers dancing and singing with the KU men's and women's teams and people in the crowd.
Earlier in the night, Self appeared in a video skit dressed as Aerosmith front man, Steven Tyler, who teamed with Run-DMC in 1986 for a collaboration on the Aerosmith hit "Walk This Way."
The group used the hit — by the same artist that penned the song used in KU's gameday intro video "Dream On" — to close the show.
Asked after the performance if he enjoyed it, Self said he liked it.
"I'm not as familiar with some of their stuff as maybe some are," he said of the group that met with the team earlier in the day. "I had them give a history of how they kind of came together and everything's pretty cool. ... It was definitely a different feel than the last time we had an entertainer at Late Night."
That, of course, was Snoop Dogg in 2019.
KU senior Ochai Agbaji said the Jayhawks enjoyed the music even though they, too, were not as familiar with Run-DMC's catalog.
"Oh, it was fun," Agbaji said. "They put on a good show. They kept the energy up and the DJ's were good. I just like all the beats."