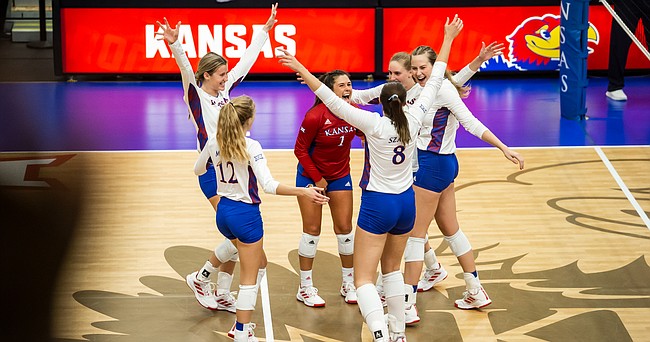 The Kansas volleyball team handed visiting Iowa State its first Big 12 loss of the season on Friday afternoon, moving its own winning streak to nine consecutive matches in the process.
The streak ties for KU's longest since 2018 and the Jayhawks have won all three of their Big 12 matches thus far despite dropping the first set in all three of them.
"Obviously they don't panic," KU coach Ray Bechard said after the victory. "This team, they always play next point."
After dropping the first set 28-26 on Friday, the Jayhawks found their rhythm almost immediately in the second set, moving on to outscore the Cyclones 50-35 (25-16 and 25-19) to take the next two sets.
That gave KU control of the match and, with Allen Fieldhouse filling up for Late Night about 100 yards to the east, the red-hot Jayhawks wowed an electric crowd inside Horejsi Family Volleyball Arena.
The fourth set was a little tighter, but the Jayhawks jumped out early and played without a lead throughout the clincher, which Kansas won 25-20.
The match ended when freshman setter Camryn Turner back-set freshman London Davis, who buried a kill in the lap of the Iowa State libero.

Freshman Caroline Bien and senior Jenny Mosser led the Jayhawks with 15 kills apiece, and sophomore middle blocker Caroline Crawford added 10 kills.
"After their 8-0 run in the first set, we were really good," Bechard said. "Offensively, boy we got going."

The win moved KU to 11-3 overall and 3-0 in Big 12 play. Iowa State dropped to 10-4 and 2-1.
The two programs will square off again at 4 p.m. Saturday.