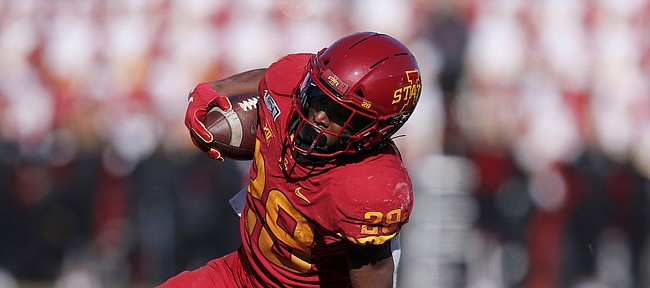 — Kansas (1-3 overall, 0-1 Big 12) at Iowa State (2-2, 0-1) • 6 p.m. kickoff, Jack Trice Stadium, in Ames, Iowa • Game-time forecast: 74 degrees, cloudy, 47% chance of rain • TV: FOX Sports 1 • Radio: KLWN, FM 101.7 / AM 1320
Keys for Kansas
1. Don't get steamrolled by Breece Hall
Considered nearly a 35-point underdog by oddsmakers in Las Vegas, the Kansas football team's chances of competing with Iowa State could come down to how the Jayhawks handle one player in particular: Breece Hall, the Cyclones' all-time career touchdown leader (40).
KU defensive coordinator Brian Borland didn't have to watch the ISU offense for long to be impressed by the junior running back's abilities. Borland called Hall, a 6-foot-1, 220-pound back from Wichita, "the total package."
"He's got decent size, he's got great speed, he can run with power, he breaks tackles, he finishes runs, he can be elusive," Borland added of Hall, who is averaging 107 rushing yards per game and 4.9 yards per carry through four weeks.
"It doesn't really matter who he's playing against. In all of the games I've watched he's kind of made everybody look bad at times," KU's D.C. said of the Cyclones' star, who is coming off a career-high 190 rushing yards at Baylor, a game in which he scored three total TDs.
The Jayhawks haven't done well stopping the run this year, either. In the first four games, KU surrendered an average of 241.5 rushing yards, which was the fifth-worst mark in the nation among 130 FBS teams entering this weekend. Thus far, opposing rushers are averaging 5.4 yards per carry against KU, which ranks 118th in that category.
Though the defense has encountered glaring issues with missed tackles and allowing yards after contact the past few weeks, those are areas that the D.C. said KU's coaches continue addressing on a daily basis.
Borland is certain the ISU offense views its run game as its strength, and said the defensive game plan for KU always starts with an emphasis on that area — "if not stop it, limit the run," he said.
With at least one TD scored for ISU in 16 consecutive games — a streak that includes Hall gashing the 2020 KU defense for 185 rushing yards and two TDs on 21 carries in a 52-22 rout — Hall will have the KU defense's attention and then some.
Borland said the Jayhawks will scheme to stop Hall.
"We've got to kind of put our eggs in that basket," Borland said, "because if we can't slow them down in the run game, we're not going to slow them down period."
2. Keep O-line's trajectory pointing upward
KU starting quarterback Jason Bean said after the Jayhawks scored a season-high 33 points and put up 530 total yards (also a season-best) at Duke that the offensive line made those vastly improved numbers possible, calling Week 4 the unit's best performance of the season. Both head coach Lance Leipold and offensive coordinator Andy Kotelnicki agreed the O-line had its best all-around game to date.
Leipold said senior left tackle Earl Bostick Jr. in particular stood out. He also noted the two redshirt freshmen on the right side of KU's line, tackle Bryce Cabeldue and guard Michael Ford Jr., are getting better by the week, which KU needed.
As a unit, Bostick, left guard Malik Clark, center Mike Novitsky, Ford and Cabeldue, Leipold said, are making progress in their functionality and understanding of the offense.
"I thought we protected better (in the Duke game). I think our physicality and things — communication and some of the breakdowns were decreased. Each and every week we hope to keep taking more steps," Leipold said.
The improved showing was far from perfect, but the O-line looked markedly better than it had a week earlier in a blowout loss to Baylor. The Jayhawks can't afford for the unit to take a step in the wrong direction as Big 12 play resumes.
Like all of KU's position groups, Kotelnicki said, the O-linemen have "a ton" they need to improve upon. But the O.C. said, under O-line coach Scott Fuchs' direction, he is excited to see the linemen coming along.
"They're starting to jell together. They're starting to play as a unit as opposed to just a group of individuals who are kind of learning to hold on and just get their own jobs done," Kotelnicki said. "They're starting to figure out combo blocks and combinations and working together and communications. And those things are naturally going to occur over time. That's a credit to the kids. We want to build on it."
3. Recognize opportunities vs. ISU's D
After passing for a career-high 323 yards (17-for-26, two TDs, two interceptions) in Week 4, Bean may see fewer inviting throwing windows against the Cyclones' 3-3-5 defense.
While facing such a scheme typically comes with the added stress of potential blitzes from "all over the place," as Kotelnicki put it, the O.C. said ISU doesn't often bring extra pass-rushers.
"They tend to get a lot of pressure with the three guys they've got playing up front," Kotelnicki explained.
ISU junior D-end Will McConald IV enters this week's matchup with 21 career sacks (3.5 this season), while senior D-end Eyioma Uwazurike has 3.0 sacks on the year.
"Which gives them a huge advantage in terms of coverage," Kotelnicki continued, "because when you rush three and drop eight, there's a lot of dudes back there that (the QB has) to find a way to throw around."
Even when KU's O-line is able to handle a three-man rush in passing situations, the Cyclones will have eight defenders in coverage and a numbers advantage. Kotelnicki said those scenarios usually demand the QB has his rhythm and timing down.
But with Bean's skill set — the QB is currently KU's leading rusher, with 270 yards, 4.9 yards per carry and a pair of TDs — there should be opportunities for what Kotelnicki described as "natural rushing lanes" against a defense that's only rushing three players.
During practices this week, the Jayhawks worked on what happens when Bean scrambles, so skill players will be able to get open. The hope for the KU offense is that Bean and company will be able to embrace that dynamic at ISU.
No matter how explosive plays present themselves, whether it's a scramble, a run for chunk yardage, or just executing on a play call for a downfield pass, Kotelnicki said "we love them" all.
"We've got to do a good job of staying out of predictable situations and make them react to us, not the other way around," he added.
Prediction
ISU 41, KU 20