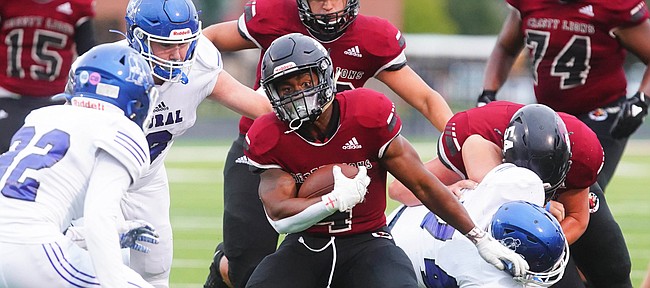 When Lance Leipold took over the Kansas football program, the new head coach inherited a roster without many local or in-state scholarship players. He plans to change that.
Leipold during his introductory press conference described recruiting locally as "extremely important."
"It needs to be our foundation and become the backbone of what we are," Leipold said of finding high school prospects from the Sunflower State and surrounding areas.
As KU football coaches have come and gone through the program's revolving door over the past decade-plus, the idea of placing an emphasis on local recruiting often is championed by the latest man in charge.
However, the first KU team Leipold will lead in 2021 features few contributors from the Sunflower State or Kansas City area who signed with the Jayhawks out of high school.
The most significant local signee in recent years came in KU's latest signing class, when Lawrence High star running back Devin Neal — the top-rated Class of 2021 prospect in the state — signed with Les Miles and his staff.
When Neal officially is added to the roster this summer, he will join a small group of scholarship players who are from Kansas or the KC metro area.
That group includes senior linebacker Jay Dineen, junior tight end Mason Fairchild, sophomore receiver Luke Grimm, redshirt freshmen tight ends Will Huggins and Trevor Kardell, redshirt freshman defensive lineman Caleb Taylor and true freshman quarterback Conrad Hawley.
Notably, super-senior nose tackle Sam Burt, a former walk-on from Abilene, and graduate transfer Colin Grunhard, who played in high school at Bishop Miege before walking on at Notre Dame, are expected to play key roles for KU this coming season.
Leipold's longterm vision for what he hopes to build at KU includes creating "buzz around the area for support" through recruiting local prospects.
"The closer the players, the more often they can get here, the more often you have chances to build that early relationship and trust," KU's head coach added.
As COVID-related restrictions ease in the months ahead, Leipold noted, he and KU assistant coaches will be able to meet local high school coaches face to face, as well, which will be an important part of the process.
Identifying nearby players to recruit and sign is typically an approach needed at any non-elite level college football program.
Leipold, who earlier in his career worked as a graduate assistant at Wisconsin and in a support role at Nebraska, referenced a blueprint followed by several teams.
"Some of the programs in the midwest, when you see what they do — they play a certain brand of football that is physical, tough, disciplined football — it's usually a lot of the core people are right there in the backyard," Leipold said. "And we plan to do that as well."
It's a strategy that KU's rival, Kansas State, has used for years. In the Class of 2021, for example, six of Rivals' top 10 prospects in the state of Kansas were Wildcats recruits.
Some of the Sunflower State's top prospects in the Class of 2022 already have verbally committed to the likes of Missouri, Iowa, Oklahoma State and, of course, K-State. Others remain unaffiliated.
None of KU's current 2022 commitments are from Kansas, but the Jayhawks do have a verbal pledge from Lee's Summit, Mo., defensive back Dewuan Mack.
Before long, more and more high school recruits in the area will be hearing from Leipold and his staff. During his recent appearance on KU's "Hawk Talk" radio show, Leipold shared some more thoughts on his approach to recruiting local prospects.
"We've got to do a great job evaluating and giving players opportunity here first. You can branch it out from there," he said. "I know high school football continues to get better in this area — I was told that through the process of trying to research things. And I want to make sure that we do a great job."
KU's newest head coach said he plans to split up the local recruiting map and assign assistants to certain areas.
Leipold also said he wants to make sure, beginning this summer when high school players can visit campuses, that prospects from the Kansas City area and within a drivable radius are making it to Lawrence to meet the KU staff and build relationships.
"And then we have a chance," he said, "to keep them right here."
In-state and local signees currently on KU football roster
• Joseph Gilbertson, sr. OL, Wichita
• Jay Dineen, sr. LB, Lawrence-Free State
• Mason Fairchild, jr. TE, Andale
• Luke Grimm, so. WR, Raymore, Mo.
• Will Huggins, RS-fr. TE, Lenexa
• Trevor Kardell, RS-fr. TE, Lee's Summit, Mo.
• Caleb Taylor, RS-fr. DL, Kansas City, Mo.
• Conrad Hawley, fr. QB, Raymore, Mo.
In-state and local class of 2021 signees who will enroll in summer
• Devin Neal, RB, Lawrence